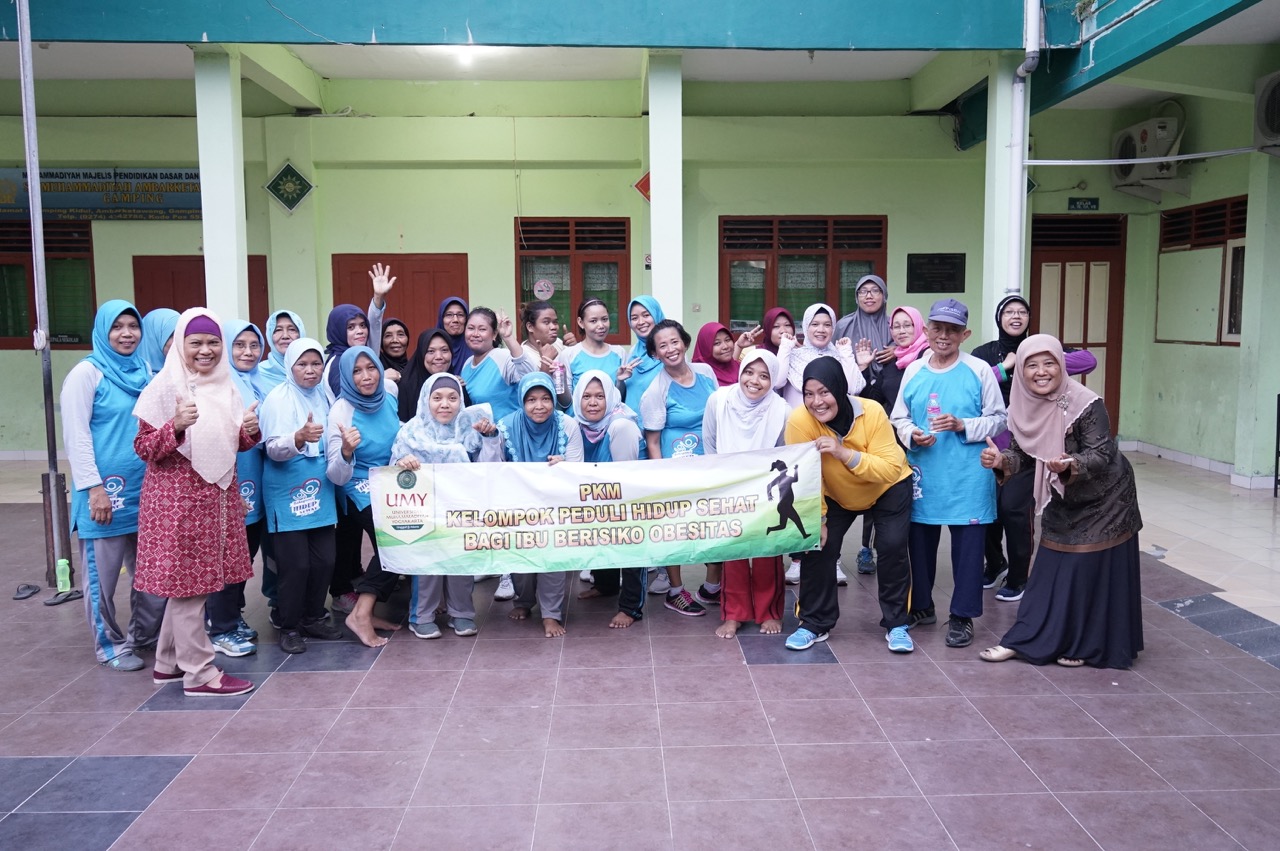 In this modern era, people in productive ages are more likely to possess degenerative diseases. The degenerative diseases include stroke, hypertension, diabetes mellitus, coronary heart disease, cancer, osteoporosis, and others. To prevent the diseases, three lecturers of Universitas Muhammadiyah Yogyakarta (UMY) conducted a community service, creating a group that concerns with healthy lifestyles for obese women in Gamping Kidul, Ambarketawang, Gamping, Sleman, Daerah Istimewa Yogyakarta.
The three lecturers were Tri Wulandari Kesetyaningsih, Yoni Astuti, and Zulkhah Noor. They have been monitoring the lifestyles of women in Gamping Kidul since February 2019. The monitoring activity is purposed as a means to solve problems related to physical quality checks of women, starting from weight, blood pressure, cholesterol level, and blood sugar level.
The medical check-ups for women in Gamping Kidul are based on a fact that women have great responsibility to their families. The fact tends to put women in a situation which they do not possess chances to perform routines and directed physical activities, which causes them to gain weight and obtain degenerative diseases.
"We are here to reduce metabolism diseases by applying a healthy lifestyle. A healthy lifestyle can be achieved through routine exercises and proper diets. We commence the medical check-ups by conducting examinations on weight, height, cholesterol level, and blood sugar level. After three months performing the healthy lifestyle activities, we conducted a similar check-up to examine whether or not the activities are effective," stated Tri Wulandari.
The result came out on April 23 when all the women of Gamping Kidul were performing a routine gymnastic. "We conducted a blood collection test as the final medical check-up. Some of women gained satisfactory results because they succeed to lose their weights, cholesterols, and blood sugars. After three months performing the healthy lifestyle activities, many women of Gamping Kidul looked so fresh and the results showed a reduction in three indicators we have previously mentioned," ended Yoni.