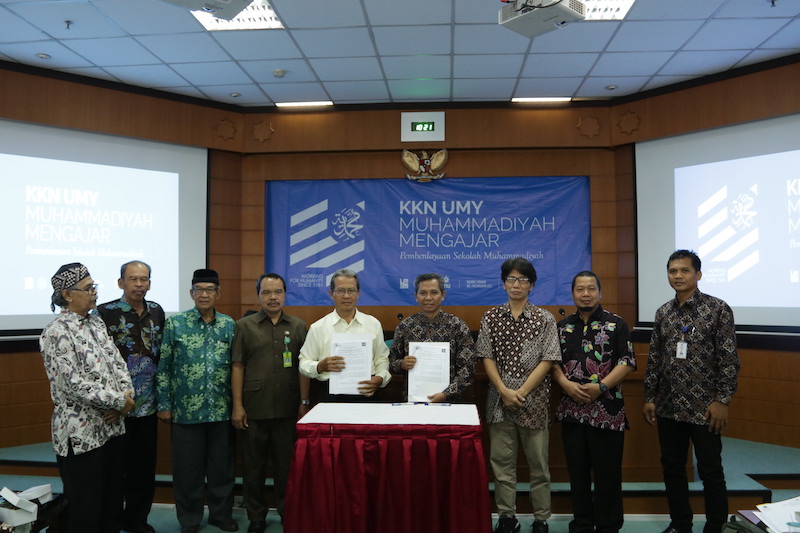 Muhammadiyah's efforts for more than one hundred years in the field of education cannot be doubted. They have contributed either directly or through their businesses. On this occasion, Universitas Muhammadiyah Yogyakarta (UMY) has increased its effort to contribute to the advancement of education by sending students in the Muhammadiyah Teaching-based Community Service Program (KKN).
Through its Office of Research, Publication, and Community Service (LP3M), UMY will hold a Teaching Community Service Program which will be housed in various Muhammadiyah schools in the Kulon Progo Regency. The Head of LP3M UMY, Dr. Ir. Gatot Supangat, MP, said that this program will be prioritized for UMY students who are studying in the education department. This includes the Islamic Religious Education (PAI), Japanese Language Education (PBJ) English Language Education (PBI) and Arabic Language Education (PBA). However, it is also open for students from other study programs.
"Enlightening the life of the nation is the goal of Muhammadiyah, so this program is held as a form of caring for the nation. we cannot deny that the quality of the school really determines the quality of a child in the future. So, we decided to form a Muhammadiyah Community Service Program for UMY students," Gatot said when met in private at the Muhammadiyah Teaching Community Service Program Presentation Program, Tuesday (3/3) at UMY.
The aim of this program is to provide the same standard for every Muhammadiyah school in the Kulonprogo Regency. In this case, the standard in question consists of the quality of human resources, management and curriculum. When this standard has been formed and implemented, it is hoped that it can produce good graduates and make sure that there is no imbalance from each school.
Gatot also explained that the program will take place from July to August 2020, but it will be continued by volunteers when the Community Service Program is over.
"This program will continue throughout the year. After the Community Service program students have finished the program, students and volunteers will be deployed to schools to perform various tasks such as teaching, management, compiling various components needed and looking for data to find out the detailed problems of each school," added Gatot.
The selection of Kulonprogo as a location for service is due to the rapid economic and social development in the area. This leads to the need for qualified human resources. Gatot hopes that later the people of the area would manage all the assets in the area, not outsiders. It takes a good quality of education for that can be realized.
In the future, a similar program will also be implemented in other regions in the Special Region of Yogyakarta (DIY) and its surrounding areas. The program also involved the Regional Board of Muhammadiyah (PDM) of Kulonprogo Regency. (ak)