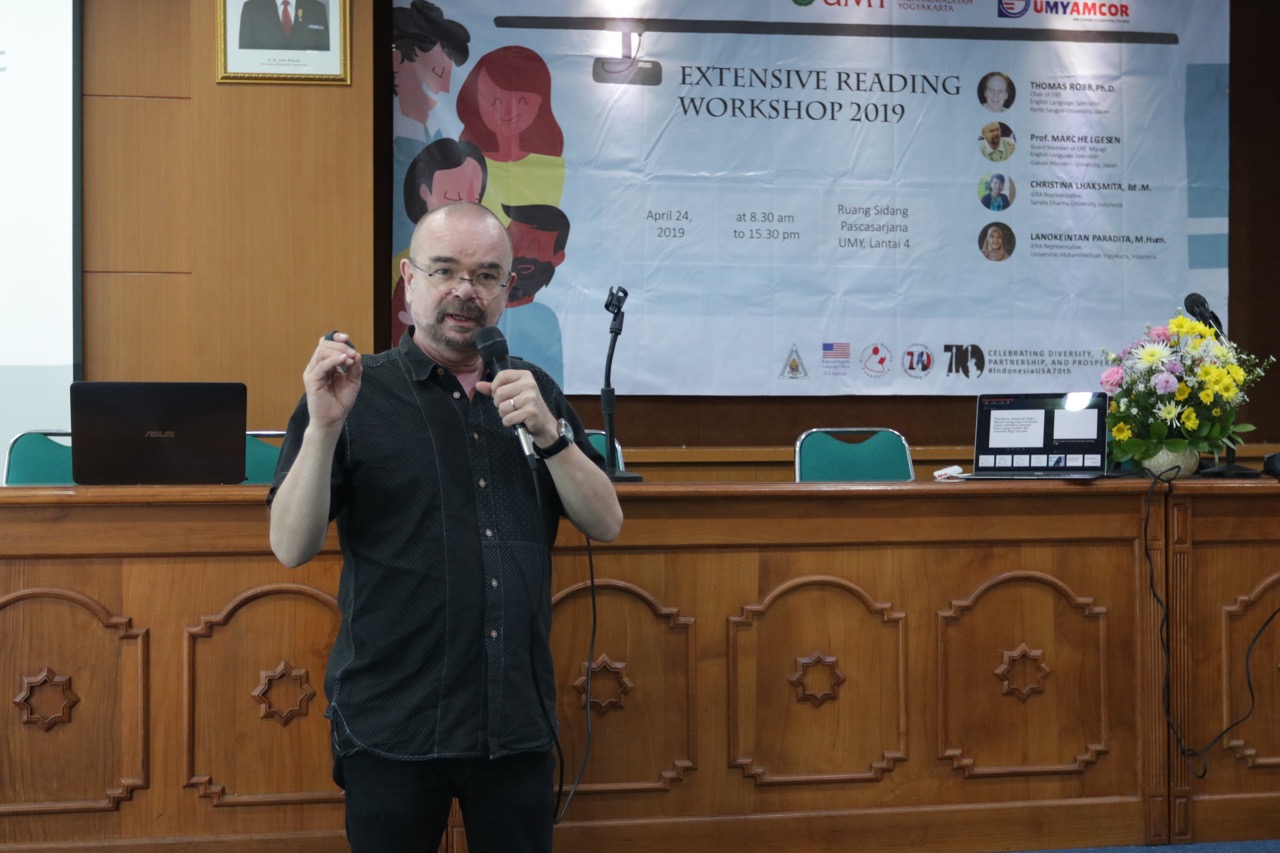 Regional English Language Office (RELO) of United States Embassy and Consulates in Indonesia, in collaboration with Indonesia Extensive Reading Association (IERA), Extensive Reading Foundation (ERF), and American Corner of Universitas Muhammadiyah Yogyakarta (UMY) conducted Extensive Reading Workshop at Graduate Building of UMY on Wednesday (24/4). Students and lecturers of English Education Department all over Yogyakarta attended the workshop.
Moreover, the workshop also invited the Vice Rector for Student, Alumni, Al-Islam, and Muhammadiyah Movement Affairs, Hilman Latief, Ph.D and the representative of RELO, Bradley Horn. The two guests attended the workshop to deliver speeches.
In his speech, Hilman Latief stated that reading is an important activity that all educators should accentuate. Hilman continued, "Until now, Indonesia is the second lowest country with low reading interest in the world. Hence, we should perform more efforts to raise public awareness on reading." Hilman also cited a religious advice from the Prophet Muhammad that urges all Muslims to read diligently.
Bradley Horn, the representative of RELO, conveyed that all educators, especially lecturers and teachers, should educate students so that they will not be indolent to read. He added, "The Extensive Reading Workshop is present to accommodate all educators in Indonesia. Our collaboration with American Corner aims to provide information about the extensive reading programs."
The first speaker was Prof. Marc Helgessen who is a lecturer and English language specialist from Gakuin's Women University, Japan. Marc conveyed, "Extensive reading can be interpreted as a speed reading activity that uses delightful books for students. In the other words, extensive reading is basically a teaching approach that engages students to read simplified books. The purpose of this reading method is to improve students' fluency and predilection in reading."
After Marc finished delivering his material, the workshop was continued by Thomas Robb, Ph.D who delivered an implementation of extensive reading method in schools. Thomas admitted that there are many challenges to implement the method. The challenges include lacks of funds to provide books, lacks of facilities to accommodate books, and risks and obstacles to take care of books. However, Thomas revealed, "If implemented correctly, this method will bring huge advantages. Other advantages that people can obtain from this method are related to easy access for teachers to control the class and contents, convenient coordination for teachers to arrange the basic structure in the teaching process, and easy access for schools possessing no official curriculum from the ministry."
Furthermore, the workshop also invited two Indonesian speakers, namely Christina Lhaksmita from Universitas Sanata Dharma and Lanoke Intan Paradita, M.Hum from UMY. Christina delivered a materials related to IERA and ERF, while Lanoke conveyed materials about the roles of educators to contrive the extensive reading in the classes. Lanoke also opened a discussion about reading and dare-speaking in the class.
The Extensive Reading Workshop in UMY is a part of Extensive Reading Roadshow conducted by the United States Embassy which targets several regions in Indonesia. Before organizing the workshop in UMY, the roadshow was firstly conducted at Universitas Sanata Dharma.