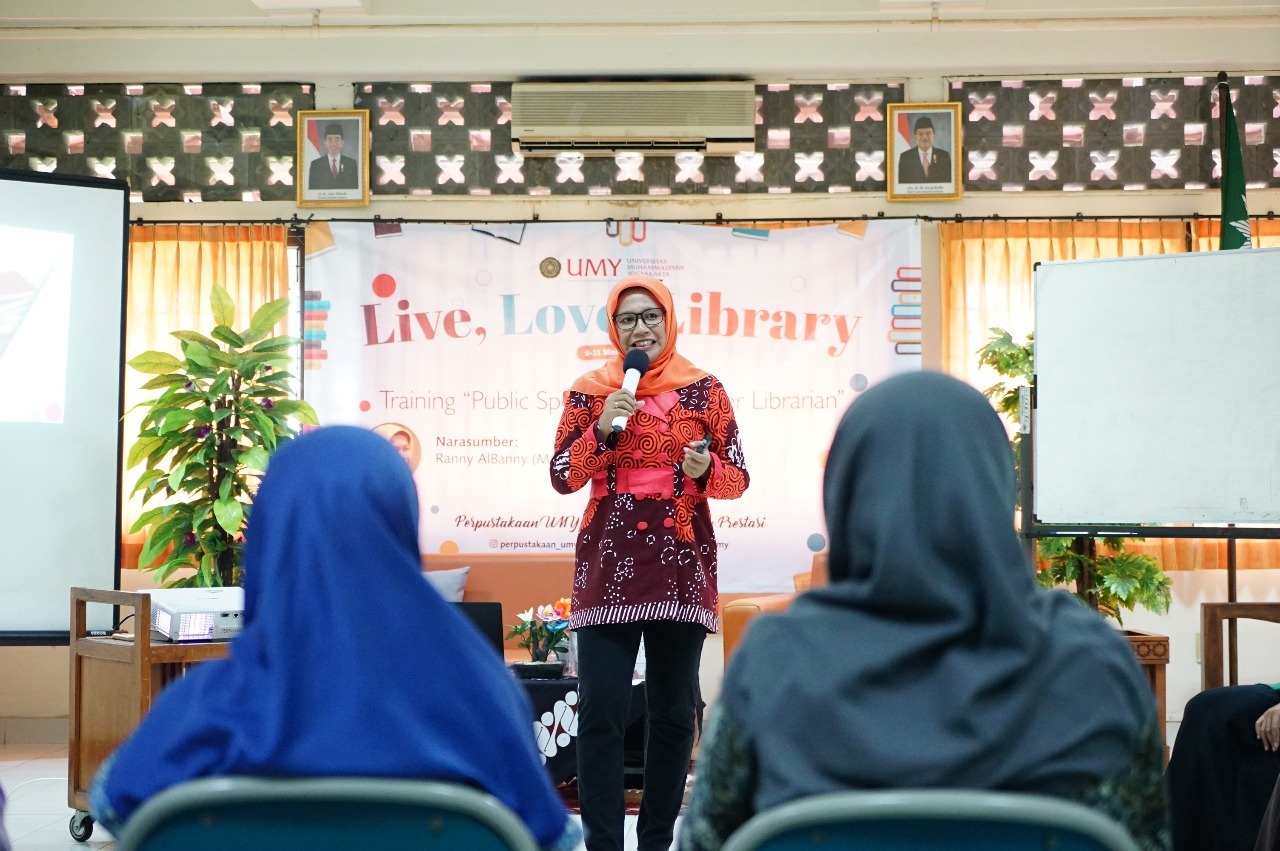 A profession sometimes demands people to speak in public. However, not all people have a public speaking ability so that they get anxious to deliver their ideas. It needs practices to master the skill. To improve people's capability, Library of Universitas Muhammadiyah Yogyakarta (UMY) conducted a training in 'Public Speaking for Teacher Librarian'. A speaker at the training was a fame public speaker training as well as a master of ceremony in Yogyakarta, Ranny Albanny.
Ranny, who is the winner of Cek & Ricek presenter competition by KD Management, the RBTV presenter competition, the winner of SCTV news presenter competition, and a finalist of National Kadarkum in Jakarta, mentioned several public speaking tips and how to act in public.
"Speaking is not merely how we arrange words to be sentences, but it is about how we are able to deliver a value to audiences. Not all people possess confidence in speaking in public, but their profession requires them to do it. They are under compulsion," declared Ranny in her presentation in front of teachers and librarians at a meeting room of Library, Building of K.H. Mas Mansyur, UMY on Saturday (11/5).
The most common issue encountered by a public speaker is audiences who do not focus, are busy playing their phone, or get home one by one. Nevertheless, we may not blame the audiences for not paying attention to us, but we as a speaker should be considerate to the situation. "Audiences have distinctive backgrounds and styles. Thus, when I talk in public, I will attempt in order that my audiences become comfortable as giving ice breaking or quizzes. Most importantly, we have to always smile because there is power of 4S, namely 'Silent, See, Smile, Speak," she mentioned.
Ranny shared some tips of ice breakers for the beginning of a presentation or for being a presenter. "Do not think negatively. You can commence your presentation by stating quotes from experts or luminaries, new facts, or statements supporting your topic. I always implement them in my public speaking class to create positive vibe," she recommended.
Nevertheless, when public speakers have already mastered the skill and had experiences, they may not cease fostering their ability. We have learn and learn from people who are better than us. "Till now I keep learning to experts. Thus, do not be complacent and explore your ability," emphasized Ranny who is an announcer in several radio stations since she was at the age of 18.