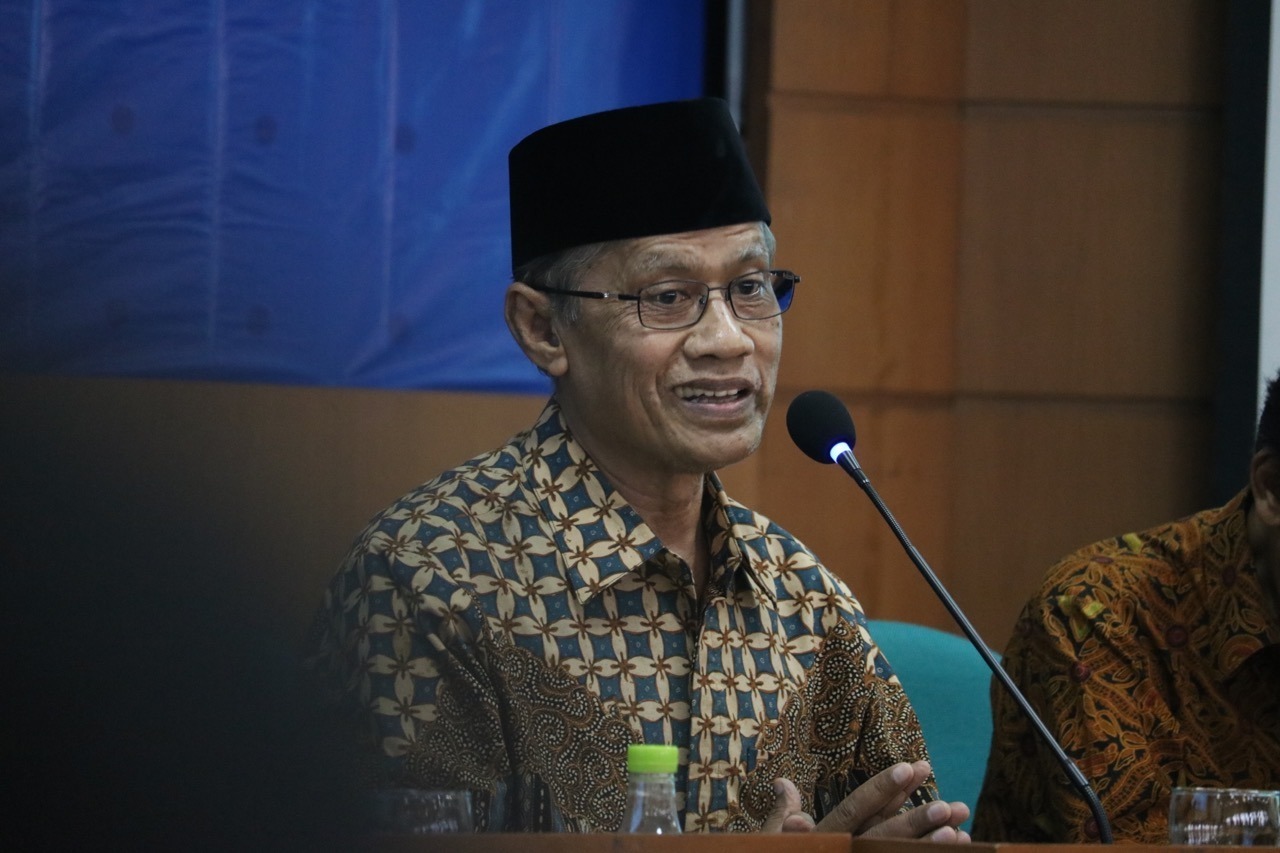 Currently, the world is changing at a rapid pace, which causes people to worry as various aspects of their lives become more uncertain and ambiguous. In the post-truth era, anyone can claim their opinion as the truth without any supporting evidence, and become careless of their impact on society. Therefore, intellectuals today must be able to mediate and guide the public regarding the changes in their lives. This notion was stated by the head of the Central Board of Muhammadiyah, Dr. Haedar Nashir, M.Si., during the Professor Meetup Event on Sunday (29/07) at the AR Fachrudin A building of Universitas Muhammadiyah Yogyakarta (UMY)'s Central Campus.
Haedar stated that in the midst of these changes, professors of Muhammadiyah must be able to direct the people to the truth and appeal to their inner sense. "Intellectuals must not be carried over by the short-term thinking that tends to be adopted recently. They must adopt a wider point of view regarding current issues and problems. You must be able to prevent the general public from adopting a narrow point of view and provide better, more useful solutions. This is why every Muktamar (conference) each year always addresses the strategic issues in public, not just for kicks, but also to give solutions which are in line with modern Islamic values," He stated.
Haedar also stated that Muhammadiyah professors need to be able to provide strong bases of education. "Today, Muhammadiyah has 235 professors and one of their tasks to the public is to improve their welfare and freedom by developing a thought process that suits the public's needs. The public is more determined to embrace their Islamic values than ever before, which is why contributions in the understanding of contemporary Islam is vital," he added.
"In more than a few occasions, our people commentate and criticize their surroundings without knowing the entirety of the issue, which makes more focused on talking about the aftermath of the problems instead of fixing the source. For instance, regarding political issues, we all complain about today's political practices and criticize the politicians, when the source of the problem is how we manage the political system itself. We need to find out what is unusual or wrong with the system and figure out how to fix it. Regarding economical issues, the recent rise of a syariah economy concept means that we need to focus on how the concept can become a constructive solution, not on how to merely perform 'syariah' with no purpose and leave the economy and Islam aspects behind," He added.
Haedar hopes that the forum of professors will contribute to Islam and the public at large. "I hope that through this forum, Muhammadiyah will be a place to address different issues, considering that the expertise and contributions of the professors cover many different fields. This shows a great potential from Muhammadiyah, and I sincerely hope that the forum can be used in a modern Islamic context," He closed. (raditia)