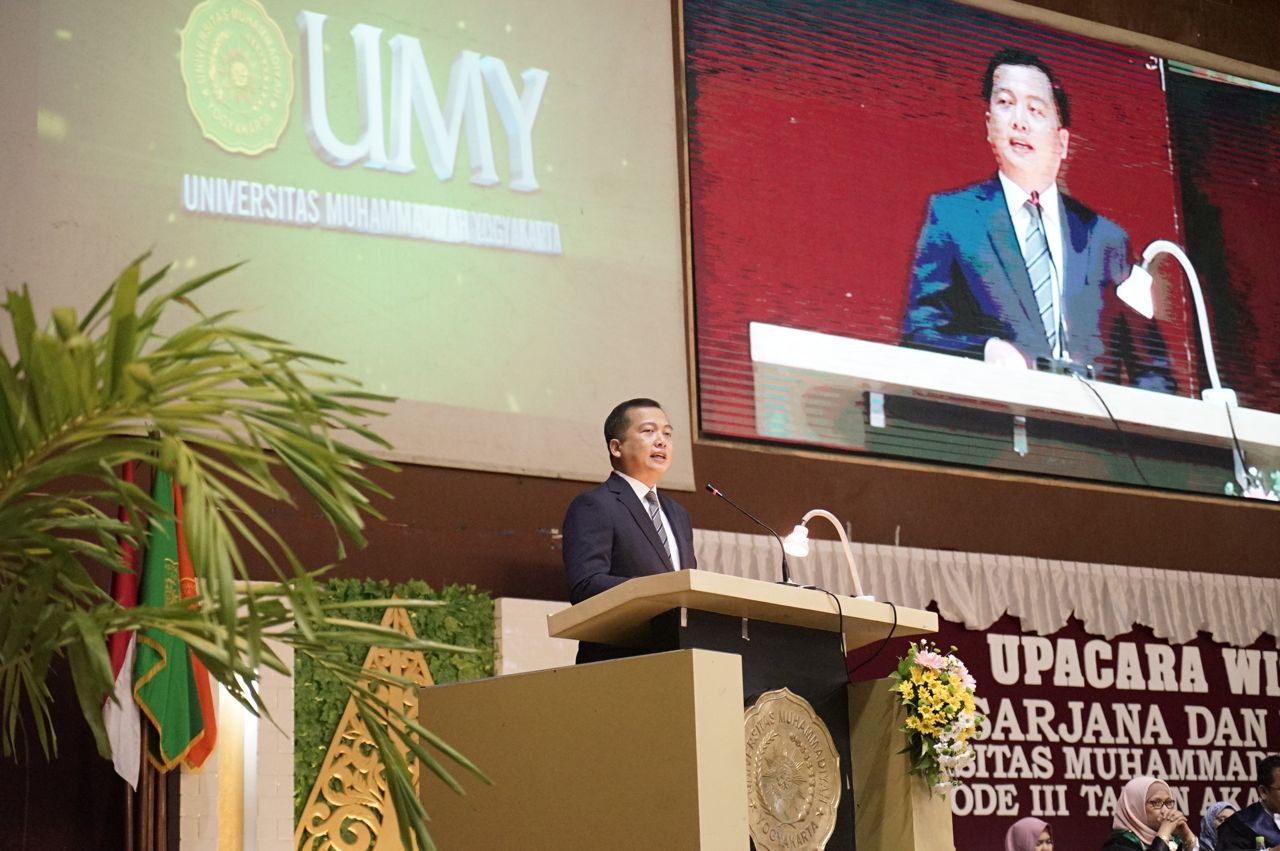 ­­­Accomplishing a study in higher education is an end, but a beginning for students to contribute to community. It also does not mean that an occasion to pursue the next higher education is lost. The statements were highlighted by Rector of Universitas Muhammadiyah Yogyakarta (UMY) and Indonesian Ambassador Extraordinary and Plenipotentiary to the Republic of Turkey Dr. Lalu Muhamad Iqbal in UMY commencement of period III of academic year 2018/2019 on Saturday (4/5) at Sportorium of UMY.
To 1,478 graduates, Gunawan stated that graduates are a part of a demographic bonus and play huge roles in creating the future of Indonesia. "You are future generations to build Indonesia so that you should leverage all opportunities you have. Either continuing your study or working, you have to make what you do a medium to contribute to this nation," he declared.
Meanwhile, Lalu who is also an alumnus of Department of International Relations of UMY conveyed that the graduates should dream big. "Sarjana (graduate) in Sanskrit refers to mastering a field so that I am eager to go from this place confidently. I also advise that you do not limit yourself by only finding a job to get paid. As graduates, you have to have dreams and principles to reach your future," he emphasized.
"You are generations of Muhammadiyah who always give contribution to community. Be Al-Furqon (the Criterion) who can be different from others. You are Muslim graduates so that you have to be an agent of change as an Islamic value to enlighten the world," asserted Lalu.
He added that UMY graduates possess other duties. "A journey of institutions, including UMY, comprises of three phases. First, it is an establishment phase. Next, it is a time to prove their existence. UMY passed this phase and many departments and faculties of UMY gained reputable achievements. Last, it is a period to verify its relevance. UMY is now in this phase. What UMY does and teaches to students should be relevant to what community needs. Hence, show it and develop this nation as well as the community through areas of your interest," stressed Lalu.
Lalu, further, advised the graduates to uphold UMY characteristics. "In my point of view, UMY has two characteristics in its teaching. First, we are learned to uphold and respect idealism. Second, we have to be able to transform ourselves from being a student with a lot of anxiety to becoming a graduate who can answer our own anxiety," he mentioned.
Additionally, at the commencement, the best graduate for a bachelor's degree program was Iswatul Fatimah from Department of Civil Engineering with GPA of 3.98 and the best graduate for a master's program was Rizki Dian Nursita from Master of International Relaltions with GPA of 4.00. The graduate with the fastest study duration was Sekarlita Gustaf Putri from Department of Electrical Engineering, namely 3 years 4 months 20 days, and the youngest graduate was Raden Roro Astrid Kurnia I. at the age of 20 year 9 days from Department of Governmental Studies.