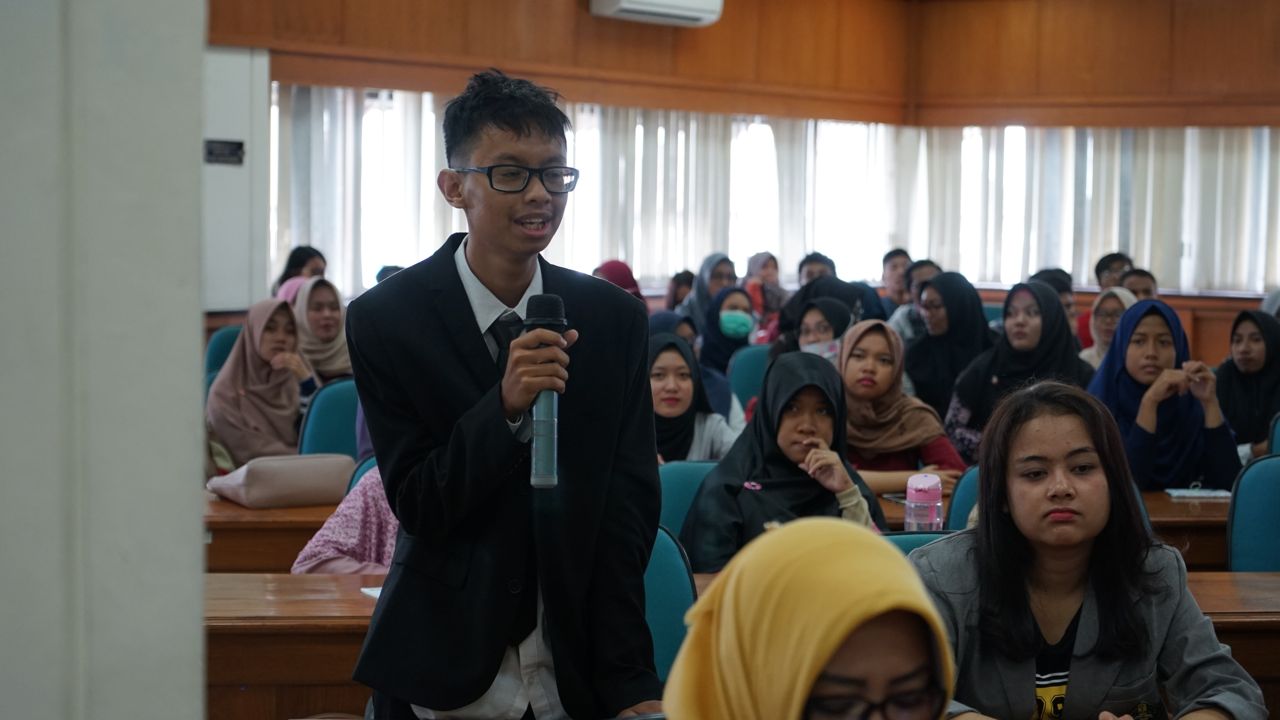 Department of English Language Education and Department of Arabic Language Education of Universitas Muhammadiyah Yogyakarta (UMY) collaborating with Department of English Language Education of Universitas Kristen Duta Wacana (UKDW) conducted a public lecture on extensive reading. Held on Saturday (27/10) at A.R. Fachruddin B, the public lecture was attended by Jordyna Austine (an avid reader/Tourism Studies of Universitas Gadjah Mada), lecturers of Department of English Language Education of UMY and UKDW, students of UMY of batch 2018, and students of UKDW.
A low literacy rate of Indonesia and being interested in extensive reading underlay the lecturers of UMY and UKDW to organize the public lecture aiming to foster students' reading interest. The lecture was related to a module at the Department of English Language Education of UMY, namely Basic Reading.
As a speaker as well as a graduate of Department of Tourism of Universitas Gadjah Mada, Jordyna Austine shared her experience of extensive reading of English books. She invited participants of the public lecture to increase reading interest and motivation. "Reading books is not as scary as you think. Indeed, we have to determine goals of why we read. Thus, the motivation remains existing. For instance, we will write our undergraduate research so that we need to reads a lot of materials. What I usually do is that I say 'you need' or 'you have to…'" Do not think that I loved reading. I begin reading books I like. When eating or before sleeping, I can stay the book away from me," she told.
Dyna commonly spares her leisure time reading so that she is not disturbed when reading. "My most sacred moment of reading is when I am at bathroom. Besides, I usually read during my lunch so that I get serenity. However, you have to remember that you may not spend your whole day reading since you will get bored," suggested Dyna.
Additionally, the public lecture also enabled students to share knowledge and experiences which they gained from reading books, particularly English books. "This extensive reading gathering is addressed to transfer reading desire so that other students are interested in reading," stated a lecturer of Department of English Language Education of UMY Evi Puspitasari, S.Pd., M.Hum.
Evi expected that that the public lecture raised students' awareness of reading. "I wish that students will read without being required. Inviting Jordyna Austine as a role mode may shift students' paradigm from 'reading is boring' to 'reading is cool' or reading can be a medium to increase a TOEFL score," she expressed.
Additionally, after the public lecture, students will join Kelas Pagi Yogyakarta (KPY), a reading community in Daerah Istimewa Yogyakarta.