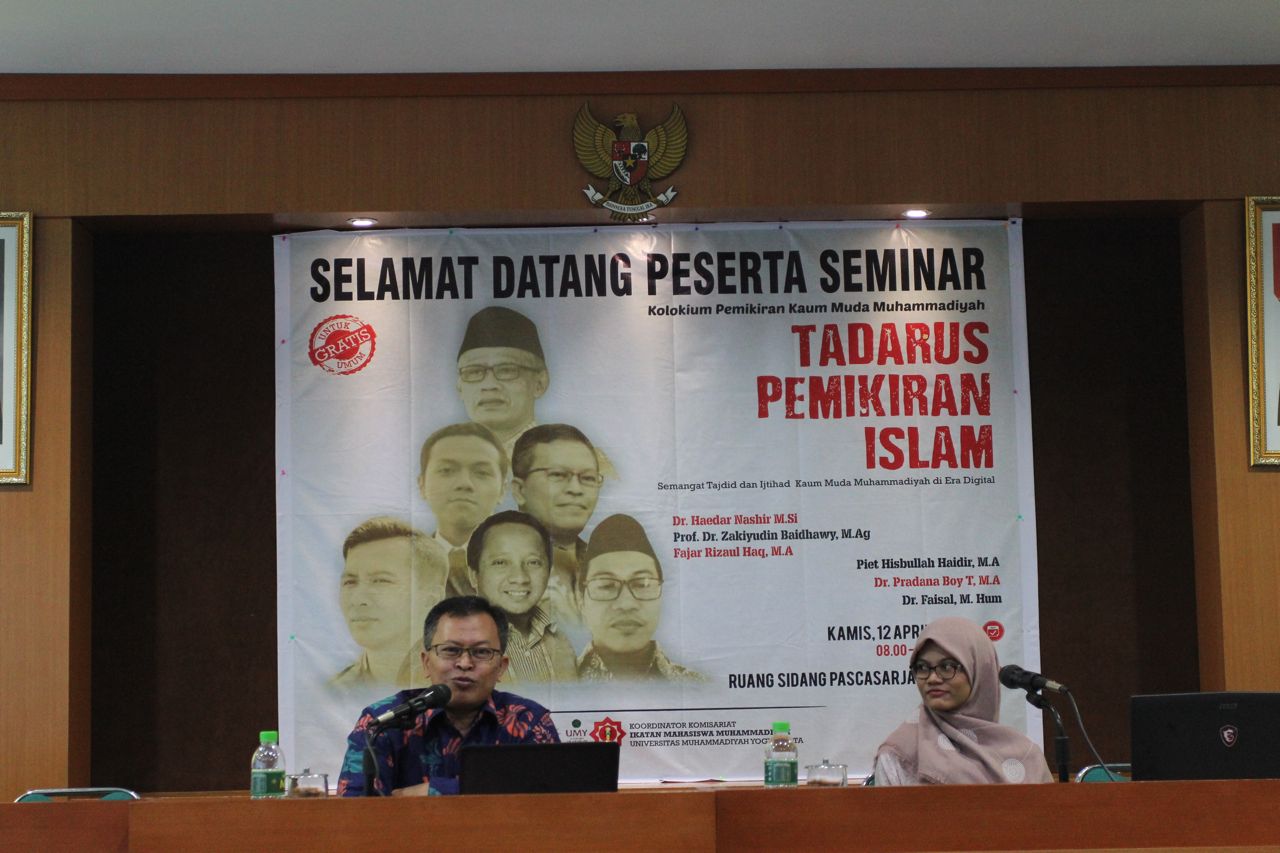 Due to the science and technology development, young generations should be able to confront more complex conditions and align today's issues with Islamic teachings. Thus, Muslim scholars should bear solutions as an effort of ijtihad.
"Islam always suits to each era," stated Vice Rector for Student, Alumni, Islamic and Muhamamdiyah Movement Affairs Hilman Latief, S.Ag., M.A., Ph.D. on the opening of a colloquium on Islamic Thoughts at a meeting hall of Building of Kasman Singodimejo of Universitas Muhammadiyah Yogyakarta (UMY) on Thursday (12/4).
"Muhammadiyah has senior figures with a lot of ideas, but not it is time for young generation to have Islamic thoughts to respond global phenomena," declared Hilman at the colloquium organized by Muhammadiyah Student Association (IMM).
Meanwhile, one of the colloquium speakers, Prof. Dr. Zakiyudin Baidhawi, M.Ag. declared that critical and creative thoughts are the key to create solution in accordance with Islamic teaching. "The first century of Muhammadiyah, the movement did ijtihad that it should contribute to social issues such as fields of education, health, and worship. Due to focusing on the issues, Muhammadiyah has become a role model for other Indonesian organizations. Then, besides concerning with the three areas, what is new contribution that we will give to our society?" asked Zakiyudin.
He proposed that the new contribution which we can be undertaken is investing in digital skill development such as big data management. "Do not doubt to invest in the digital industry since the fourth industrial revolution demands tend to digital fields, and we also need them. There are a lot of Muhammadiyah institutions and there must be enormous data. We need people with the capability to integrate the data so that organization planning and management can be more efficient," revealed Zakiyudin.