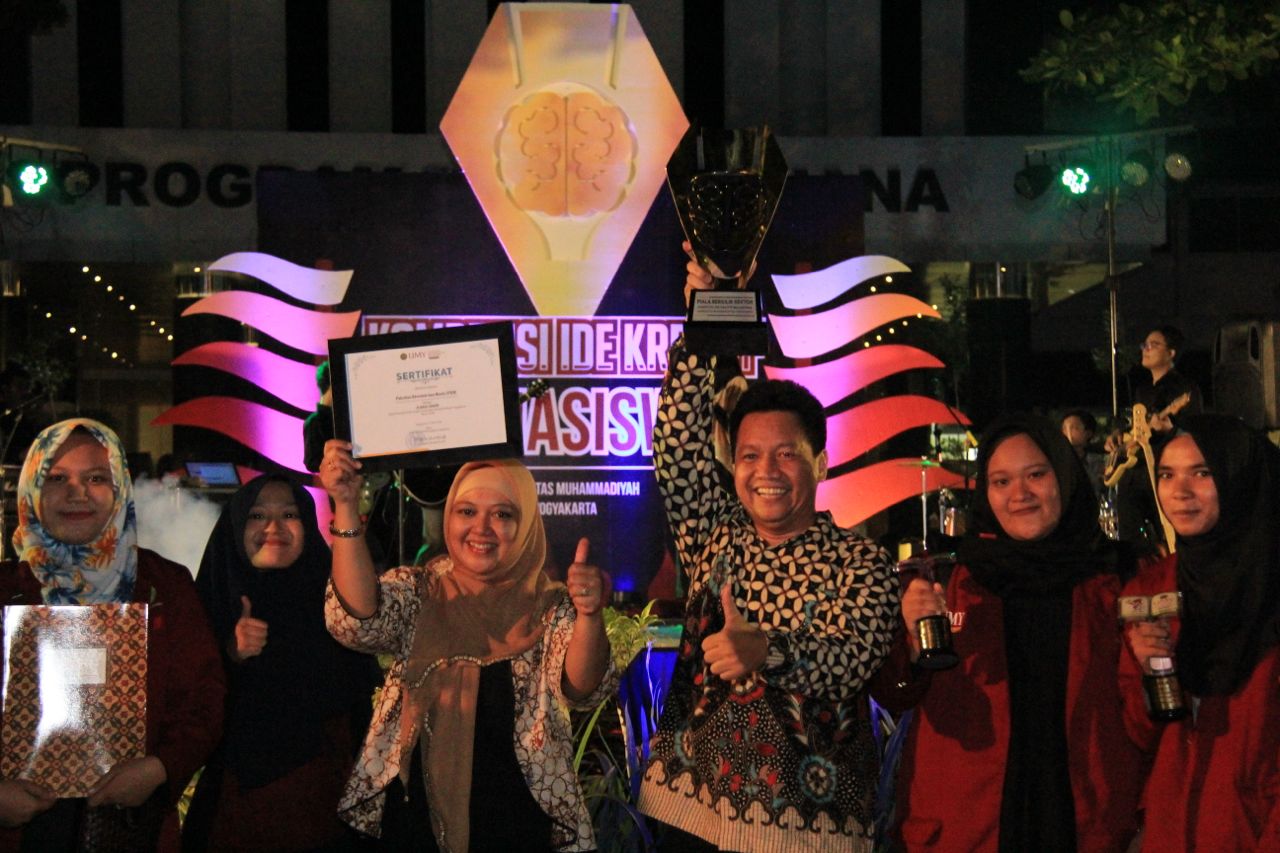 Universitas Muhammadiyah Yogyakarta (UMY) firstly conducted a Creative Idea Competition (KIK), Student Creative Week (PKM) on Saturday (12/5). The competition aimed to enhance an academic atmosphere and trigger students' creative notions.
Head of Student and Alumni Development Office Sugito, S.IP., M.Si stated that UMY annually sends approximately 450 proposals to Directorate General of Higher Education (Dikti). "In this competition, the committee received 132 proposals which will be submitted for PKM 2019. We are proud since the competition participants are students of batch 2016 and 2017 who possess fresh and unique ideas. I see that students' capability in expressing the notions are not quite different from students selected at the PIMNAS (National Scientific Week). I am optimistic that the KIK will be an incubator to prepare students for the PIMNAS," he expected.
Gito added that UMY is the only private university which became top 6 at the PIMNAS. "At PIMNAS in UNDIP, UMY achieved two gold medals and one bronze medal. UMY was in the sixth rank defeating University of Indonesia and ITB so that UMY is taken into account in the PKM. The KIK is a mean for students to be familiarize with a competition atmosphere of the PKM and PIMNAS. I believe that department heads and deans have encouraged students to participate in the KIK.  This competition is not to defeat one another but to explore students' skills. Thus, collaboration of inter-faculties are expected to undertake the PKM and they do not merely focus on their area of interest," he emphasized.
Meanwhile, chief of the KIK committee Oki Wijaya, S.P., M.P. revealed that the competition may enable students to gain experiences to express their notions. "An ability to convey ideas should always be instilled after they graduate. The KIK is not only a competition but also a process to think more creatively. Moreover, the competition comprises of research, entrepreneurship, community service, technology implementation, and copyright work, and written notion fields. Here are the medal receivers: Faculty of Economics and Business gained (9 medals), Faculty of Medicine and Health Science (3 medals), Faculty of Islamic Studies (2 medals), and Faculty of Agriculture (2 medals). A faculty gaining the most medals obtains Rector's Trophy. I wish that there would be more participants and students could explore their capability," he maintained.