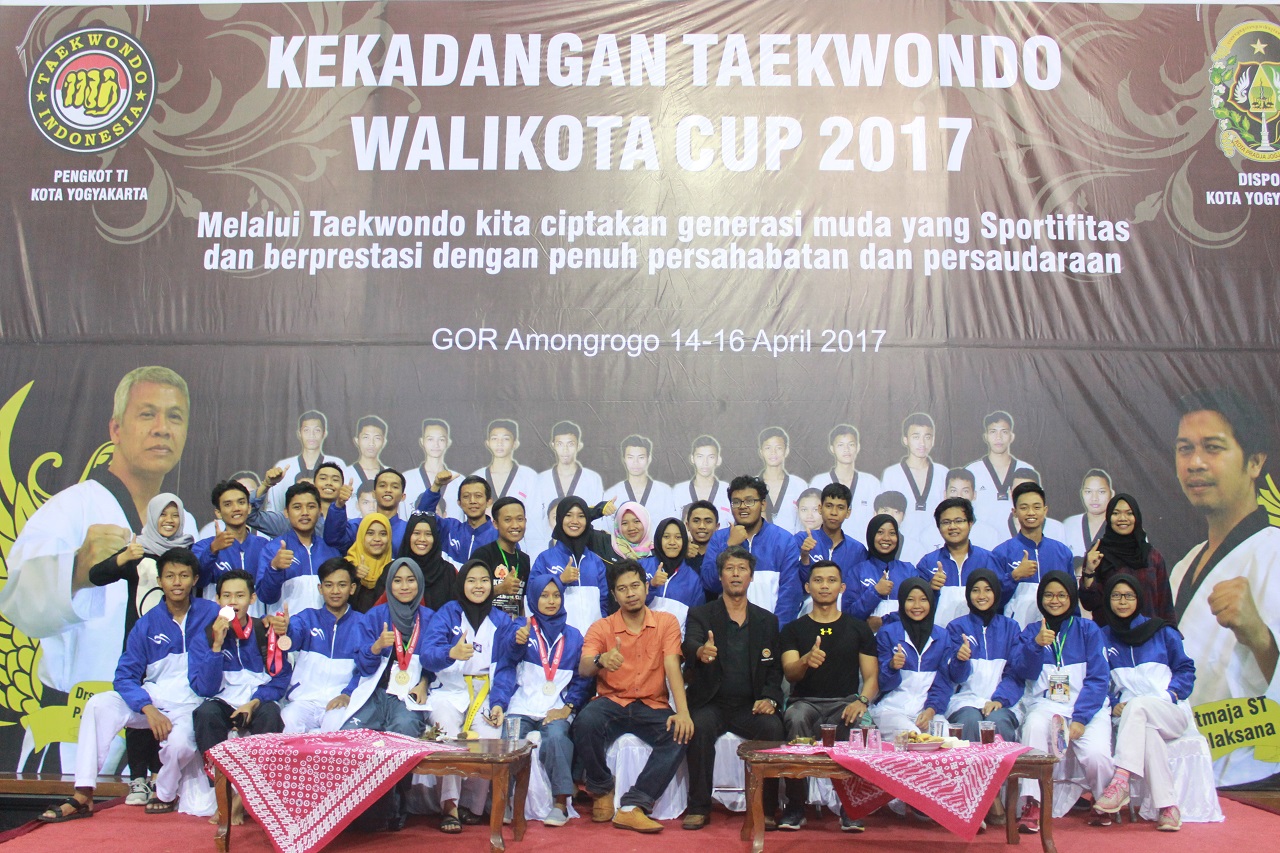 Taekwondo club of Universitas Muhammadiyah Yogyakarta (UMY) achieved 24 medals consisting of 7 gold medals, 7 silver medals, and 10 bronze medals in 'Kekandangan Walikota Cup 2017' on Friday-Sunday (14-16/4) at GOR Amongrogo, Yogyakarta. There were 1036 participants from Bali, Gorontalo, and DKI Jakarta.
Chief of Taekwondo club of UMY Asep Maulana expresses his gratitude for the achievement. "Alhamdulillah, we could gained the achievements. There were 24 taekwondo athletes of UMY competing in various branches and all of them got medals," told Asep in an interview with the Public Relations and Protocol Office of UMY on Monday (17/4).
In this tournament, the gold medals obtained by UMY were greater than last year since the number of athletes were also larger than previously. "There were only five athletes last year, and three of them got gold medals," mentioned Asep.
The athletes won the gold medals were Didik Fahmi Lasodi (an Accounting student of batch 2014), Yusril Ihza (an International Relations student of batch 2016), Muhammad Anarki (an Agricultural student of batch 2016), Intan Nadya (an Islamic Communication and Counseling student of batch 2016), Candra Kusuma (a Management student of batch 2015), Afiatika (a student of International Program of Government Affairs and Administration of batch 2016) and Lisa Yanuarti (an English Education Department of batch 2015).
Asep asserted that athletes had exercises for two months to prepare for the taekwondo tournament. They also did sparring with Taekwondo club of UMM Malang and UNS. "Indeed, we also conducted joint prayer with orphanages," he said.
He also informed that most of the athletes of UMY were students of batch 2015 and 2016. It was intended to the athlete regeneration for the next championship. "Athletes of batch 2013 are now in year four of their study, while students of batch 2014 are now in year three. Thus, we sent 24 athletes for the regeneration.
Additionally, the achievements gained in the taekwondo can be a good momentum for preparing for a national taekwondo tournament in August. They also will joined 'Kejurnas Piala Presiden 2017'. "We wish to obtain other medals in other competitions," expected Asep.