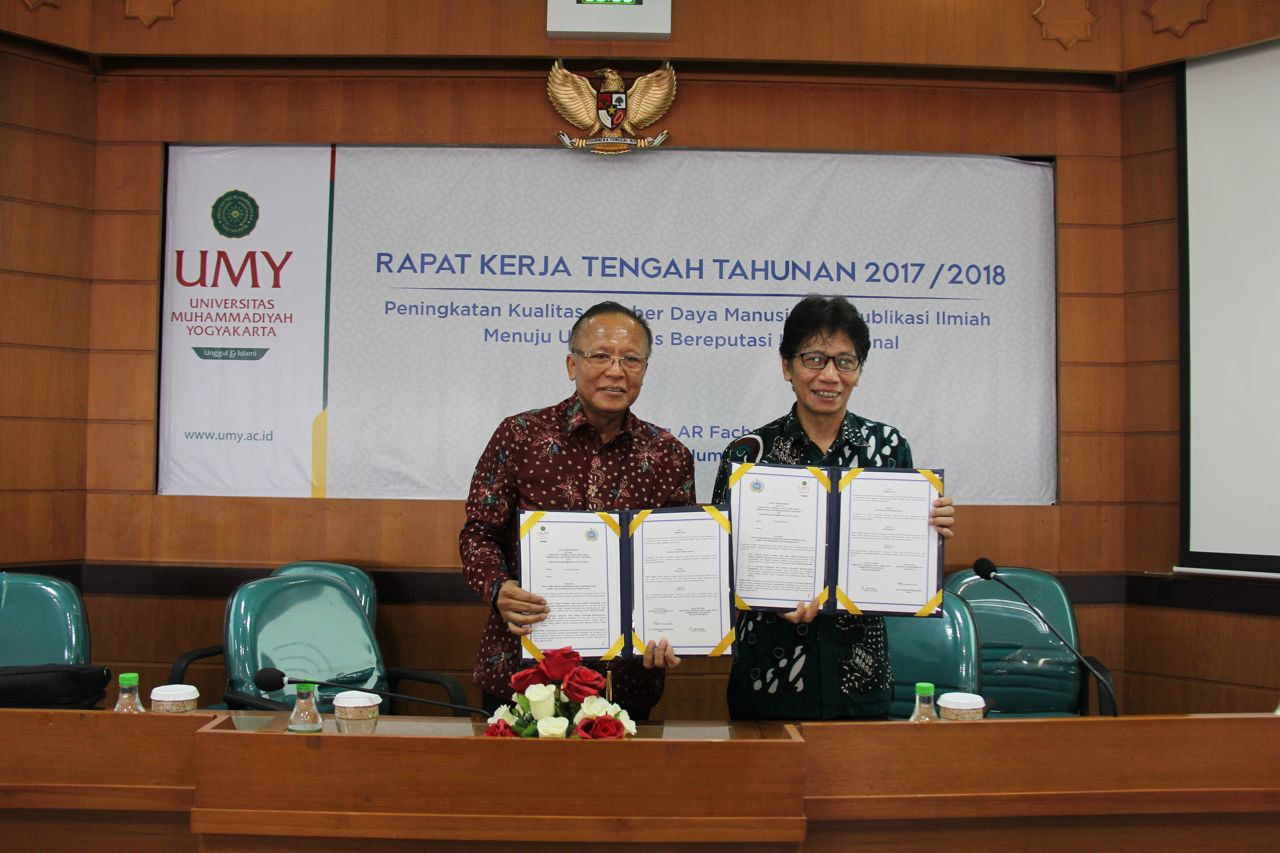 The ASEAN Study Center was established at Universitas Muhammadiyah Yogyakarta (UMY) on Saturday (10/3). It was officially announced by Secretary of the Directorate General of ASEAN Cooperation of Ministry of Foreign Affairs of the Republic of Indonesia Ashariyadi. Besides the inauguration, the Secretary signed Memorandum of Understanding with UMY represented by Rector of UMY Dr. Ir. Gunawan Budiyanto, M.P. Afterwards, the secretary delivered a public lecture on 'ASEAN: Achievements and Future Challenges' at Amphitheater of K.H. Ibrahim, UMY.
Ashariyadi informed that the ASEAN Study Center establishment aims to reinforce identity and to raise awareness of the existence of ASEAN. "Indeed, the ASEAN Study Center exists for research, knowledge dissemination of ASEAN in domestic areas since Indonesia lags behind Thailand and Singapore dealing with the ASEAN understanding," he maintained.
Ashariyadi inserted that it was the 53th ASEAN Study Center in Indonesia. The occasions of ASEAN should be understood and utilized in various sectors of three pillars of ASEAN cooperation. "Through the ASEAN Study Center, we would like to create agents of change so that students can deepen their understanding of ASEAN can disseminate it outside this university," he declared. The ultimate goals of the ASEAN Study Center is to engage ASEAN Study Center as a regional partner, to be the main reference (in regions) to raise public awareness and understanding of ASEAN, and to brainstorm activities to strengthen public identity and awareness of ASEAN.
Meanwhile, Head of the ASEAN Study Center of UMY Ali Muhammad, Ph.D. believed that the existence of the ASEAN Study Center is essential because ASEAN possesses vital roles in political and economic aspects of Southeast Asia countries. "Hence, UMY needs to found the ASEAN Study Center.  Having a vision as the leading study center in research and publication on ASEAN and politics and economy in Southeast Asia countries, programs of the ASEAN Study Center encompass research, publication, and seminars dealing with the issues," he mentioned.
Ali told that the ASEAN Study Center establishment was initiated by Head of Department of International Relations of UMY, and it is not under the department's control, but the university's. It involves multidisciplinary and various departments. "They are Department of International Relations, Medicine, Law, and Agriculture. In fact, this is the first ASEAN Study Center at Muhammadiyah higher education institutions," he stated.
In addition, the organization structure of the ASEAN Study Center is Ali Muhammad, Ph.D. (head), Dian Azmawati, M.A. (secretary) and various divisions led by Dr. dr. Ihlas Muhammad Jennie, Jordan Gunawan, S.H., M.H., MBA, and Heri Akhmadi, S.P., M.A.