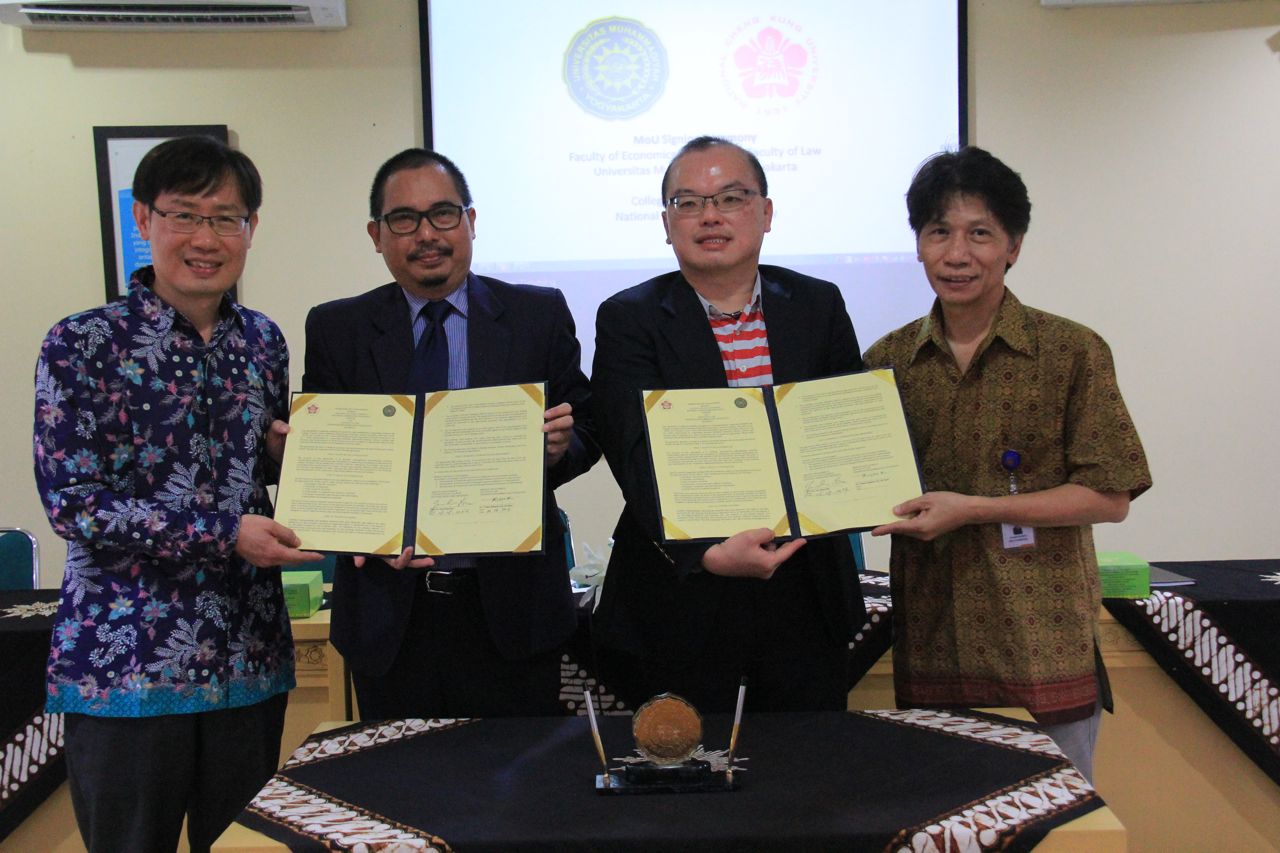 Having a tagline 'Muda Mendunia' and committing to becoming a world-class university, Universitas Muhammadiyah Yogyakarta (UMY) always attempts to cooperate with educational institutions in Indonesia and overseas. Supporting the goal, Faculty of Law and Faculty of Economics and Business (FEB) signed Memorandum of Agreement (MoU) with College of Social Sciences of National Cheng Kung University (NKCU), Taiwan on Tuesday (8/8) at director's room of Graduate School of UMY.
In his remark, Rector of UMY Dr. Ir. Gunawan Budiyanto, M.P. stated that the cooperation can reinforce academic aspects in the faculties and departments. "It is a follow-up of the MoU signing on 25 July. It is an honor for UMY to collaborate again with the NKCU through Faculty of Law as well as Faculty of Economics and Business of UMY and College of Social Sciences of NKCU. Hence, I expect that this cooperation could enhance quality of both universities," told Gunawan.
According to the MoU, the cooperation aimed at promoting international understanding, scholarly collaboration, cultural interaction and friendship by supporting educational, professional cultural activities among faculties and students of the two institutions.
The MoU discussed cooperation programs such as exchange of faculty members, exchange of students, joint research activities, participation in seminars and academic meetings, exchange of academic materials and other information, and special short-term academic programs. The exchange faculty members shall be subject to the instructional and staffing requirements of each university. The approval of exchange faculty the assignment of teaching responsibilities and all other features of an appointment shall require the approval of the appropriate academic and administrative in each university. Both parties agreed that the exchange can be joined by the maximum of ten students, two lecturers, and two researchers each semester.
Meanwhile, Vice Rector for Academic and Student Affairs of NCKU of Prof. Dr. Chin Fu Hung declared that both universities possess similar notions to foster educational quality as a contribution to the development of their nation. "Both UMY and NCKU are a leading university in their country and in Asia sot that the cooperation can promote strengths of each higher education institution. Therefore, I wish that the cooperation could be sustainably conducted in all fields," maintained Chin.