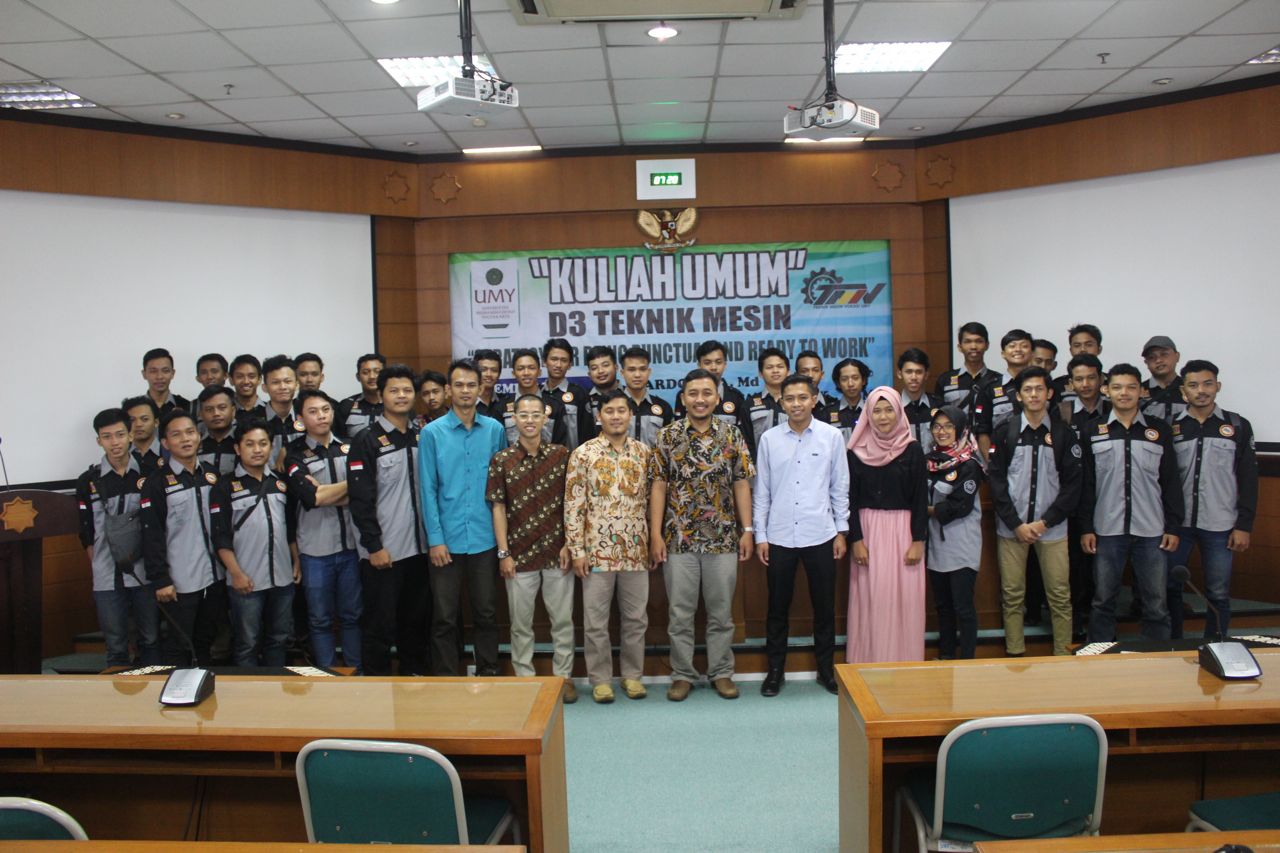 Alumni possess a great contribution to shape students' characters. Alumni can motivate students to graduate in time and help students to prepare for works. Departing from the circumstance, Department of Mechanical Engineering of Vocational Program of Universitas Muhammadiyah Yogyakarta (UMY) conducted a public lecture with Alumni on Saturday (6/4) at Hall of A.R. Fachruddin A Building of UMY.
Head of the committee Putri Rachmawati, S.T., M.Eng. explained, "Our theme is Strategy for Being Punctual and Ready to Work. The theme corresponds to our current situation showing many students did not really graduate in time. Department of Mechanical Engineering held the public lecture as anticipation so that the students can graduate in time. The public lecture targets all students of 2017 so that they will possess motivation to confront the working world. The students are also urged to graduate in time and become the best graduate."
Moreover, the public lecture also invited other alumni, namely Wardoyo, A.Md. and Irfan Rizqi K., A.Md. The two alumni delivered several tips to be successful in achieving goals and aspirations. Wardayo who is now an engineer in Nasmoco Cilacap, Jawa Tengah, presented brief information related to the working world. He conveyed, "Motivation to succeed comes from oneself. People should start with a very serious intention so that everything else will follow easily. Students must prepare everything they need to confront the future. Do not give up if many stumbles come in your way. Keep your hard work until you achieve your target."
"Besides, all students must comprehend the working world. In my personal experience, every corporation considers its employees not only to be proficient in fields they address to have soft skills. For example, the company sees a soft skill that shows employees' social interaction with their peers. Most importantly, a corporation also seeks employees who are willing to learn," added Wardoyo.
Furthermore, Irfan Rizki who is now working as a staff at Certification and Profession Office of Yogyakarta conveyed, "My very first motivation is my parents who have brought me all the way to this point where I am standing. Besides, my friends also become my support systems to achieve my aim. Another portion that motivates me to be the person I am today is my competitors. As we should remember that our competitors do not come from our classmates and university, but also from friends all across Indonesia who are fighting to get the position we want so badly."
Irfan maintained, "We should recognize our potential first. It would be bad if we choose a job or occupation that does not suit our passions. In any case, working should consider passions and hobbies so that it will be delightful."