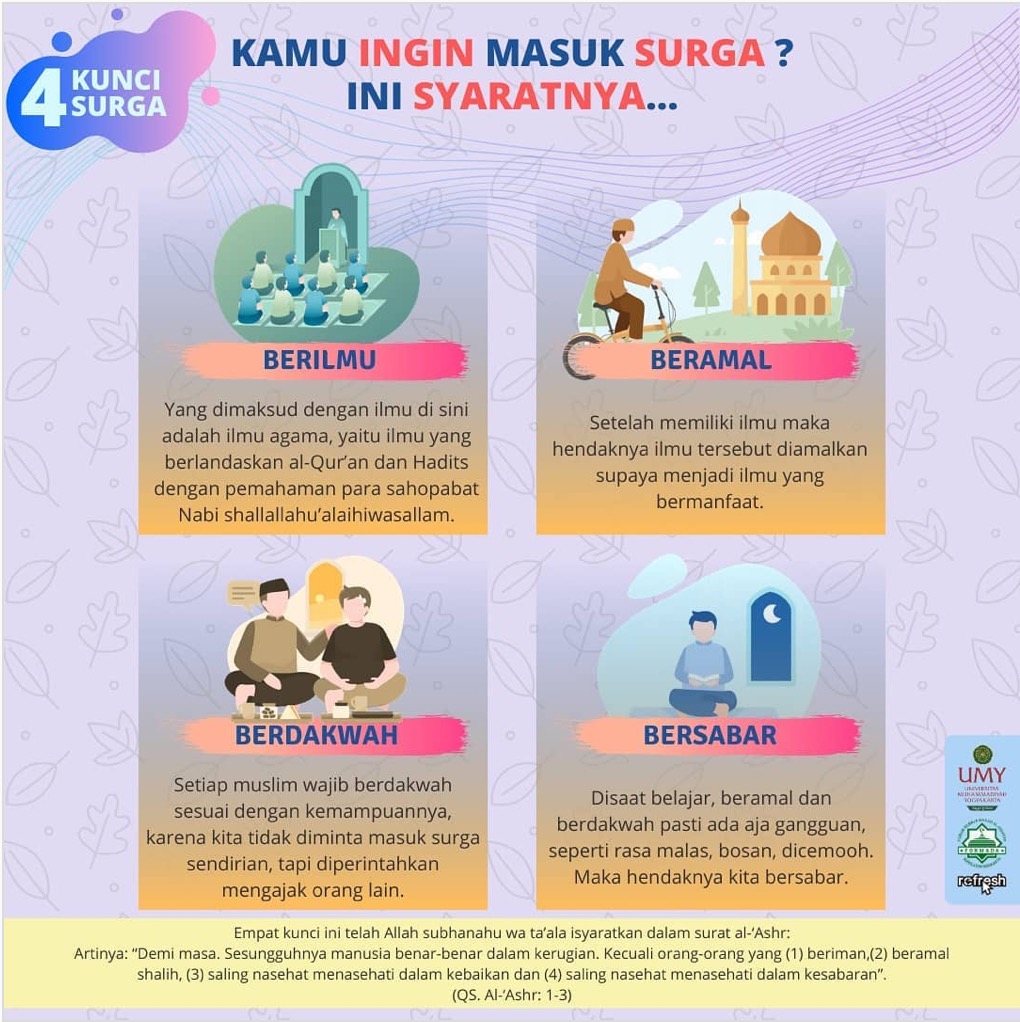 The development of information technology, especially multimedia, has become an important part in various parts of life, including religion. Religious activities in the form of dissemination of information can now be carried out through social media in the form of posters or videos. However, not many preachers have the skill to make posters or videos.
To answer this problem, Universitas Muhammadiyah Yogyakarta (UMY) founded the POVID-20 School, a school that aims to provide skills to mosque youth, clerks, or da'wah communities to develop creative media. In the long run, it is hoped that da'wah will be more interesting and communicative so that it has a broader positive influence. The POVID-20 School is a Community Service Program funded by UMY in collaboration with the Youth Forum of Al Hidayah Mosque (FORMADA) Sorolaten, Sidokarto, Godean and REFRESH – a millennial preaching community in West Yogyakarta.
Slamet Riyadi, PhD, the Principal of POVID-20 explained that this school was held online through an e-learning platform owned by UMY, namely myklass.umy.ac.id. "Our school is carried out fully online not only because it is in the emergency response period of COVID-19, but also to provide flexibility to participants in learning and to introduce the UMY e-learning platform to the community," explained Slamet, who is also a Lecturer in Information Technology Study Program at UMY, when contacted on Friday (5/15).
Slamet explained that the school was held for four weeks (12 April – 9 May 2020) and consisted of two stages, namely the learning phase and the competition stage. In the learning stage, the 30 participants learned through UMY e-learning, while at the competition stage, participants compiled posters and videos of creative da'wah media which were then judged to be selected as 3 da'wah poster champions and 3 da'wah video champions.
Furthermore, Erwan Sudiwijaya, MBA, MA, Vice-Principal of POVID-20 as well as a Lecturer in Communication Studies at UMY, explained that learning in the POVID-20 School included four things, namely the basic elements of making infographic posters and videos of da'wah blogs, processing content, designing posters, and compiling video scripts. "Our learning concept is student-centred learning where students actively and independently learn through video and do structured assignments through e-learning," he concluded.
Champions of the Da'wah Poster and Video Contest was announced at the POVID-20 Awarding Night School, Tuesday, May 12, 2020, which was held via video conference. Chosen as the Best Poster Da'wah is "Kamu ingin masuk surga? Ini syaratnya…" by Christianto Adi Nugroho, Runner Up is "Ramadhan dalam pandemi? Sudah ngapain aja?" by Al Farellia Jana Dewi, and Favorite is "Ingin Ramadhanmu Banjir Pahala? Berikut Persiapan yang harus kamu lakukan!" by Isnaini Nur Fauziah.
For the propaganda video, Best Video was won by "Ingin Ramadhanmu banjir pahala? Berikut 4 persiapan yang harus kamu lakukan!!" (Isnaini Nur Fauziah), Runner Up by "Penyebab Puasa Ramadhan kita sia-sia!!" (Fafan Fitrianto), and Favorite by "Jangan Bantu Orang Lain Saat Punya Rezeki Lebih !!!" (Rany Wulandari).