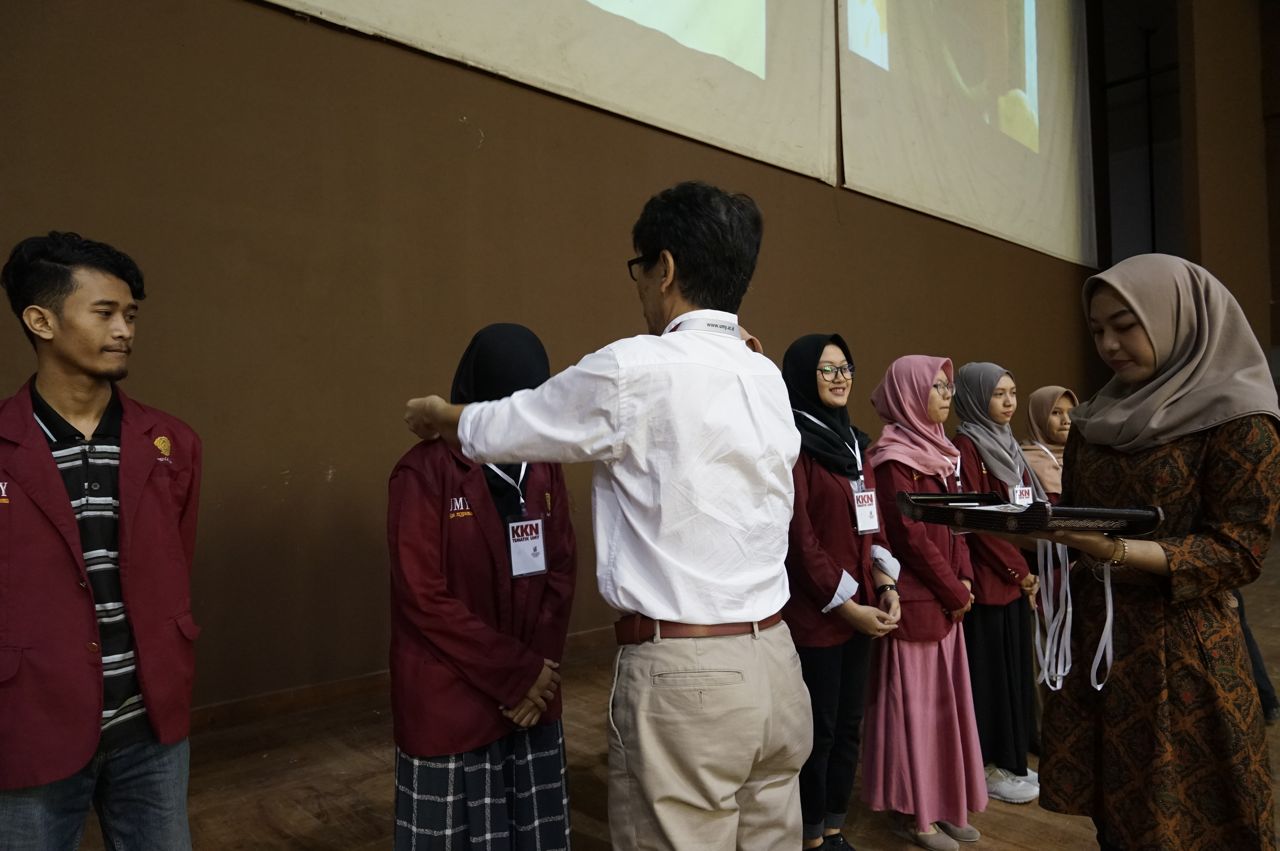 Universitas Muhammadiyah Yogyakarta (UMY) has sent 1950 students for their Social Services program. The students will be spread across eleven regions in Central Java and the Special Region of Yogyakarta (DIY). The students were symbolically launched by the Rector of UMY, Dr. Ir Gunawan Budiyanto, M.P and the head of the Central Board of Muhammadiyah, dr. H. Agus Taufiqurrahman, SpS.,M.kes. In UMY Sportorium building on Thursday (18/7).
"I hope that you all will not burden the public, but become facilitators to help them. For the students who will be sent to DIY and Central Java, I hope you can make Muhammadiyah and UMY proud. May the month you will spend in the villages make you a better and Islamic student," Dr. Ir. Gunawan Budiyanto implored during his opening statements in front of the students.
dr. Agus Taufiqurrahman, meanwhile, encouraged the students to work and think smart. This is because of the facilities that are available in the present. "You must be able to solve issues that may occur in your villages in the future. This social service period can help you learn to become leaders in the future," He stated.
UMY's Bureau of Research, Publication, and Social Services (LP3M) has started to spread the students' social services assignments to areas outside of DIY, which included the province of Central Java. In this social services period, there will be seven districts in Central Java that will be the location for hundreds of UMY students' activities, namely Pemalang, Wonosobo, Boyolali, Klaten, Magelang, Purworejo, and Kebumen. Students that will perform their social services in the DIY region will be placed in the Kulonprogo, Gunungkidul, Bantul, and Sleman districts.
"We realize that there are many universities in DIY that never hosted any social services in the region. Therefore, we will try to divide our students to regions we have never reached before. By working together with the local government, UMY will help improve public welfare. To help the students, we taught them Facilitation Techniques regarding the concept of program design, evaluation, and empowerment," As stated by the Head of Social Services Division of LP3M UMY, Dr. Aris Slamet Widodo, S.P, M.Sc.
Aris also mentioned that this batch of students will focus on addressing "behavioural problems" and will help resolve problems through advocation and increasing public welfare.
In addition to the batch that will be sent to the two provinces, UMY has also sent 241 students to perform social services in the 3T (Tertinggal, Terdepan, dan Terluar) regions of Muhammadiyah Social Services. The students will be laced in Northern Lombok, Sumbawa, Berau, Timor, Sebatik, Sabang, Kokoda, Manggarai, Sembalun, and a Muhammadiyah Social Services site in Bengkulu.(ak)