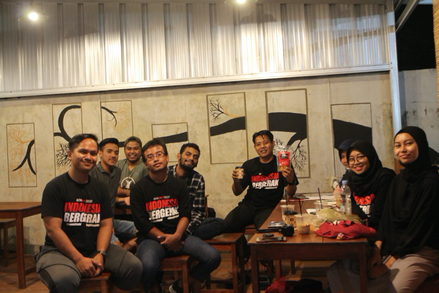 Becoming an entrepreneur is not an easy job for students, especially those in their last semester. However, this is not a barrier for Lukman Fauzi Rosidi and his team. With the Student Creativity Program (PKM), the Kedai Soerabi Kajojo cafe was founded, serving serabi (pancakes) and citruk (snacks) served in an image of Bandung. Even though it started with a relatively small amount of starting capital, this shop chose a strategic location.
From this idea, the IT-Based Community Service (KKN IT) Team 104 of Universitas Muhammadiyah Yogyakarta (UMY) conducted their community service at the shop located on Jalan Gatak, Tamantirto. The service activities will take place from July to the end of August.
The KKN IT 104 team provided digital marketing assistance by creating the E-Commerce movement "Grab for Business". Through this movement, the KKN IT 104 team led by Hendi Indra Prasetya helps MSMEs expand their marketing and facilitates their services by joining the Grab for Business platform to promote their sevices through Instagram Adsense.
Hendi revealed that the COVID-19 pandemic can indeed affect entrepreneurial activities, but this is not an unavoidable obstacle. "Hopefully, the bevy of activities that we carry out can help MSMEs develop their businesses. We used technology for marketing and promotion, so entrepreneurial activities can become more practical," he said when contacted on Wednesday (19/8).
The IT-based KKN program at Kedai Soerabi Kajojo received a positive response from Dr. Halim Purnomo, M.Pd., L., their field supervisor. "This activity is carried out in order to keep up with the demands and business competitions in the digital era. Hopefully, the presence of the IT KKN team 104 can help the development of MSMEs, especially those in Tamantirto village," he added. (ays)