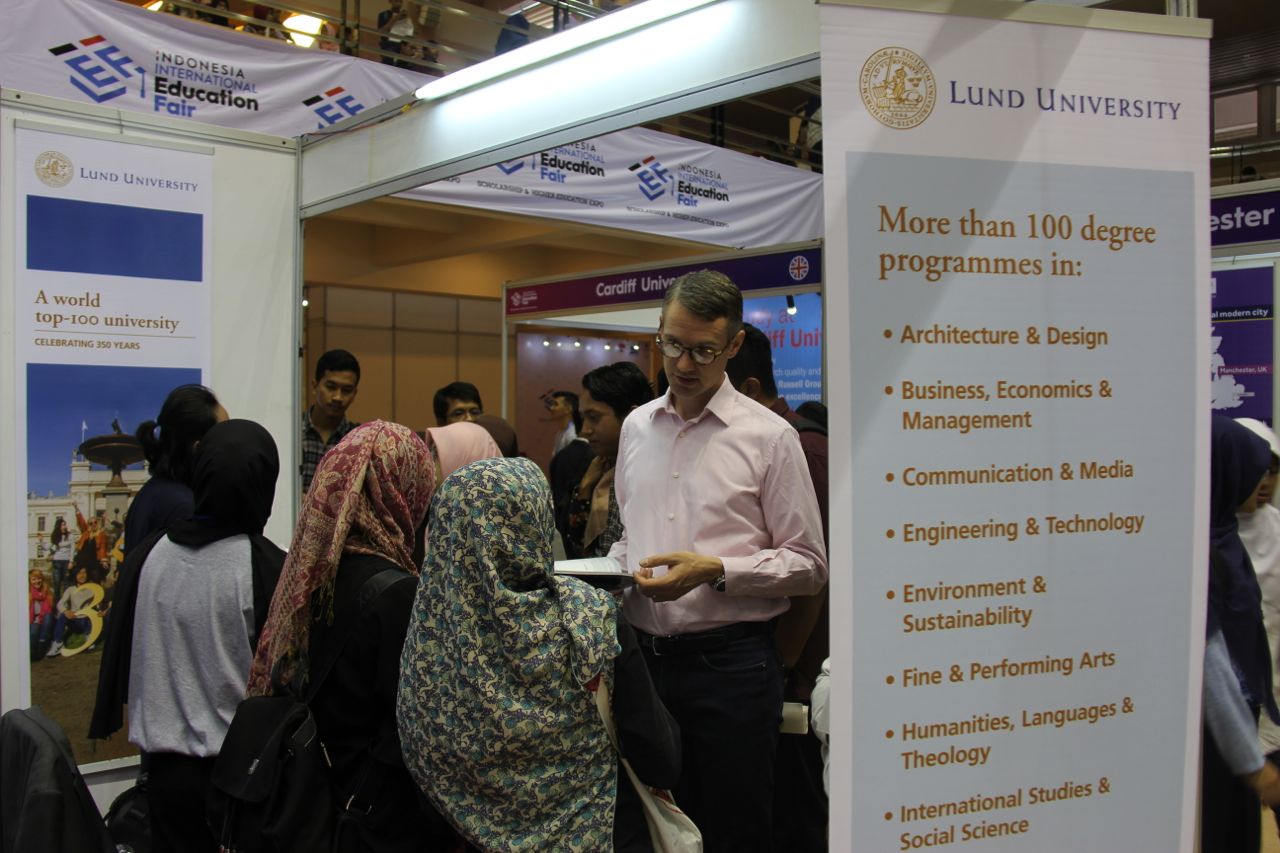 Education enables everyone to possess dreams as pursuing their study overseas. Financial issues should not hamper anyone to continue their higher education. The fact underlay Persatuan Pelajar Indonesia – Dunia (Indonesian Student Association/PPI-Dunia) collaborating with Indonesia Global Education Network (IGEN) and Universitas Muhammadiyah Yogyakarta (UMY) to organize Indonesia International Education Fair (IIEF). Bringing "the Utilization of Human Resource Capacity, Knowledge, and Technology as the Development Acceleration to Go to Indonesia's Golden Age 2045" as the theme, the education was conducted on Friday (9/3) at Sportorium of UMY.
Vice Rector for Cooperation and International Affairs Prof. Dr. Achmad Nurmandi, M.Sc. stated that it was an honor to the co-host of the education fair because many people need to gain detail information about higher education and scholarships. "Only 34 percent of high school students can go to a higher education institution. The most fundamental aspect is that students should have willingness and high optimism to broaden their knowledge of a field that they are interested in. Thus, may this education fair motivate students to pursue their higher education," declared Prof. Nurmandi.
Meanwhile, a Presidium Board of Indonesian Student Association (PPI) Riska Putri Rezana Hasan believed that each generation deserves to get occasions of education assess. "83 thousand Indonesian students are spread in the world to continue their education. They studying abroad are associated in the PPI. For your information, 9,200 visitors come to this education fair," she informed.
Riska advised that academicians and educational institutions equip young generation to develop Indonesia. "The main reason why we have to pursue our education is that Indonesia needs young generation contributing to their society. We should work together to enhance our people's quality and confront global challenges. Therefore, we expect that everyone having a chance to study aboard should back to Indonesia and develop their own hometown," she emphasized.
In addition, the education fair presented booths of institutions from various countries such as Indonesia, Japan, Hong Kong, Thailand, Russia, Australia, New Zealand, United States, Canada, United Kingdom, Ireland, France, Sweden, Netherlands, Germany, Italy, and Taiwan. The institutions were LPDP, University of Manchester, Waseda University, University of Auckland, Washington University, University of Poiters and others.