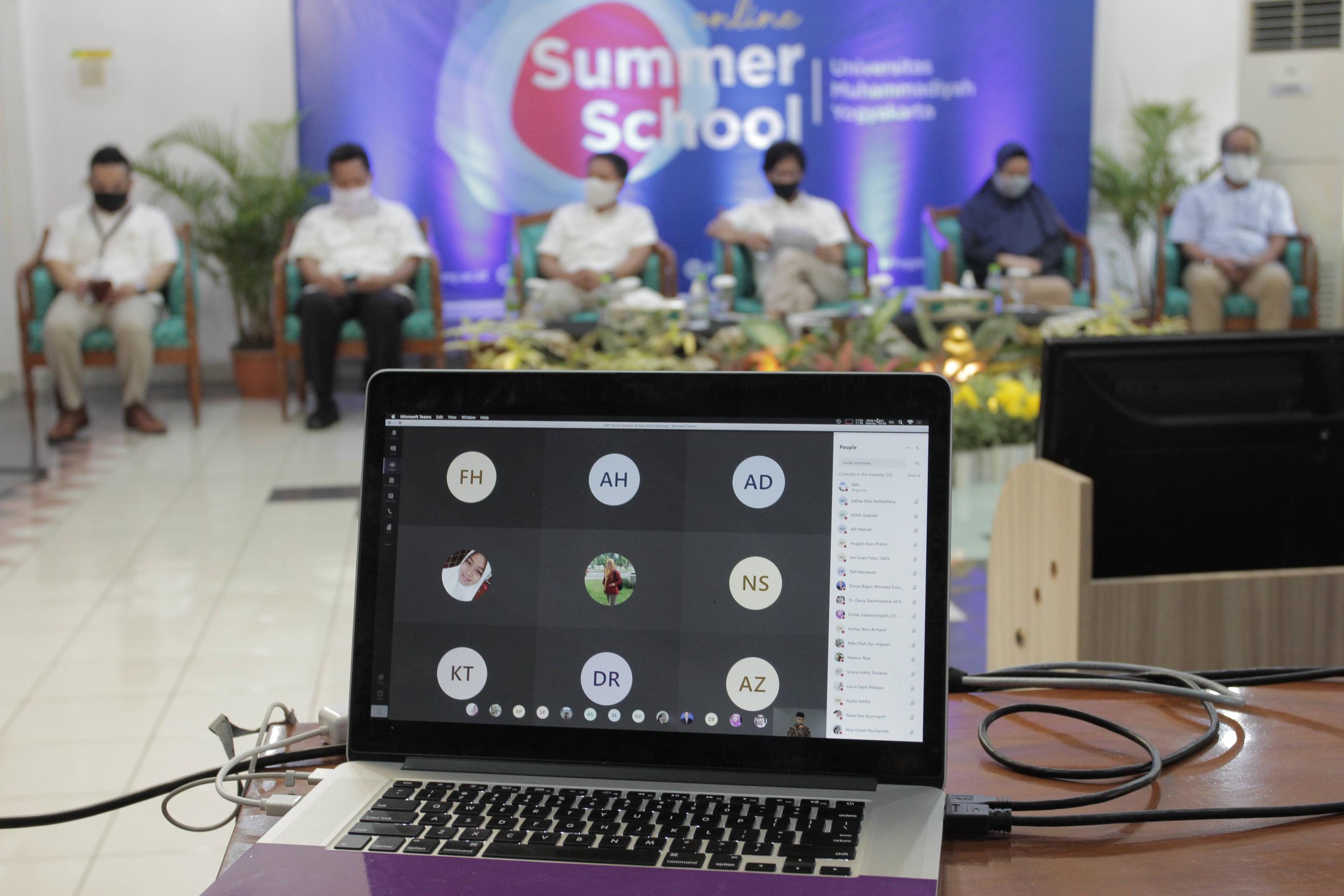 The COVID-19  does not dampen the enthusiasm to remain productive in learning. As a young and worldly campus with various international programs, Universitas Muhammadiyah Yogyakarta (UMY) held another Summer School program this year. Unlike the previous years, UMY chose to hold an online program. The opening of the 2020 Summer School was held on Monday (10/8) at the Rectorate Hall, AR A Building, UMY Central Campus.
During the opening ceremony of the Summer School program, Dr. Ir Gunawan Budiyanto, MP IPM, Rector of UMY gave an opening speech to enliven the event. "I am grateful that in the midst of the COVID-19 pandemic, UMY can still provide facilities for foreign students to study online. Campus internationalization can still run and we will continue to do it. Plus the enthusiasm of the participants from various countries is still high," said Gunawan.
Even though the program was held online, UMY managed to invite 285 participants from 16 countries to take part in the online Summer School. Student enthusiasm proved to be high with a total of 285 participants taking part in a series of events from various study programs. Yordan Gunawan, the Head of International Affairs of the UMY Office of Cooperation explained that this year, the Summer School program involves four programs consisting of: ITYIELDs (International Training for Young Islamic Economics Leaders), ITFSS (International Tropical Farming Summer School), Summer School on Tropical Agribusiness, and the International Program of International Relations Summer School. Several countries participating in this event include Malaysia, Pakistan, India, Kiribati, Egypt, Nepal, Oman, Thailand, Bahrain, Indonesia, Spain, Japan, Gambia, Nigeria, Bangladesh, and the UAE (United Arab Emirates).
The Summer School activities were held for three to fourteen days. When taking part in the Summer School activities, the participants received materials delivered by international experts in accordance with their respective majors. One of the Summer School programs this year is ITFSS (International Tropical Farming Summer School). "The difference with the previous years was in the field trip section. Usually the participants were invited to take a tour directly to see the condition of the field. But now we only provide videos so that students still have an overview of the subject," explained Dr. Ihsan Nurkomar, SP as the person in charge of ITFSS.
In the current pandemic situation, it is impossible to meet face to face. UMY always tries to provide the maximum amount of learning. During the Summer School 2020 activities, hopefully, the four study programs involved will be able to maximize the opportunities available and UMY will be able to become a good mediator during the Summer School event. Meanwhile, students participating in the Summer School are expected to gain as much knowledge as possible from the activities that have been held by the campus. (dea)