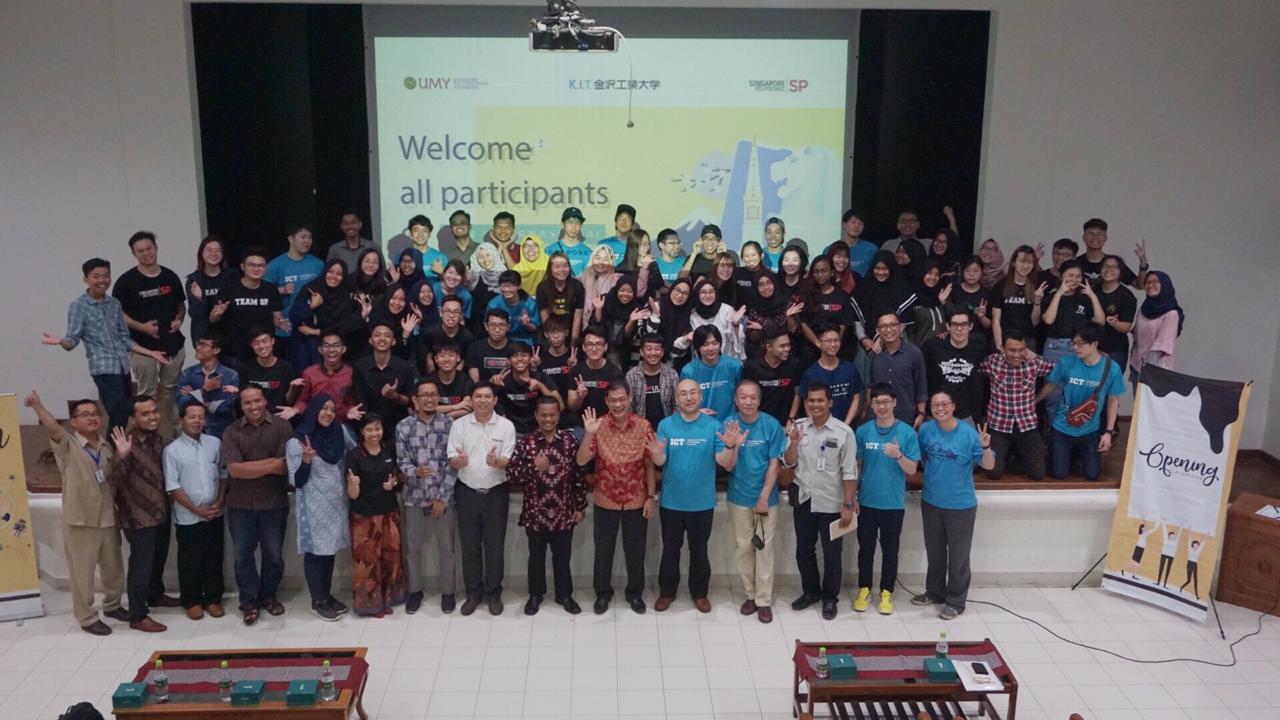 Universitas Muhammadiyah Yogyakarta (UMY) conducted an international community service program. For this even semester, UMY collaborated with Singapore Polytechnic (SP), Kanazawa Institute of Technology, and International College of Technology (ICT), Kanazawa, Japan. The opening was held in Mini Theater of Language Training Center Building on Tuesday (12/03), and was officially commenced by Vice Rector for Cooperation and International Affairs of UMY Prof. Dr. Achmad Nurmandi, M.Sc.
The international community service program was first embarked in 2012, collaborating with Singapore Polytechnic (SP). The program has been running since 2013, and is now entering year 6. The international community service program collaborating with the SP disclosed cooperation with foreign universities. This year, participants of the program reached 67 students, consisting of 28 SP students, 28 UMY students, and 11 Japanese students.
Head of Office of Research, Publication, and Community Service (LP3M) of UMY Dr. Aris Slamet Widodo, S.P., M.Sc, stated that the international community service will be executed in Kulonprogo, precisely in two rural villages of Manoreh Hills, Ngingseng and Beji. Aris added, "In Manoreh, students will conduct a new empowerment method called Thinking Design. It is a new method to emerge people's innovation. Through this international program, hopefully students can acquire many advantages and experiences. Especially in term of cultural exchange, students will sense that they are equal to foreign students, have ability to cooperate, and manage programs. They can also obtain international networking."
Aris hoped the international program will benefit to local communities in Kulonprogo. He continued, "Our expectancy is that the program will escalate competiveness of students and local community in the global era. Thus, after students accomplish their community service program, they can gain a high survival skill, compared to their peers."
In his opening speech, Agus Setiawan, a representative of Kulonprogo government, expressed gratitude to UMY for the international community service program. "Government of Kulonprogo was very surprised and grateful to have students from SP, Japan, and UMY performing the community service in Kulonprogo. In a few days, we are delighted to be visited by special guests. On behalf of Kulonprogo administrative, Insya Allah, we will facilitate the program so that they can bring benefits to people in Kulonprogo," ended Agus.