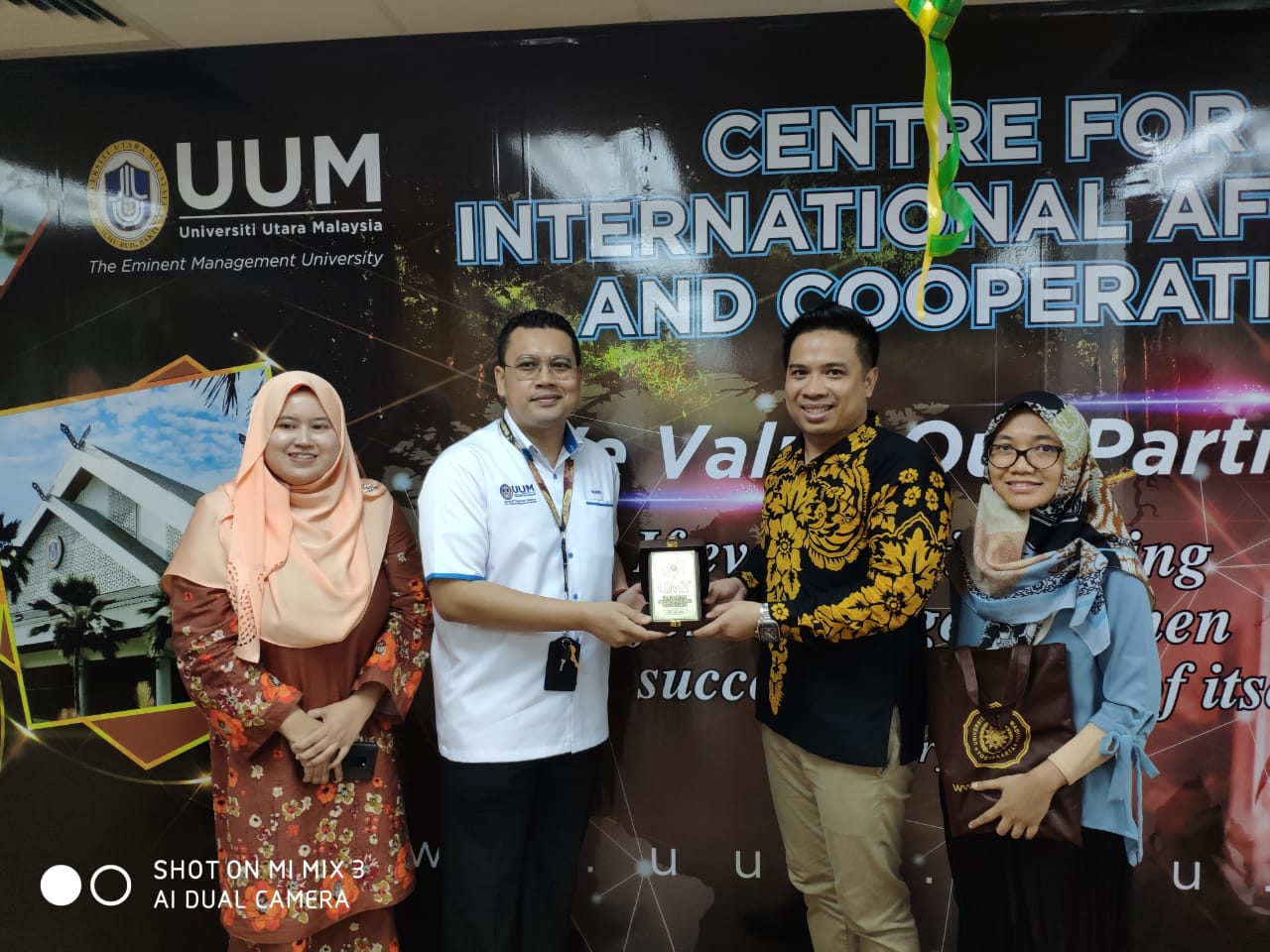 Universitas Muhammadiyah Yogyakarta possesses several scholarships for domestic and international students. In order to promote UMY International Scholarship, Director of Office of International Relations, Yordan Gunawan, and Director of Cooperation Administration, Farindra Vesti Rahmasari, conducted a visit to Malaysia, starting from Tuesday (25/6) to Wednesday (26/6). The visit targeted three main universities, namely Universiti Utara Malaysia (UUM), International Islamic University of Malaysia (IIUM), and Universiti Sains Islam Malaysia (USIM).
On the first day, the group went to the UUM. "We were welcomed by Dean of PPA College of Business (COB), Dr. Herman Shah Anuar; Deputy Dean of Law, Government, and International Studies School (COLGIS); Dean of Art and Science School (COAS), Dr. Bachtiar Mohamad; Manager of International Relations and Cooperation, Dr. Rahayu Ahmad; Senior Assistant Director of UUM International Relations Office, Mohd. Khairy Mukhtaruddin; and Deputy Director Dr. Nur Khairiel Anuar," stated Yordan. Subsequently, Yordan added that UMY and UUM have been partners for eight years. Previously, UUM held cooperation with Faculty of Social and Political Science (FISIPOL) and Faculty of Economics and Business (FEB) of UMY. At the meeting, UMY and UUM committed to expand the cooperation with short term academic activities such as Summer Course. "Dean Herman hoped that the cooperation will continue not only with FEB, but also with other faculties of UMY. For the next semester, nine students of UUM will participate in an exchange program in UMY," maintained Yordan.
On the second day, the group continued the visit to IIUM. Yordan explained, "IIUM and UMY have been partners for fifteen years. We collaborate in many activities, namely joint research, student exchange (especially for Faculty of Law and FEB), and visiting professor program. On the occasion, there were also Dr. Amir Akramin bin Shafie, a Kulliyyah of Engineering; Dr. Soni Zulhuda, a Head of Kuliyyah of Laws; and Wan Sharina from International Relations Office."
Furthermore, the group passed the visit to USIM. They were welcomed by Deputy Director of USIM 'Alamiyah, Dr. Khatijah Othman. "USIM is one of foremost Islamic universities and was shortlisted as University International Integrated Malaysia. At the visit, Khatidjah explained that USIM is planning to open new cooperation, namely students exchange, staffs exchange, and joint research. Deputy Director Annurochim even aspires to do collaboration with Faculty of Medicine and Health Science (FMHS) of UMY.