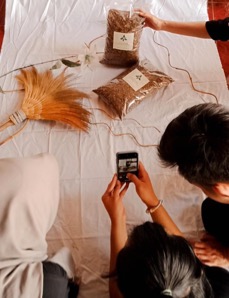 Maintaining the existence of a product is important so the product can continue to grow. Community Service (KKN) Team 211 of Universitas Muhammadiyah Yogyakarta which is situated in Kalipucang Wetan, Batang, Central Java chose to carry out services that focus on businesses owned by the Mataram Sejahtera Village. This activity took place during the month of July and is planned to finish on August 31, 2020.
According to Harfi Hadiansyah, the head of KKN 211 UMY, in the era of the Covid-19 pandemic, good marketing development is needed so products can be maintained and have a selling value. "The purpose of this KKN is to maintain the existence of the products of the Mataram Sejahtera BUMDes (village-owned ventures)," said Harfi when contacted on Tuesday (25/8).
The KKN team consists of six UMY students who come from Batang Regency, therefore the KKN activities can be a form of their service to their home regions. These sons and daughters of the region will lead the Mataram Sejahtera BUMDes to reach their hopes, maintain their enthusiasm, and achieve the best during the pandemic. "Our KKN is also a form of contribution as students from Batang who study at UMY. We are very lucky because of the support from the campus for the implementation of our digital marketing development program for BUMDes," added Harfi.
This UMY Community Service is part of the implementation of Catur Darma UMY in the field of community service during the pandemic. During the Community Service Program, students always carry out the COVID-19 health protocols. The KKN Team 221 was accompanied by drg. Laelia Dwi Anggraini, Sp KGA, as the Field Supervisor (DPL). Laelia Dwi Anggraini said that the KKN carried out by her students received a positive response from the community. "Alhamdulillah, this KKN activity has succeeded in increasing the appearance of product photos on social media and market places so as to attract engagement, which of course is expected to increase sales. We hope that after the end of the Community Service Program, the management of digital marketing can continue so that BUMDes can develop and the welfare of residents will also be lifted," she concluded. (dea)