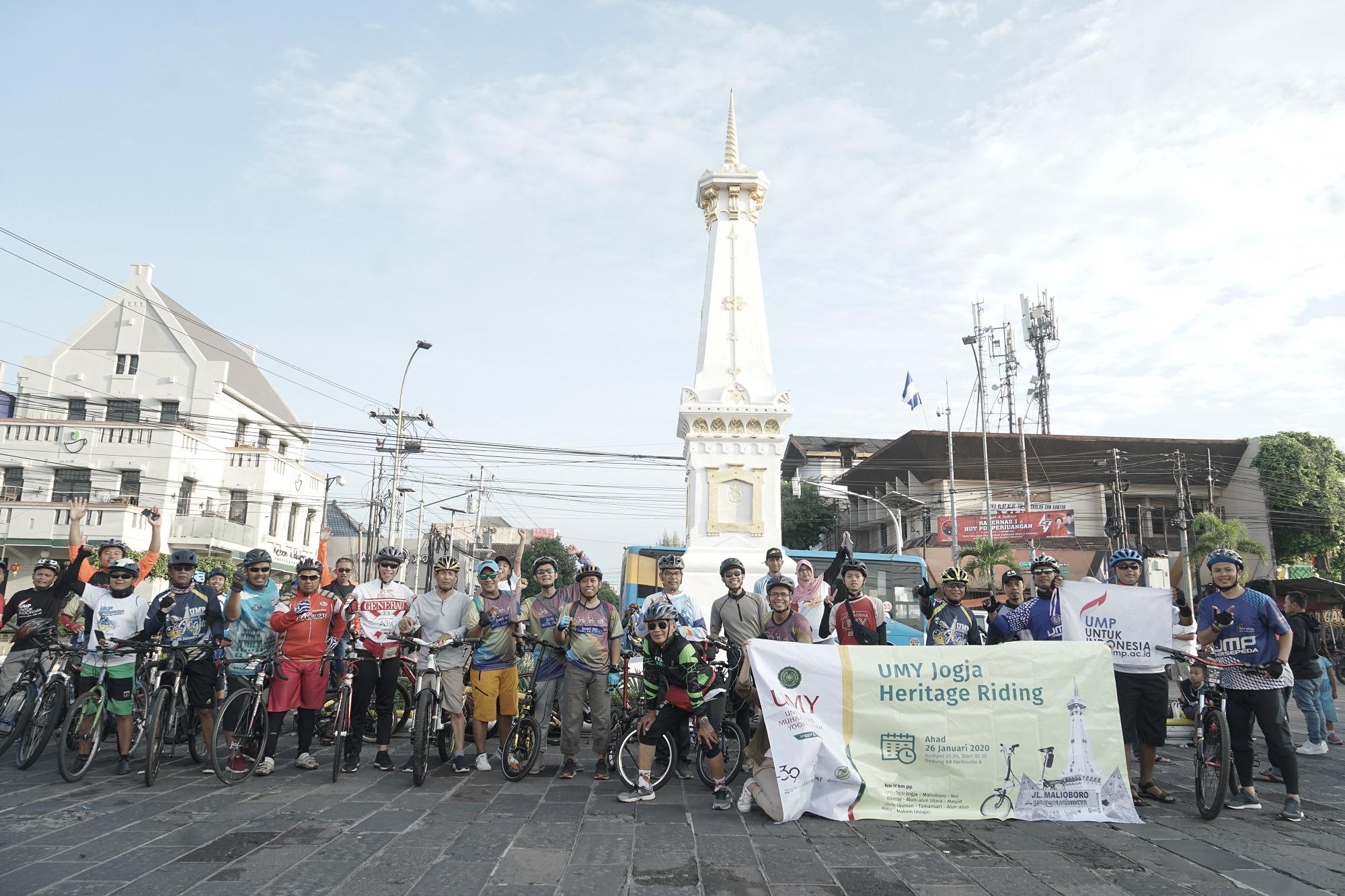 Last Sunday (1/26) Universitas Muhammadiyah Yogyakarta (UMY) welcomed a group of cyclists from Universitas Muhammadiyah Purwokerto (UMP) on UMY Central Campus. The cyclists came all the way from Purwokerto not only to visit, but to complete a mission namely the 48th Muhammadiyah and Aisyiyah congress flag relay.
The 48th Muhammadiyah Congress, which will be held next July with the theme "Advancing Indonesia Enlightening the Universe", was able to encourage Muhammadiyah universities to take part in enlivening the congress event in a different way from last year. The method chosen was quite unique but in line with the theme promoted by the 48th Muhammadiyah Congress, namely by the congress flag relay using bicycles.
The bicycle relay was chosen as a way to promote healthy lifestyles and reduce pollution, as shown by the fact that all Muhammadiyah universities have a cyclist community of their own. In addition, this movement is in line with UMY's own "Green Campus Initiative".
An interview with the UMY Head of the Planning and Development Body Slamet Riyadi revealed that the bicycle relay shows that Muhammadiyah Universities play an active role in minimizing emissions. "In addition to the benefits of healthier living, this activity also becomes a place for Muhammadiyah colleges to gather and socialize," said Slamet.
With a syiar spirit and the will to finish their task, the UMP cyclists traveled 155 km and handed the congress flag to UMY, where it was received by UMY Vice-Rector of Human Resources, Dr. Nano Prawoto. after symbolically handing over the congress flag, the cyclists were invited to a cultural tour with bicycles titled "Jogja Heritage Riding". The event aims to promote the cultural values of Jogja, as the event involves trips to the city's cultural locations which has ties to the history of the Yogyakarta Kingdom.
The event passes through Tugu Jogja, Malioboro Street, Titik Nol (the exact center of the city), Alun-alun Utara, Kraton (palace complex), Tamansari, and finishes in the Imogiri Royal Cemetary. The event was participated by 20 lecturers and employees of UMP and 50 UMY lecturers, staff, employees, and members of the cycling community.
After UMP has finished their mission, it is up to UMY to continue to congress' spirit and hospitality by continuing the relay to the 48th Muhammadiyah Congress location in Solo, Central Java. "We aim to continue this relay mission, hopefully in March. However, we need to discuss this with the UMY board members first," Slamet added. (id)