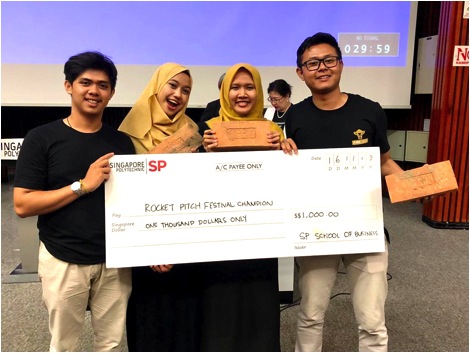 Four students of Universitas Muhammadiyah Yogyakarta (UMY) associated in a team of MooBrix won Rocket Pitching Festival as a part of Singapore Polytechnic Entrepreneurship Education Fest 2018 in Singapore Polytechnic. The MooBrix created bricks from cow dung. The team consisting of Muhamad Agung As'ari (the team leader), Yudani Alamsyah Harahap, Nurhalizah Agustina, and Tiara Cahya Atikasari beat other 300 participants from other countries.
Tiara Cahya Atikasari stated that a notion to make the bricks emerged when they performed community service with students of Singapore Polytechnic. They were required to contribute to solve an issue of cow dung waste. Only 20 percent of the waste is utilized as biogas and manure, while the other pollutes environment and increase global warming.
"We seek to offer a solution of the issue by using the waste as a material to make bricks," told Tiara in an interview on Saturday (24/11).
The MooBrix bricks possess some strengths as they are 20 percent lighter and 20 percent stronger, have wider dimension (23cm x 6 cm x 11.5 cm), is easily held and environmentally friendly.
Tiara added that the bricks are regularly made in collaboration with brick producers in Bangunjiwo, Bantul. Meanwhile, their cow dung suppliers were from three areas in Bangunjiwo, namely Srunen, Kalitengah Lor, and Kalitengah Kidul. "The cooperation is a concern about local community," she declared.
Since the MooBrix team has received many offers from foreign and local investors, they will try to obtain an Indonesian National Standard (SNI). The SNI will shows that the MooBrix bricks are in accordance from an Indonesian standard and can be employed for house or building construction.