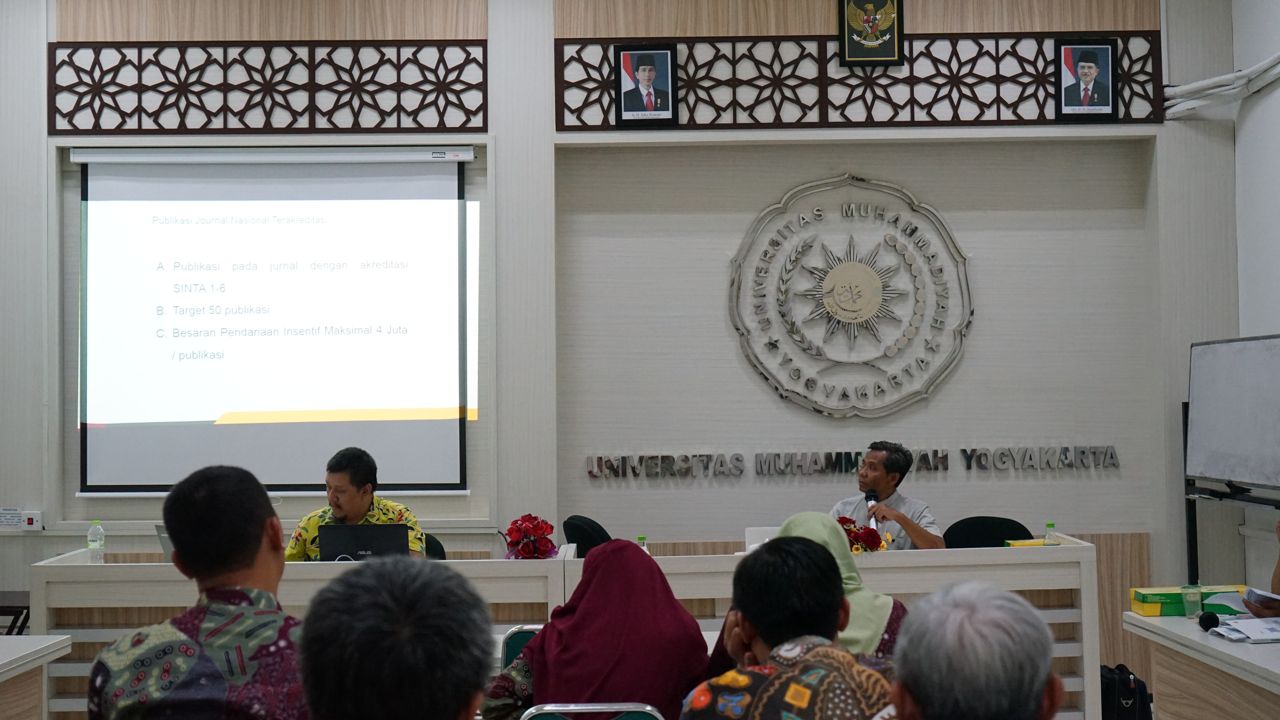 Office of Research, Publication, and Community Service (LP3M) of Universitas Muhammadiyah Yogyakarta (UMY) promoted a Tri Dharma program to UMY lecturers for a week since 30 October. The lecturers are expected to apply the Tri Dharma Perguruan Tinggi (Three Principles of Higher Educaiton) of Indonesia in their teaching, research, and community service.
Based on a strategic road map of UMY, the university targets to be acknowledged internationally in 2020. To achieve the goal, tri dharma can become a stepping stone to enhance lecturers' interest in conducting research and publishing it international journals.
Head of the LP3M Dr. Ir. Gatot Supangkat, M.P. expected that this Islamic university applied both tri dharma and catur dharma (the four principles of higher education). "As a Muhammadiyah university, we have to add tri dharma to be catur dharma by implementing Al-Islam and Kemuhammadiyahan," declared Gatot in an interview at the LP3M on Friday (2/11).
Research is the upstream of catur dharma and publication is the end. From the research, lecturers are expected to publish journals and to design books (teaching materials, references, or monographs). "Besides, lecturers can publish their research through social media such as YouTube, Facebook, and Instagram). For instance, a follow up of the research can be a community service so that the research benefits the community. The service, then, can yield a prototype and patent showing that UMY lecturers do research and the results exist," inserted Gatot.
Meanwhile, the program aimed to disseminate information to UMY lecturers so that they apply catur dharma. Lecturers who would like to propose research proposals could gain more vivid information so that the implementation of catur dharma, particularly research and publication as well as community service, can be more effective and efficient. "Through this information dissemination, lecturers can conceive how research grant should be used as their responsibilities as lecturers," emphasized Gatot.