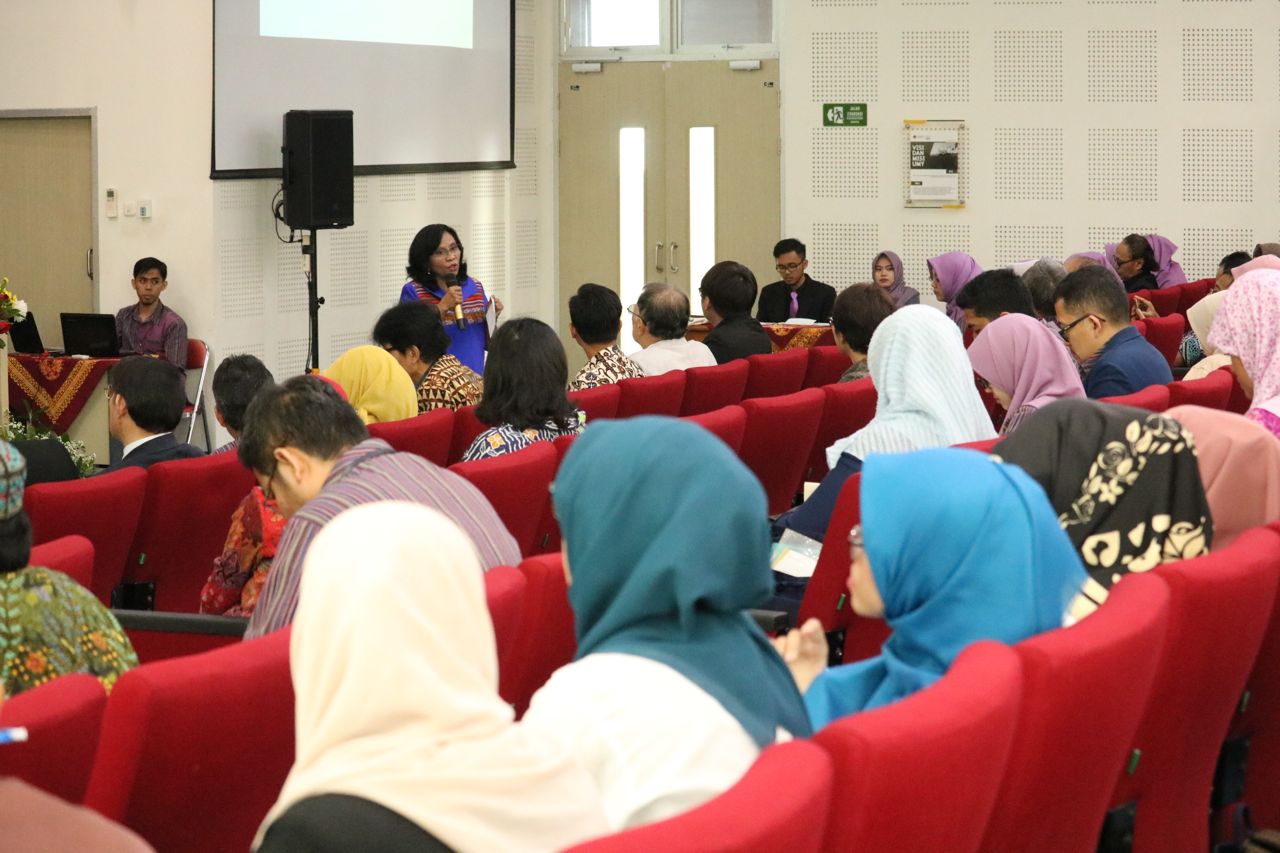 Medicine procurement is an essential aspect in taking care of patients. In order that medicines, such as cancer medicines, are always ready, a procurement cycle should be carried out well. As the 1st International Conference on Pharmaceutical Updates (ICPU) and 9th Annual Symposium on Indonesian Society for Cancer Chemoprevention (ISCC), a keynote speaker, who is Director of Public Medicine and Health Supply Governance of Directorate General for Pharmaceuticals and Medical Services, Engko Sosialine Magdalene, Apt, M.Bio. stated that the procurement cycle is essential to determine medicine types and the needs.
At the conference conducted by Department of Pharmacy of Universitas Muhammadiyah Yogyakarta (UMY) on Wednesday-Friday (17-19/10) at Auditorium of K.H. Ibrahim Building of UMY, Engko declared, "Deciding what medicines will be used is an aspect of the procurement cycle since the medicine types prevail nationally. Several considerations for the determination were clinically-tested medicines, diagnosis, price and purchasing power. If all aspects can be administered well, hospitals and distributors will no longer face an issue of out of stock medicines which leads to patients to look for medicines and spend much more money."
Engko provided a case of the use of cancer medicines. "Cancer medicines are commonly expensive so that the efficacy are safety, affordability are main considerations. For instance, we have to be aware whether the medicines can cure cancer or only prolong life expectancy and whether the medicines can bring significant impacts on patients' life quality. If the medicines have been determined, pharmaceutical industries can manage the medicines and distribute them to health services," stated Engko.
The aforementioned aspects are also utilized to assign medicines guaranteed by the National Health Insurance (JKN). "The considerations are reasons why the JKN no longer indemnify several medicines because of imbalance benefit-risk ratio. The decision was made due to several considerations," emphasized Engko.
Meanwhile, at the conference brining Trending on Chemopreventive Agent as theme, Head of Department of Pharmacy of UMY Sabtanti Harimurti, Ph.D., Apt. maintained, "The chemoprevention deals with developments of agents such as medicines or treatment methods to prevent cancer. The chemopreventive agents are crucial and valuable for cancer patients who have yet undergone metastatis because the treatment aims to hamper the growth of cancer cells," she said.
Besides, chairperson of the conference Pramitha Esha, N.D., M.Sc., Apt. informed that the conference discussing various topics. "For example, the conference talks about aspects of cancer immunology and cancer system. The event can be organized due to cooperation with the ISCC and many researchers examining treatment methods, pharmaceutical care, and other related issues in their home country," told Esha.
Additionally, speakers at the conference were is Director of Public Medicine and Health Supply Governance of Directorate General for Pharmaceuticals and Medical Services, Engko Sosialine Magdalene, Apt, M.Bio.; Prof. Jun Ya Kato, Professor, an expert in Tumor Cell Biology, NAIST, Japan; Prof. Mitsunori Kirihata, Ph.D., an expert in Medicinal Chemistry of Boron Drug, Boron Neutron Capture Therapy, Osaka, Japan; Prof. Dr. Ibrahim Jantan, M.Sc., Ph.D., an expert in Taylor University Phytotherapy for anti-tumor Malaysia; Prof. dr. Katja Taxis, M.Pharm., M.Sc., PhD., an expert in Pharmaceutical Care for Cancer; Prof. Yashwant V Pathak, an expert in Nanotechnology, Drug Delivery System, and Nutraceutical for Cancer, University of South Florida, the USA; Chanthaong, B. Pharm, BCP, BCOP, an expert in Cancer Pharmacotherapy, Khon Khaen University; Thomas James Henshall, M.Sc., an expert in Economic Aspect for Cancer Medication, Australian Volunteer Program; Sabtanti Harimurti, Ph.D., Apt., an expert in Chemistry of Chemotherapy Agent, UMY.