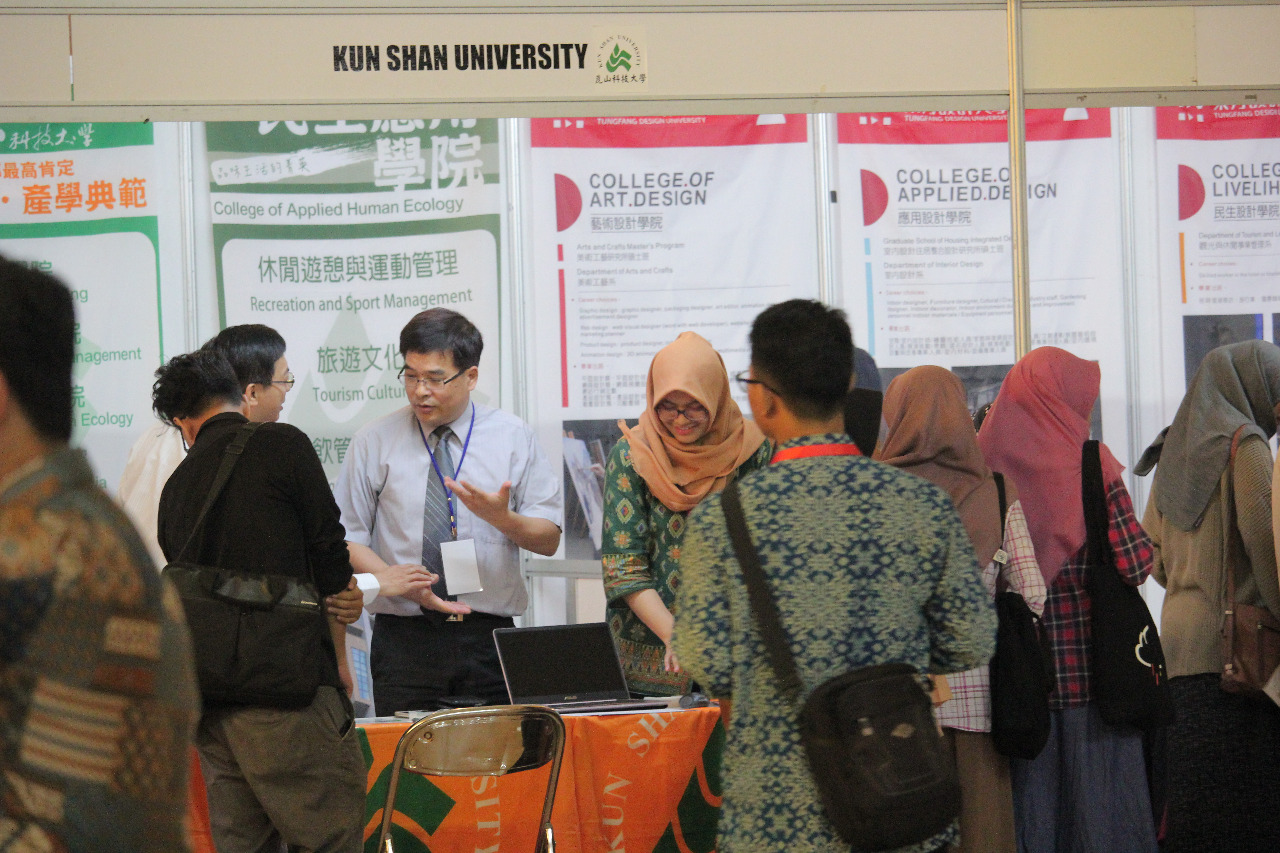 Some people want to pursue their higher education both in Indonesia and abroad. Some people still think that study abroad is hard to access due to high cost and cultural problems, especially for Muslims. Departing from the circumstance, Universitas Muhammadiyah Yogyakarta (UMY) collaborated with Asia University of Taiwan conducting information about affordable and friendly education for Muslims who are interested in studying overseas. The information could be gathered through an event called Taiwan Higher Education Fair.
Taiwan Higher Education Fair conducted at Sportorium of UMY on Wednesday (24/4) was the second exhibition, which was previously organized in 2017. There were fifteen Taiwan higher institutions participated in the event. The institutions offer friendly facilities to Muslims. Besides offering a Muslim-friendly concept, these institutions also afford affordable tuition fees and living costs which range approximately 150 US Dollar a month. This becomes good news for all students of Yogyakarta, especially people of Muhammadiyah to obtain benefits from a collaboration between the two countries.
Rector of UMY, Ir. Gunawan Budiyanto, M.P. stated on the press conference, "Taiwan Government provide many scholarships for Indonesian students, starting from Vocational, Undergraduate, and Postgraduate programs. Besides, The Taiwan Higher Education Fair can bring opportunities for young generation to pursue higher education with excellent qualities. The tuition fees and living cost in Taiwan are also affordable for Indonesian people. Compared to living cost in Australia, a one year living cost in Australia is the same with 7 years of living in Taiwan. Many universities in Taiwan provide halal restaurants and mushala (prayer rooms). The Taiwan government really puts Muslims into a proper concern."
A Dean of International College of Asia University Dr. Ying Huei Chen corroborated the statements of Gunawan related to Taiwan's excellent universities and friendly environments for Muslims. He informed that there were about 11,800 Indonesian students studying in Taiwan at the moment. Taiwan is the most favorable destination country for Indonesian students after Malaysia. He continued, "In my university, there was also a Muhammadiyah office, proving that we have good connectivity with UMY. Besides offering many scholarships, Taiwan also offers good quality of education because almost all lecturers in Taiwan have obtained doctoral degree in the United States, the United Kingdom, Australia, and Japan."
Besides Yogyakarta, the Taiwan Higher Education Fair is planned to be held in Surabaya and Malang. The event was also supported by Taipei Economic and Trading Office (TETO) which often conducts projects and collaborations with UMY.
"TETO possesses a great contribution to providing scholarships for Indonesian students. UMY and Taiwan government facilitate all students of Indonesia to fulfill their desires to study abroad in Taiwan. Hopefully this collaboration can keep continue for the very next future," ended Gunawan.