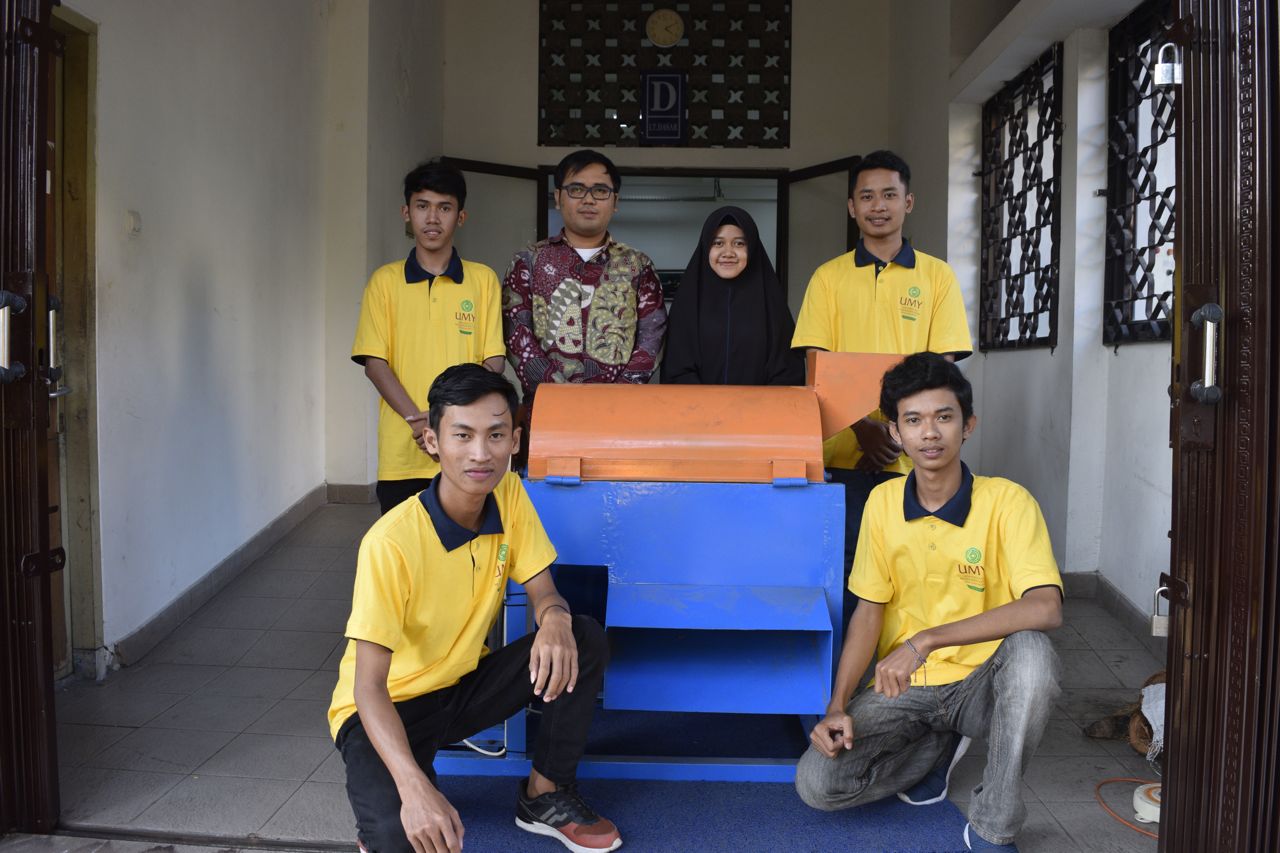 In Daerah Istimewa Yogyakarta (DIY), coconut fiber chopper machines are produced only in Margosari Mesin, Pengasih, Kulonprogo. The machines are still manual and use gasoline fuels to operate. However, the machines eventually cause pollutions to environments because they generate too many carbon monoxide (CO2), and nitric oxide (NOX). Besides, the machines also cause noise pollutions that bring inconveniences and ineffectiveness to people.
To overcome the problem, five students of Universitas Muhammadiyah Yogyakarta, namely Handoko Priono (Vocational Program for Mechanical Engineering), Aditya Riska Nugroho (Vocational Program for Mechanical Engineering), Dimas Setyawan (Vocational Program for Mechanical Engineering), Muhammad Yusri Ilyas (Vocational Program for Mechanical Engineering), and Laily Maulidiyah (Agrotechnology), conducted collaboration with Margosari Mesin for a Pekan Kreativitas Mahasiswa Bidang Penerapan Teknologi (PKM-T). The innovation is known as PESPA and proposed an idea entitled "Coconut Fiber Chopper Innovation with Pollution-Free Electric Motor as a Solution to Produce Household Products and Agricultural Fertilizers". The program aims to bring new innovation to machines produced by Margosari Mesin.
The machines can be used to split coconut fiber into two pieces so that they can result to coco fibers and coco peats. Leader of PKM-T, Handoko Priono explained that producers really need the machines to produce household products and agricultural fertilizers, knowing that coconut fibers are rarely used and tend to end up as waste. "The coconut fibers actually possess great advantages to people" declared Handoko. Moreover, PESPA can reduce production cost. Handoko explained, "There is a big comparison between PESPA and the manual machines. People need to cost approximately 2.864.160 Rupiahs for a manual machine and 154.669 Rupiahs for a PESPA machine."
Handoko hoped that their innovation can bring plentiful benefits to people. With PESPA, people can start commencing businesses, potential patent rights, and community service potential. "We hope that our PESPA can render solution for Margosari Mesin so that people can feel relieved with the result," ended Handoko.