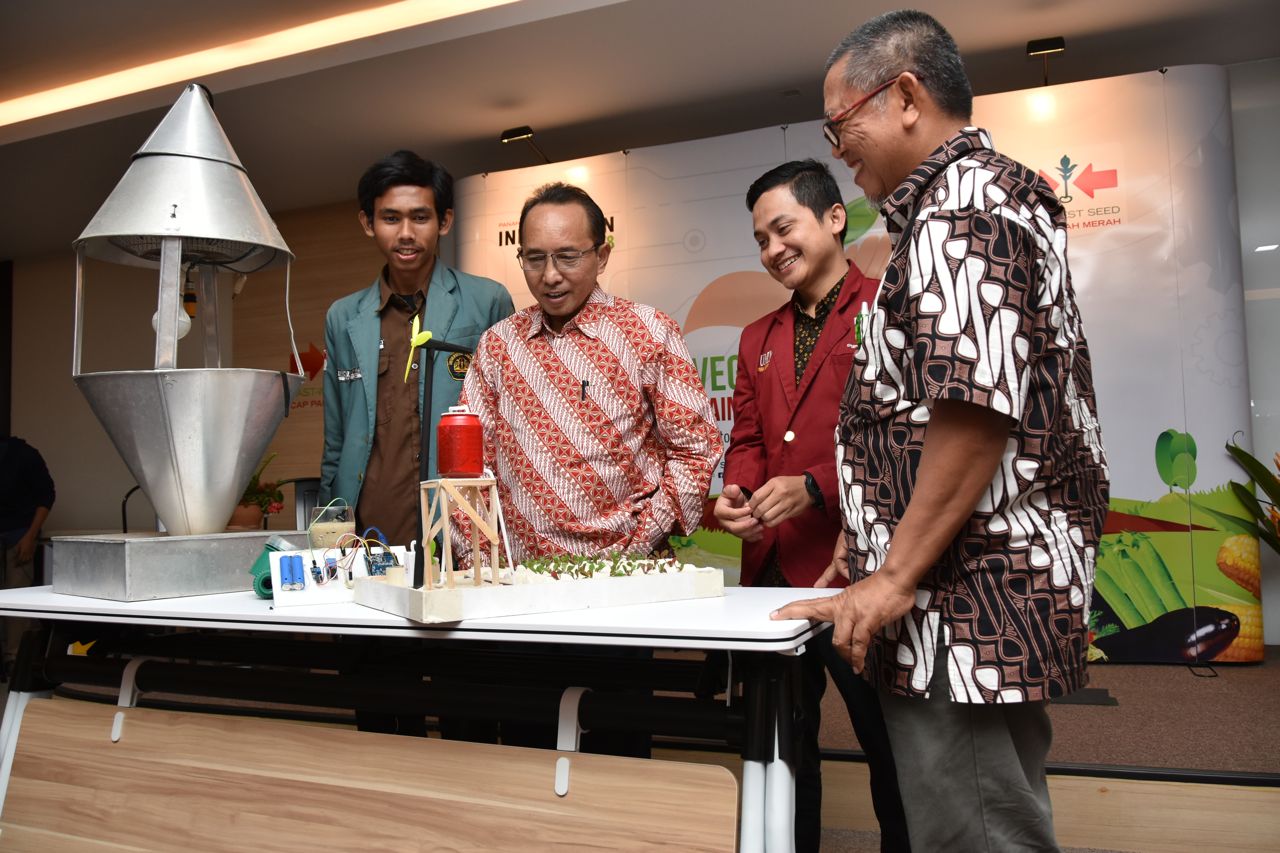 Maki Lukmanul Hakim and Tri Andi Nugroho, a student of Department of Sustainable Agriculture and Department of Mechanical Engineering of Universitas Muhammadiyah Yogyakarta (UMY) respectively, achieved the third place at Panah Merah Innovation Award 2018 conducted by P.T. East West Seed Indonesia in Purwakarta om 16 October 2018. UMY was a private university passing to top ten. The award was a program to gather innovations in agriculture.
There were 382 submitted proposals, and they were assessed based on several criteria, namely their ideas, easiness to apply, and budget. Ten best proposals went to a final round and UMY became the second runner up while University of Gadjah Mada and Bogor Agricultural University were the winner and the first runner up respectively.
Additionally, a proposal by Maki and Andi discussed the utilization of sand beach land by making a tool called 'Sitepat' functioning to manage automatic watering of plants. The proposal background told that agricultural land in Indonesia is getting less and less. Thus, a novel notion to plant in beach sand land of Bugel, Kulonprogo, Yogyakarta became a fascinating object to be developed even though the sand beach are basically hard to cultivate.
"Beach sand land has a lot of shortages as it contains less mineral and few organic materials as well as it cannot prevent water for long time so that regular watering is necessary," declared Maki on an interview at Agriculture Training center (ATC) of UMY on Wednesday (17/10).
The tool making aimed to set regular watering in beach land so that farmers do not need to do manual watering every day. "The Sitepat is an automatic watering system that it stores water from well to water reservoir, and then the Sitepat, a hose with an automatic valve, will open at watering time. The watering time is set using a digital water meter. Therefore, farmers in beach sand land do not need to water their plants, buy only see and maintain the system," he told.
Maki and Andi expected that their ideas could be embodied so that the tool can benefit farmers and themselves to write their undergraduate research.