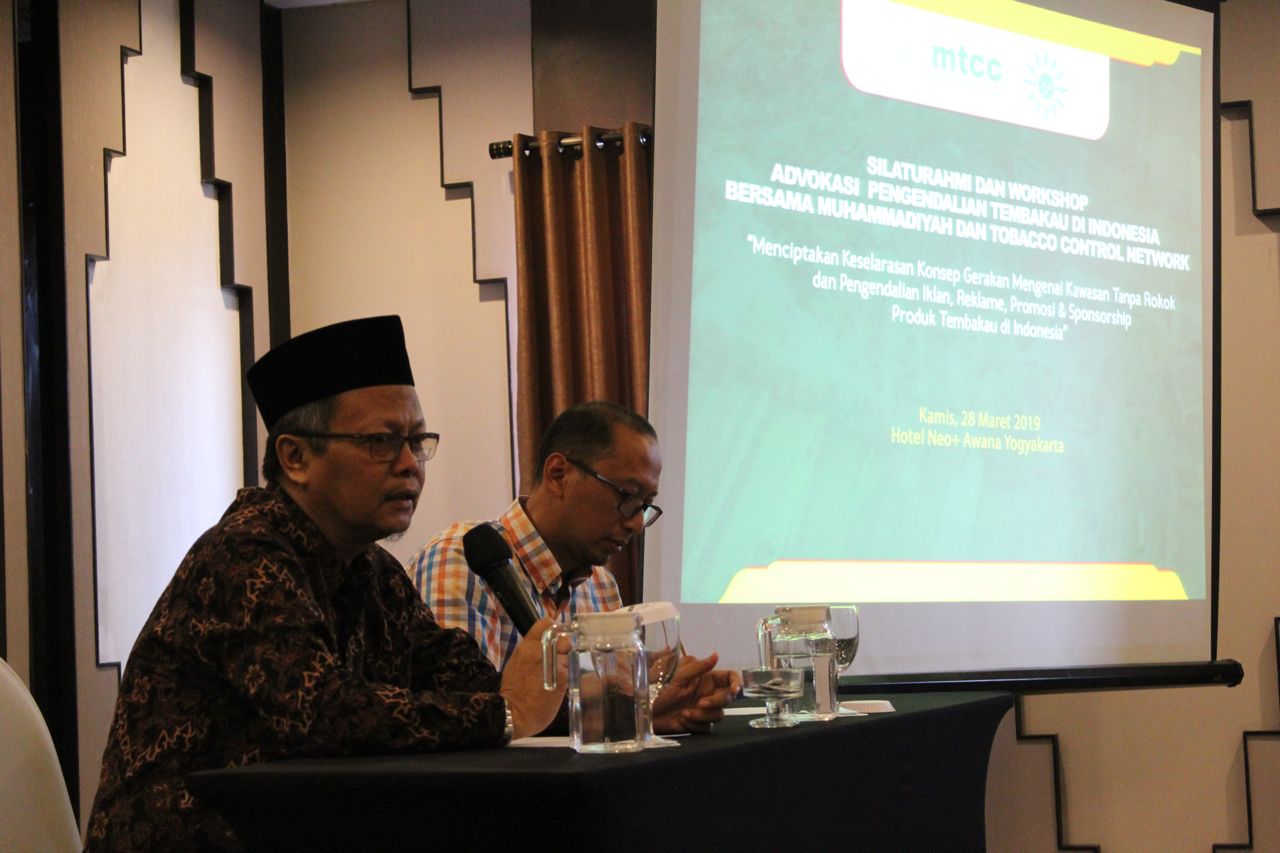 Cancer is a deadly non-communicable disease. According to Basic Health Research of Ministry of Health of the Republic of Indonesia (RISKESDAS), cancer prevalence at the age of or more than 15 was 10.9 percent in 2018, increasing from 7 percent in 2013.
Head of Muhammadiyah Tobacco Control Center (MTCC) of Universitas Muhammadiyah Yogyakarta (UMY) Winny Setyonugroho, Ph.D. stated that an aspect contributing to the raising number was due to smoking. "Sirkemas 2016 showed that tobacco consumption rose from 32.8 to 33.8. Indeed, the consumers were 15-years-old people," he informed at a workshop on Indonesia Tobacco Control at Neo+ Awana Hotel, Yogyakarta on Thursday (28/3).
The growing number was along with the lifting of the number of smokers at the age of 10-18, accounted 7.2 in 2013, 8.8 in 2016, and 9.1 in 2018. The escalating number urged the MTCC of UMY to collaborate with Muhammadiyah Tobacco Control Network Indonesia, Regional Board of Aisyiyah of Daerah Istimewa Yogyakarta (DIY), Central Java, East Java, and Muhammadiyah autonomy organizations to promote and emphasized that cigarettes are haram (forbidden) based on Smoking Regulations by Majelis Tarjih No. 6/SM/MTT/III/2010.
Meanwhile, Chairperson of Muhammadiyah Prof. Yunahar Ilyas, Lc., M.Ag. controlling tobacco consumption is a responsibility of not only Muhammadiyah but also all Indonesians. "The MTCC of UMY has committed to become an actor to uphold and implement the regulation. The MTCC of UMY is also obliged to maintain and improve people's health as well as to create conducive environment since being healthy is everyone's right," declared Yunahar.
Moreover, Vice Chairperson of the MTCC of UMY Dianita Sugiyo, S.Kep., Ns., MHID conveyed that to embody a high health rate we have to alleviate the use of addictive substances such nicotine which has been regulated on Article 113-116 and Article 199 of Law No. 36/2009 on Health. "The law has vividly mentioned that tobacco products contain addictive substances. Thus, for the development of this nation and to protect future generations, we must decrease the addictive substances. One of the means is through the existence of free-smoking areas so that our generation are protected from smoke of conventional or electrical cigarettes bringing more harms for them," he stressed.
Additionally, there was a signing to emphasizing that Indonesia is in emergency of frees-smoking areas, smoking regulations, advertisements, promotions, displays, and sponsorship.