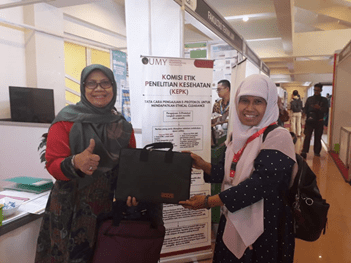 Universitas Muhammadiyah Yogyakarta (UMY) hosted the third International Conference on Sustainability and Innovation (ICoSI) from July 30 to 31st at the Sportorium Building of UMY Central Campus. In addition to hosting a scientific conference for national and international researchers, ICoSI also hosted 22 booths from UMY and the public. One of those booths was filled by the Research Ethics Committee (KEPK) from UMY's Faculty of Medicine and Health Sciences, who participated in this event to teach the public how to submit their research online.
Dr. dr. Titiek Hidayati, M.Kes, a lecturer of UMY's Medicine Department, explained that the KEPK booth has helped to inform the public. "The Committee helped in regulating, training, and upholding research ethics. We participated in this exhibition to help the visitors know that Ethical Clearance can be made through the internet easily," She said when contacted by the Office of Human Resources and protocol on Wednesday (7/8).
In addition to socializing the KEPK, the booth also provides assistance in accessing and creating an account. To make further activities easier, visitors of the booth were also given a manual in the form of a leaflet. "The visitors feel like they were helped, and we provided leaflets and demonstrations on how to create a researcher account and fill out protocol forms on the web," she added.
The booth was visited by 23 enthusiastic visitors that came to learn how to submit their research online. Further information on how to access this facility can be found in http://sim-epk.keppkn.kemkes.go.id/.(ak)