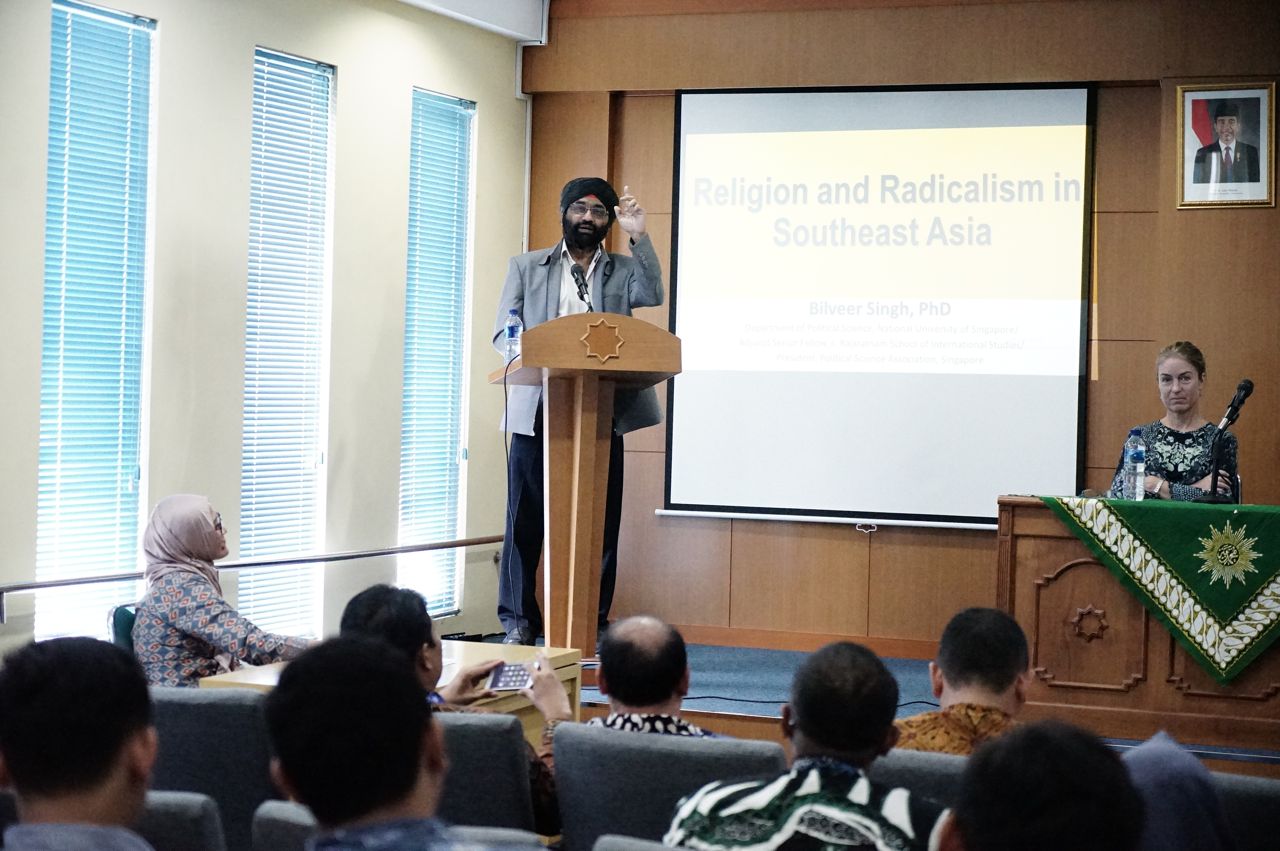 Islam in Indonesia is divided into two main organizations, Muhammadiyah and Nahdlatul Ulama. Generally, these organizations compete to show that one is superior to the other. However, educational institutions must act wisely, especially for researchers. This is because Islam has to be comprehended thoroughly.
A professor of Walk Forest University, Prof. Nelly van Dorn Harder stated that he came to Indonesia several times to study about Islam. He conveyed that as a researcher and scholar, one must possess a board view, not confined with a mere subject to learn. He delivered his lines at International Seminar for Postgraduate Program of Universitas Muhammadiyah Yogyakarta on Friday (5/7). The seminar raised a theme 'Social Science, Religion, and Humanities' and was held at Amphitheater of Graduate School of UMY.
"If you want to learn about Muhammadiyah, do not be hesitant learning about Nahdlatul Ulama too. As a researcher, one should use transparent glasses to see the world thoroughly. Not to differentiate, rather to apprehend good lessons from the two organizations," declared Nelly.
The discussion got exciting when Assoc. Prof. Bilveer Singh, Ph.D, a lecturer of National University of Singapore, explained about his insights about religion and radicalism. As to him, radicalism happens because people struggle too hard for power. He conveyed, "Radicalism and extremism are highly prohibited for any reason. In my recent research, I interacted with terrorism inmates to collect data. According to me, Pancasila is a strong and compatible ideology for Indonesia. People need to comprehend religions and Pancasila thoroughly so that they can evade radicalism and extremism."
Moreover, Bilveer added that some extremists, who attack people, tend to use religions as a vital part for their missions. These extremists use religions so that people will not judge them demented. "The fact is when people attack others without using religions as attributes, society will appraise them as lunatic or deranged. It is different if people use religions as attributes to attack people, they will be labeled as terrorists," maintained Bilveer.
"A simple analogy is when you have a strong immune, you will learn that diseases cannot easily go through to your body. Just imagine radicalism as a disease, and religion and Pancasila as immunes or antibodies to prevent the acts of radicalism," ended Bilveer.