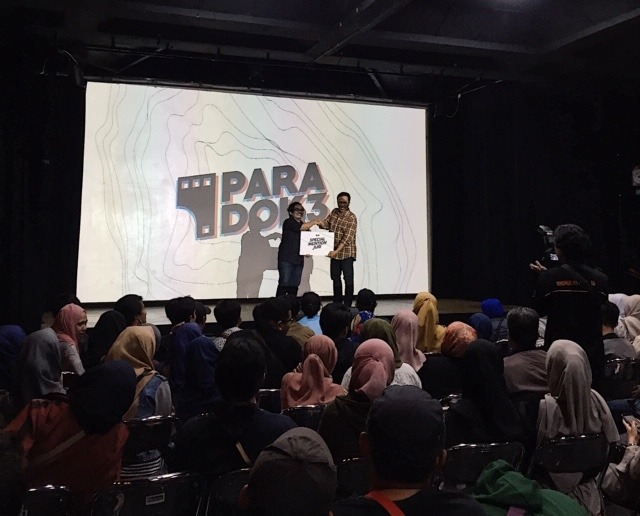 As a college student, assignments given by lecturers is a part of the learning process, be it theoretical or practical. The same was experienced by students of Broadcasting from Communication Sciences of Universitas Muhammadiyah Yogyakarta (IK UMY) in their task for the documentary class. For two semesters, they worked on their documentaries and were rewarded by their works being played in an event to celebrate student works, named "Paradok #3" on Friday (18/07) which took place in IFI-LIP Yogyakarta – Institut Francais Indonesia.
For two days in a row, the Paradok (Acronym of Parade Dokumenter) event showed 14 films made by Broadcasting students of IK UMY to the public. When interviewed by the journalistic team from the office of human relations and protocol, Fahrizal Gani as the head of Paradok #3's committee explained the goal of this event. "In this year's Paradok#3, we adopted the theme "UNTOLD", which matches the films from our colleagues from Broadcasting KI UMY. They all themed their films after things that have never been told by other filmmakers before. This event aims to show these films to the public. This is made so that the films they have been working on for two years do not come to waste, especially when appreciated by events such as this viewing event by the students of Broadcast IK UMY," Gani explained.
In addition, Gani added that this year's documentary assignment is unique because there are no limits on the ideas and geographical locations for the film's story. "Interestingly, this year there were no restrictions on the ideas or geographical locations for the film's story. This makes the students more motivated to work on their documentaries. Some students take stories from Malang (East Java), Mamuju (Sulawesi), Tasikmalaya, and other cities in Indonesia," he added.
When approached at the same event, Yudha Kurniawan, the director for the film "Nyanyian Akar Rumput" which attended the sharing session as a speaker, gave his opinions on the students' films. "After watching the documentaries made by Broadcasting students of IK UMY 2016, I was delighted to see the spirit of the young filmmakers. They went through several steps from processing the stories, appointing the film's objectives, and certainly went a long distance to reach the proper location and time for shooting. Not to mention the editing process. The showing of their works to the audience must be very satisfactory to them. They have proven that they can go through those processes with no problems," Yudha added.
The winner of the best and longest documentary of Piala Citra award explained that the films were able to show a different yet interesting perspective to watch. "In addition, our colleagues from Broadcasting 2016 managed to show different points of view with the variety of films they showed. It shows an effort to give an interesting point of view to the watchers and the bravery to show unique and sensitive issues," The winner of 2019's UMY Alumni Awards added.
The winner of this year's Paradok#3's best film award is "Sujud", which was directed by Pahlawan Bimantara. Meanwhile, "Pemuda Ka'bah" by Enggar Asfinsani won the Judges' Choice award. The 14 student films played in this event were, udut Kota, Sujud, Return, Perempuan Anarki, Napak Tilas, Katarsis, ON, Racing Side, Hari-Hari Aki Maman, Doctor Diary, Lakon Piwuangging Jagad, Rana, Masyarakat Sampah, and Pemuda Ka'bah. (CDL)