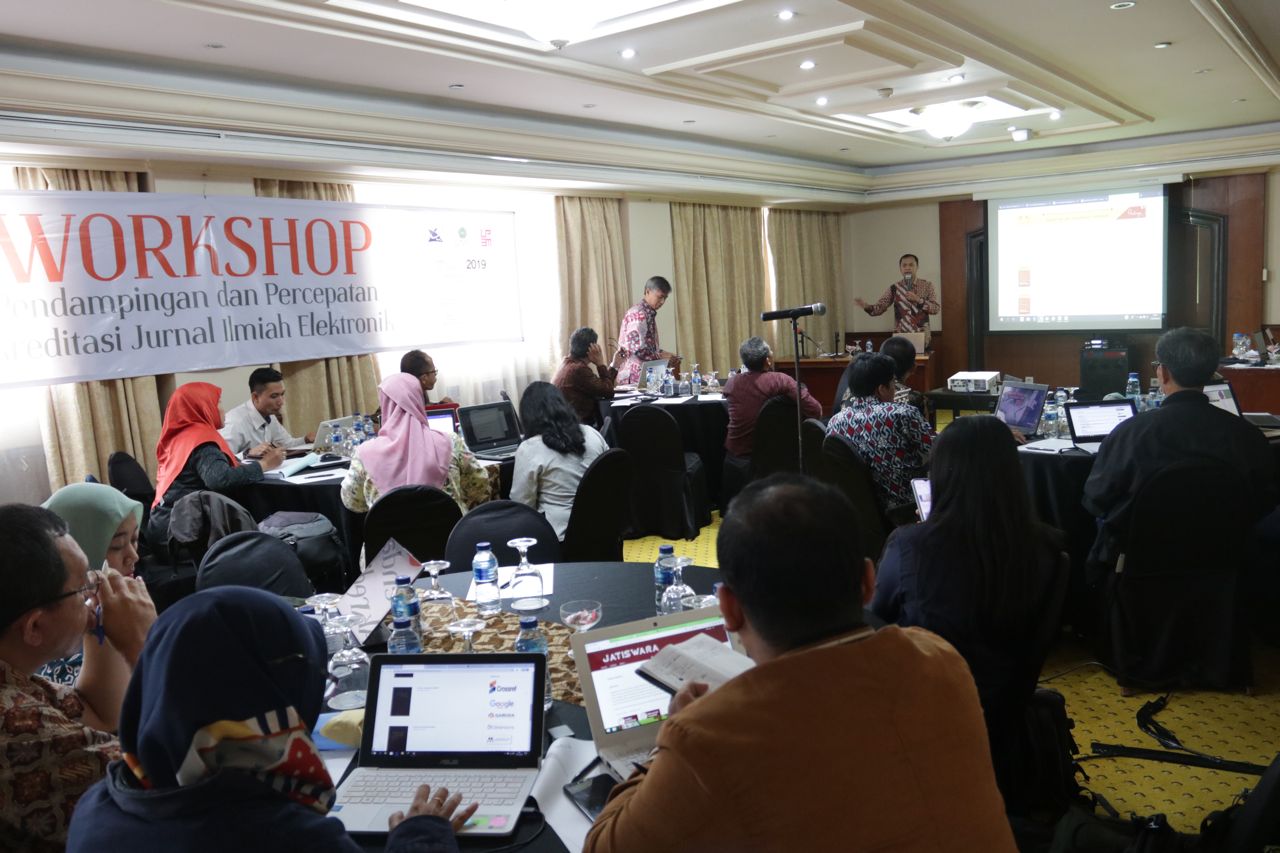 The Indonesian Government has commited itself to increase the number of scientific journals published by college institutions in multiple skillsets and knowledge bases. To this end, the government has introduced multiple support policies, one of which is for anyone with a magister's degree and lecturers, if they wish to be promoted, need to publish an article in accredited science journal or international journal. According to data from SINTA (Indonesian Science and Technology Index), the number of accredited journals published by December 2018 numbers over 2279 journals. They were accredited from Sinta 1 to Sinta 2. To help journal managers achieve accreditation, the Directorate of Intellectual Property Management of Kemenristekdikti (Indonesian Ministry of Research, Technology, and Higher Education) worked together with LP3M (The Bureau of Research, Publication, and Social Services) of Universitas Muhammadiyah Yogyakarta to host a Workshop for the Supporting and Quickening Accreditation for Electronic Science Journals, which was held for three days (July 17th-19th) in Hotel Melia Purosani.
Dr. Ir. Gatot Supangkat, M.P, as the head of LP3M UMY, stated that this workshop is important to increase the number of accredited journals. "We need an increase in both the quality and quantity of accredited journals, both national and international. This is important to improve any university to become a research-based university, and also because scientific journals can help spread the results found in said research. Because of that, we would like to develop the means of publicising scientific articles through electronic media, so that the articles can be locally published and internationally indexed. This is part of an effort to accommodate the global need through the development of information technology," he stated in the workshop's opening ceremony on Wednesday (17/7).
Kemenristekdikti's Head of National Scientific Journals, Yoga Dwi Arianda, S.T. stated that the workshop aims to fulfill the national target. "Kemenristekdikti implores us to be able to reach the target of 7000 accredited journals, with at least SINTA accreditation. Right now, around 2400 journals are accredited. Therefore, this workshop is meant as an effort to help guide journal managers. This event is being held by Kemenristekdikti in 45 different locations and is attended by journal managers from all across Indonesia whose journals have not been accredited yet," He said.
"This event will include an explanation on how to create a proposal for accreditation and the administrative processes, including a course on journal management, from top to bottom. After that, we will also perform checking and correctional processes, and if any journal fits the SINTA standard, the managers could submit it for accreditation," he added.
Yoga mentioned that the Kemenristekdikti is confident they can fulfill the target of 7000 journals. "Based on our data, there are 35 thousand journals, but only 7000 of them are listed. Therefore, we wish to help support journal managers to fix their journals and put it up for accreditation," He stated. (raditia)