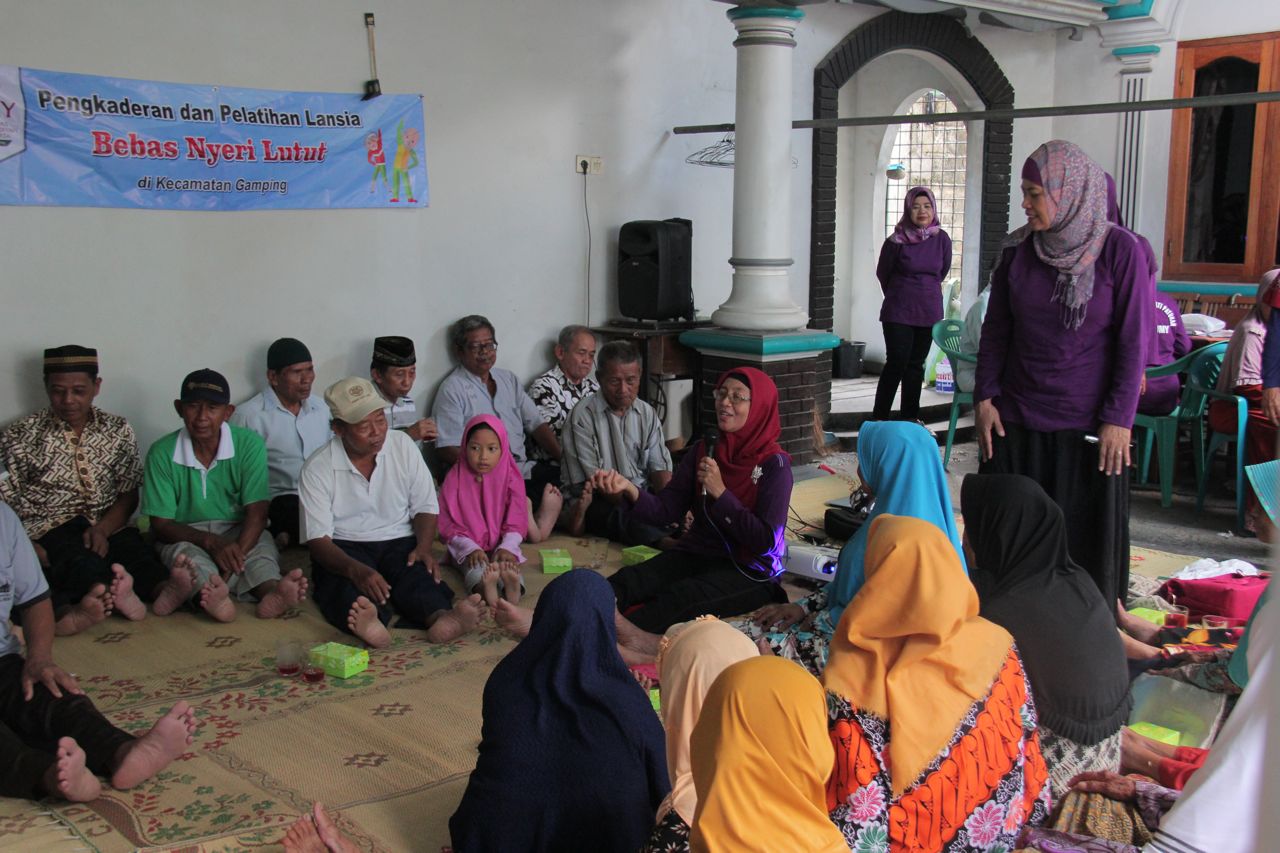 Daerah Istimewa Yogyakarta is a region possessing high rate of life expectancy, reaching a number of 70 years old. In Sleman regency, for instance, the life expectancy even reaches 74 years old. The high life expectancy must be bolstered with proper health preservation so that people's bodies will remain healthy to perform daily activities. Therefore, Faculty of Medicine and Health Science (FMHS) of Universitas Muhammadiyah Yogyakarta (UMY) conducted elderly health training at Patukan, Gamping on Saturday (6/4).
Head of community service Yoni Astuti, M.Kes., Ph.D. stated, "Our theme is Regeneration and Training to Prevent Muscle Ache. Elderly people tend to experience body motor malfunction, which causes them to suffer muscle ache. Most of people are late handling the disease, and generally they use chemical drugs to salve it."
Moreover, Yoni continued, "High life expectancy should be espoused with independency. Inability to be independent will cause mind and energy burdens for the elderly people and their families. This training aims to construct a healthy mind for elderly people."
Nurun Lasara, S.Kep. Ns., M.Kep., Ns, a member of the group, explained  that the community service exemplifies an exercise of body movements. The movement is widely known as Isoquadreicep which targets thigh muscles. To exercise the movement, people should take a standing half-squatting position, or rather a position which entails people to sit down and stretch their legs to the front and then tense down their legs."
"A sitting down position minimalizes the elderly people to experience accidents. This movement is conducted only in six minutes with eight repetitions. People can conduct the movement several days a week. For example every Monday and Thursday, or every Tuesday and Friday," added Nurul.
Nurul also informed that the exercise is resulted from accurate research related to strengthening of thigh muscle. "The movement can effectively improve motor functions of thigh muscles. The movement also can avert rigor on joint muscles near the area so that the elderly people can perform daily routines comfortably," ended Nurul.