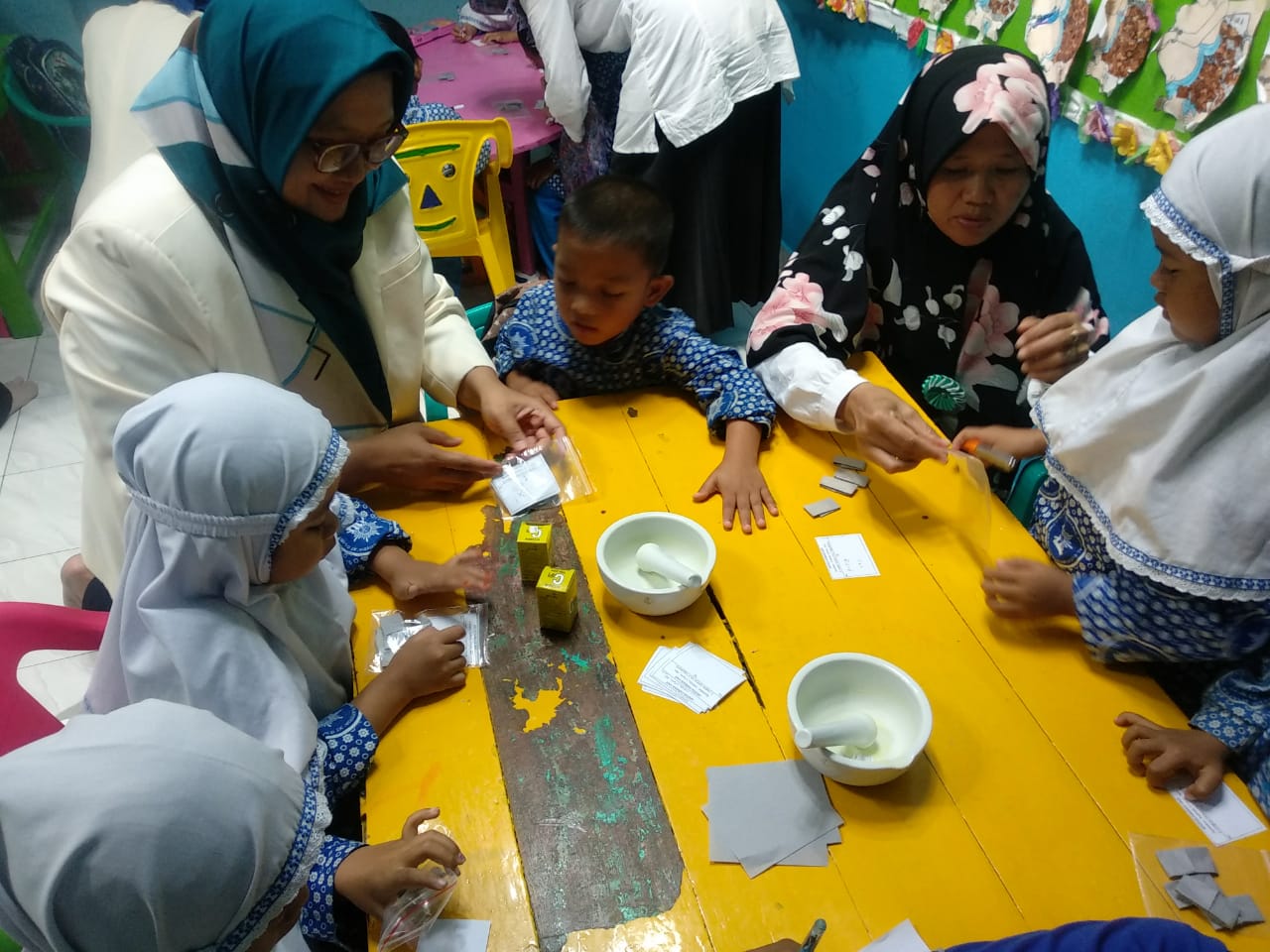 Accidents are something bad that happen and are not expected or intended. Accidents can occur everywhere, starting from home, roads, workplaces, and schools. Many parents see schools as safe places because teachers in schools tend to watch over and guard their children. However, this kind of protection eventually does not guarantee children from experiencing accidents. Many students still do not possess proper comprehension related to first aid handling on child accidents.
Departing from the circumstance, four lecturers of Department of Pharmacy of Faculty of Medicine and Health Science (FHMS) of Universitas Muhammadiyah Yogyakarta (UMY), Pipin, Tanti, Bimo, and Inge conducted a community service at Kindergarten Aisyah Bustanul Atfhal (TK ABA) Janturan, Warungboto, Umbulharjo, Yogyakarta. The community service comes corresponds to a vision of UMY to conduct an education, research, and community development professionally. Besides, the community service also aims to provide a thorough comprehension for teachers, students' guardian, and people about first aid handling for students in schools by donating Smart Pocket Book for First Aid Handling on Child Accident in Schools (BUSAPI).
"In the BUSAPI, there are twenty notes related to diseases that can be surmounted when the accidents happen to the children. Through the books, teachers and students' guardians can assist providing the first aid handling before going to doctors," uttered Pipin, head of the community service.
Pipin continued, "The method was commenced by a planning program, preceded by program implementation which used campaign, practice, and accompaniment as methods. The program implementation was held on February 9 and participated by 63 students and 25 teachers and students' guardians. The teachers and students' guardians were given fifteen questions as a pre-test.
Pipin explained, "For instance, they had to answer what parents should do if children have fevers. The options would be A for cold water compressing and B for hot water compressing. The right answer goes to the option B, but most of people went wrong by choosing the option A. After the pre-test, we distributed modules and conducted a post-test. The result of the post-test showed some improvements of their comprehension, especially in questions related to wounds, burns, bruises, insect bites, and poisonous objects."
Furthermore, the four lecturers also explained a material related to pharmacist profession which students of TK ABA are yet to aware. In the session of deliverance, the lecturers also performed a pharmacy practice to introduce drugs and medicines to students so they will not be afraid to consume them. "We also presented a video showing how pharmacists work and exemplified practices such as drugs folding and a making of vitamin C syrups. We used sterile equipment so that it would not harm the children. Moreover, the BUSAPI Module now is still on progress to obtain a copyright," ended Pipin.