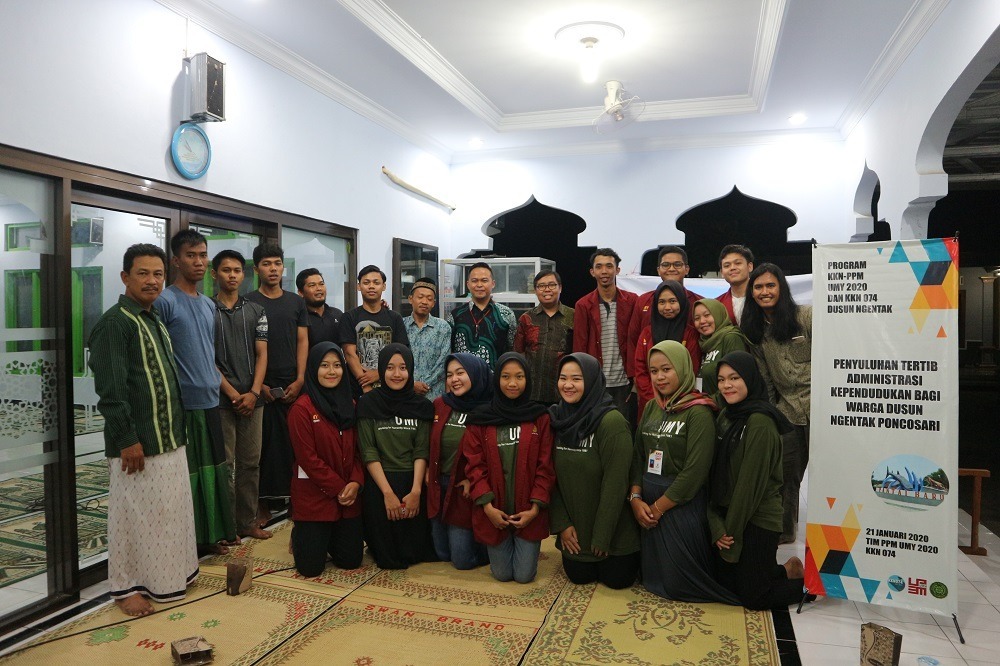 The recording and creation of citizenship documents such as birth certificates, family cards, E-ID cards, and death certificates are a shared obligation between the community, the hamlet civil workers, and the central government. At the very least, the recording and orderliness of this document aim to provide certainty of identity, legal protection, and public services. Considering the importance of this, UMY 2020 Social Services Community Empowerment Division and students of the UMY Social Services Program from group 074 in collaboration with Disdukcapil (Department of Population and Civil Registration) of Bantul Regency held a "Disciplined Education for Population Administration for Residents of Ngentak Poncosari Hamlet", on Tuesday (21 / 1).
This move was done to overcome the problems s in processing documents and updating data at the Ngentak Poncosari Hamlet. Rizki Arrajabi, the head of UMY KKN 074, stated that the activity was indeed aimed at making citizens more aware of the importance of orderly documents and providing understanding to hamlet managers about their duties in managing their citizens' documents.
Team Leader of KKN PPM UMY 2020 Sugito, S.I.P., M.Sc also emphasized the importance of orderly population administration for public services and development. "With population documents, we will get legal certainty and other public services. In addition, accurate population data will be the basis for the government to make appropriate development planning as well," stated the UMY International Relations lecturer.
Paulus Eko Ananto, SH, M.Sc, Head of the Population Identity Branch of the Bantul Regency Disdukcapil stated that in order to facilitate the community in handling population documents, the Bantul Disdukcapil has launched services including SITUPAT (siji apat papat), which is a community program to get 4 documents in one timeframe, namely the Population Registration Number, Family Certificate, Birth Certificate, and Child Identity Card. "Besides that, Disdukcapil Bantul also has the SIMPATI ACTION program to provide fast services in managing death certificates and there is also the SMART BANTUL application for millennials who want to use their gadgets to take care of population documents online," Paulus said.
This activity received responses from residents who were quite enthusiastic to come and discuss their problems. Nurahman, an analyst and the Head of Ngentak Hamlet said he was happy with the activity and hope that his citizens could understand the importance of orderly population administration. "We are very grateful for this counseling, because we are currently updating population data and encounter many problems such as missing Family Certificates and migrating villagers. Now, we have a place to ask questions on what to do for these issues, "he said.
The heads and administrators of the RT welcomed the event and hoped that there would be a follow-up from the hamlet and the local RT to gather the residents to record their population documents. (Hbb)