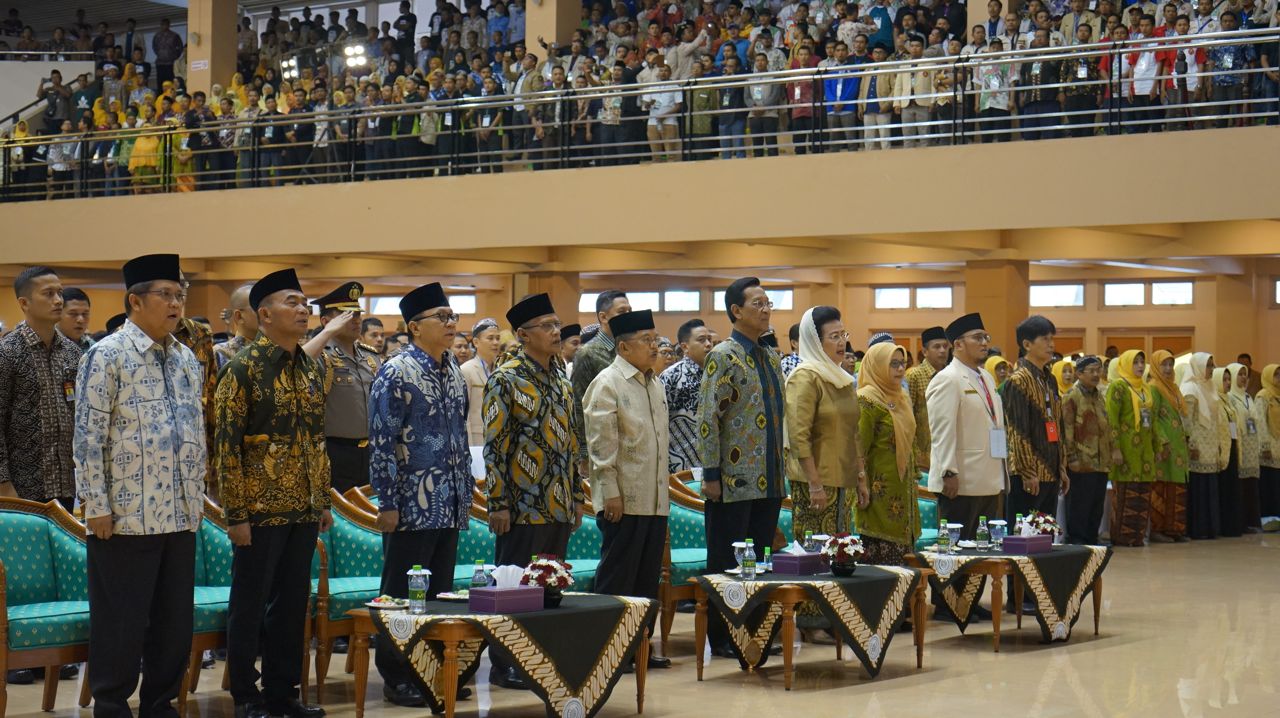 Vice President of the Republic of Indonesia Jusuf Kalla was present an opening of Muktamar XVII Pemuda Muhammadiyah (Muhammadiyah Youth Congress XVII) at Sportorium of Universitas Muhammadiyah Yogyakarta (UMY) on Monday (6/11). Participating by 7,000 people, he stated that Muhammadiyah youths have been contributing to develop Indonesia.
"Muhammadiyah youths are Indonesian millennials who always seek to take actions for the development of this nation," declared Jusuf Kalla on his remark.
According to Jusuf Kalla, dakwah (Islamic preaching) should be disseminated favorably as an Islamic characteristic in Indonesia. A theme of 'Menggembirakan Dakwah Islam, Memajukan Indonesia' (Enlivening Islamic Dakwah, Advancing Indonesia) was in accordance with one of the goals of Indonesia, to enhance faith and Islam while fostering this nation in harmony.
"Dakwah in Indonesia should similar to what Rasulullah did, dakwah as conditions and bearing tolerance. Thus, dakwah may not be frightening. People will easily internalize gladdening sincere dakwah. The dakwah will lead to development and prosperity of Indonesia. Indeed, it becomes the main requirement to create harmony," he emphasized.
Additionally, Jusuf Kalla advised the Muhammadiyah youths to escalate their knowledge, learn, and read books because what can develop this nation is not only enthusiasm to join organizations but also technology and sciences.
"I hope that you are keen on joining organizations but also reading, conducting research, and learning. These endeavors are vigor of Muhammadiyah youth," maintained Jusuf Kalla.
He also stressed that this political year may not divide us. We must unite even though we have different perspective.
Besides Jusuf Kalla, the congress was also attended by the People's Consultative Assembly (MPR) of the Republic of Indonesia Zulkifli Hasan, Minister of Communication and Information Rudiantara, Minister of Education and Culture Muhadjir Effendy, Governor of Daerah Istimewa Yogyakarta Sri Sultan Hamengkubuwono X, Chairperson of Central Board of Muhammadiyah Dr . Haedar Nasir, M.Sc., Chairperson of Pemuda Muhammadiyah Dr. Dahnil Anzar Simanjuntak, M.E, and Rector of UMY Dr. Ir Gunawan Budiyanto, M.P.