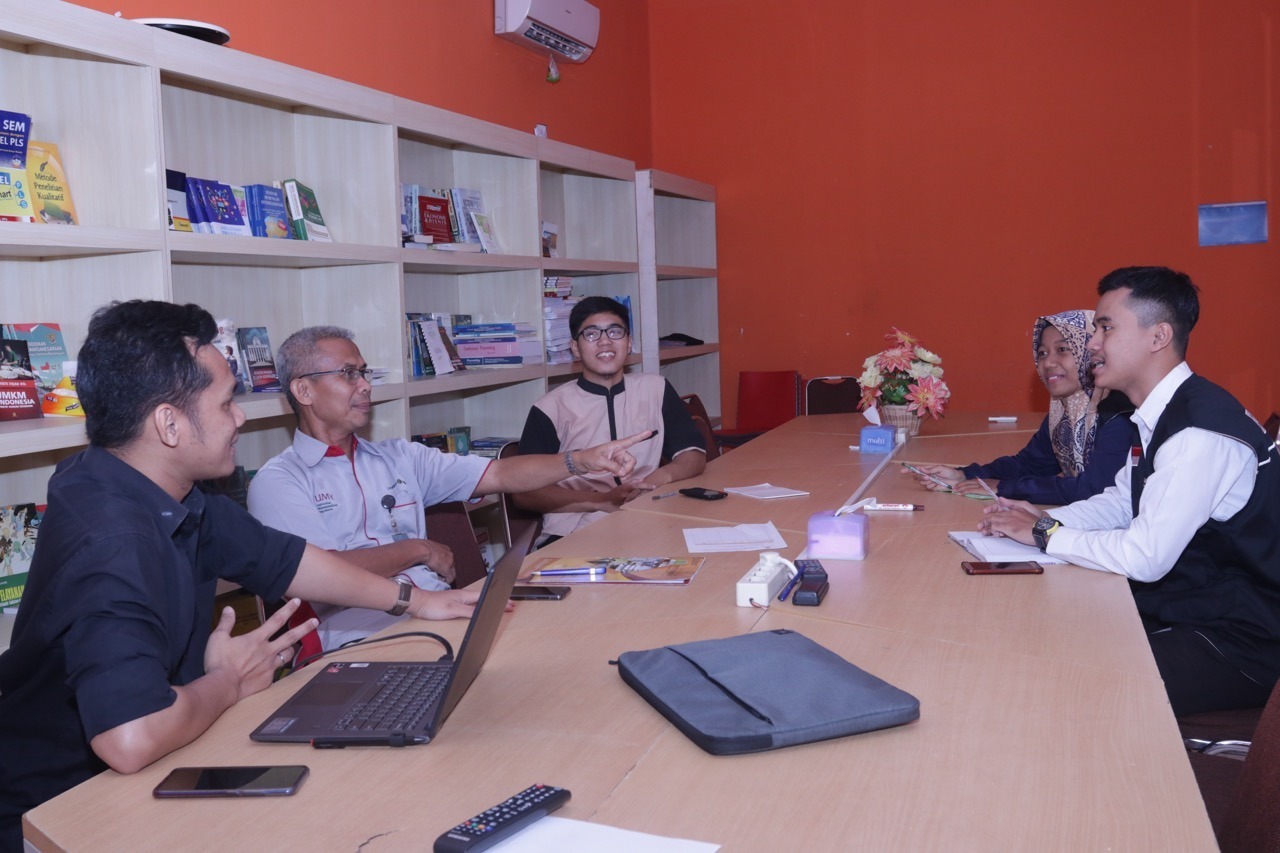 According to Statistics Indonesia (BPS), the number of people considered as generation Z is more than 68 millions and they play essential roles in the future of this nation. It is also known that their interaction pattern mostly uses internet and social media applications. They utilize the platforms to discover information. On the other hand, information on internet is not entirely true. Noticing the fact, Office of Student and Alumni Development (LPKA) of Universitas Muhammadiyah Yogyakarta (UMY) provide training with a theme of 'Bijak di Media Sosial' (Being Wise on Social Media). The training was addressed to students achieving National Alms Board (BAZNAS) scholarships and was organized on Tuesday (9/5) at Book Store of UMY.
Head of Information Empowerment Affairs of UMY as well as a speaker at the training M. Muttaqien, S.Ikom., M.Sn. stated that characters of the generation Z affect their interaction pattern. "Compared to a previous generation, the generation Z hinges on technology and contributes to the huge number of active internet users in Indonesia. Besides, they are open-minded and has great potential to agents of change. They prefer visual information as infographics or videos than texts. They also like styles of today's campaign. Many vloggers and Instagram celebrities use the styles to deliver information as their targets. Nevertheless, not all public figures provide valuable information," he declared.
Muttaqien mentioned that to manage and disseminate information can be undertaken by citizen journalism. "It engages citizens in reporting something. A merit of the citizen journalism is that everyone can do that regardless of their educational background ability in planning, interviewing, processing, and reporting information to other people so that everyone is a journalist. However, the challenge is that people trust and share hoax news since they are lack of knowledge and information," he maintained.
Muttaqien conveyed that to alleviate the hoax dissemination there are several actions to do. It can begin with behaving on social media. "In an era that information is easily accessible, you can start sharing beneficial information and not spreading hoaxes because the hoax dissemination brings massive impacts. Afterwards, you have to use polite and unprovocative language and always try to find truth (tabayyun). You also should do a double check of information before broadcasting it," he detailed.
Meanwhile, Head of Counseling and Student Welfare Triyana, Amd. told that the training is a coaching program held by the LPKA of UMY. "Through the training, we expect that the awardees can expose profiles and engagement of BAZNAS to public through more relevant techniques," he said.