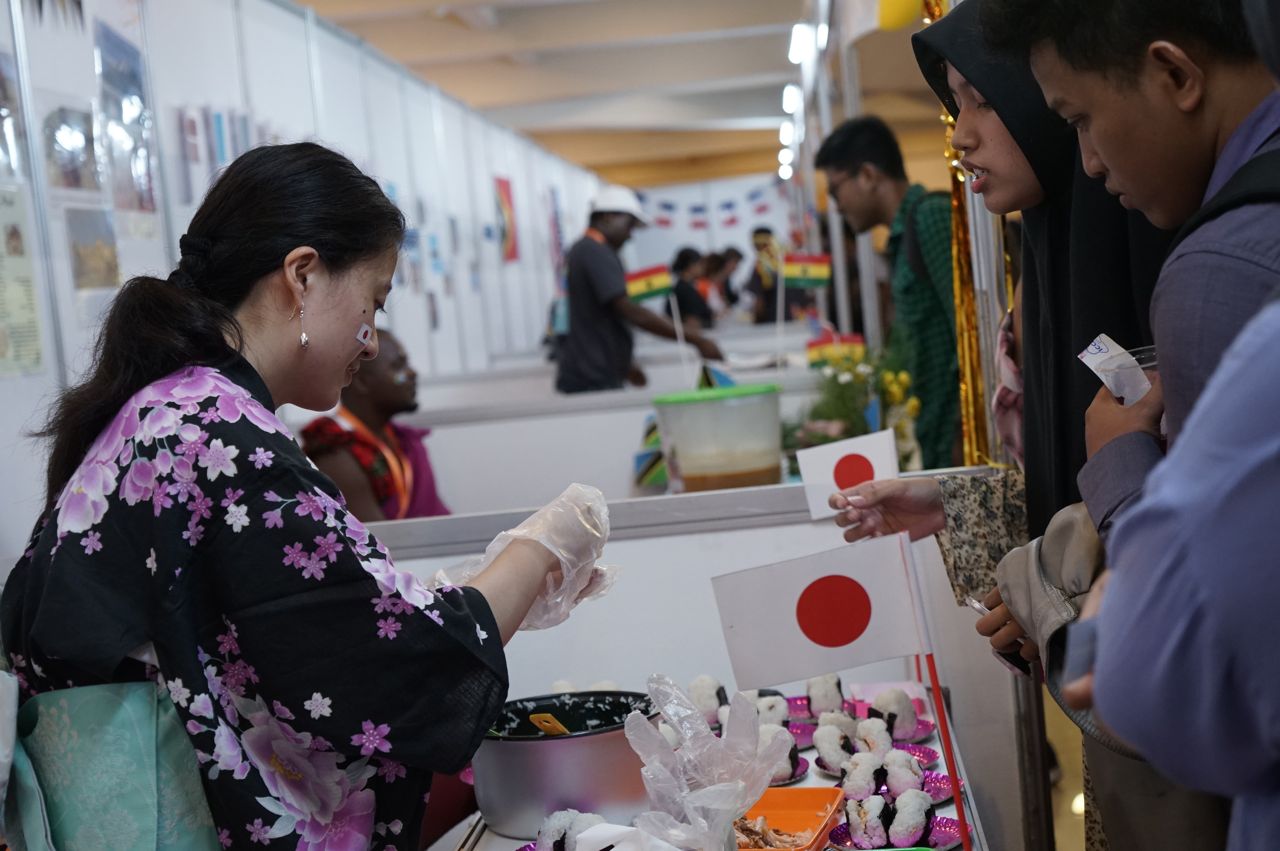 Universitas Muhammadiyah Yogyakarta (UMY) may have just reached age of 38 year, yet the age does not preclude UMY from improving its quality. It is attested by a fact that UMY has conducted many international agendas. This, in fact, becomes a means of UMY to be an international reputable university. International Cultural and Culinary Festival is one of the annual international events organized by UMY since 2015.
In the opening of ICCF 2019, Rector of UMY Dr. Ir. Gunawan Budiyanto, M.P. conveyed that ICCF truthfully aims to be a place to exchange culture among students in Yogyakarta. Besides, this agenda is purposed as a medium to acquaint UMY and Indonesia internationally and to increase cooperation between UMY and International organizations. "Through this event, we can recognize and understand various cultures, especially in a field of art and cuisines from more than 30 countries. The ICCF this year brings a theme of 'Discover the World through UMY'," delivered Gunawan at Sportorium of UMY on Monday (18/3).
Gunawan also appreciated the 5th ICCF. He proudly stated that UMY will held more international events near future. He added, "I am very proud of the ICCF, which has been held five times. To improve the quality of UMY, we frequently conduct many international agendas."
Meanwhile, Executive Director of International Relations and Cooperation Office of UMY Eko Priyono Purnomo, M,Si., M.Res., Ph.D. detailed that there were over 30 countries participated in the agenda. They presented their respective cultures, starting from cultural performance and typical cuisines. "Alhamdulillah, this year we gather 30 countries. The ICCF 2019 is merrier than that of last year. We also conduct a small trip in Yogyakarta for the guests, as part of UMY's concern to introduce Indonesia to them."
Additionally, the thirty countries were Malaysia, Thailand, Ukraine, Japan, Philippines, Tanzania, Suriname, Ghana, Italy, Botswana Egypt, Timor-Leste, Rwanda, the United States of America, Vietnam, Turkey, Spain, Turkmenistan, Yemen, Taiwan, Colombia, Pakistan, Gambia, Nigeria, Sudan, Mexico, China, Palestine, Hungary, and Indonesia. The thirty countries presented their typical foods participants could enjoy.
Eko continued that the purpose of the agenda is to introduce UMY and actualize UMY's vision to become the international reputable university. "We hope that the 3000 participants of the agenda can comprehend variety of cultures in the world. Through culture and culinary cuisines, participants are expected to unfold their cultural windows. We also hope that implementation of next agenda will better and massive," ended Eko.