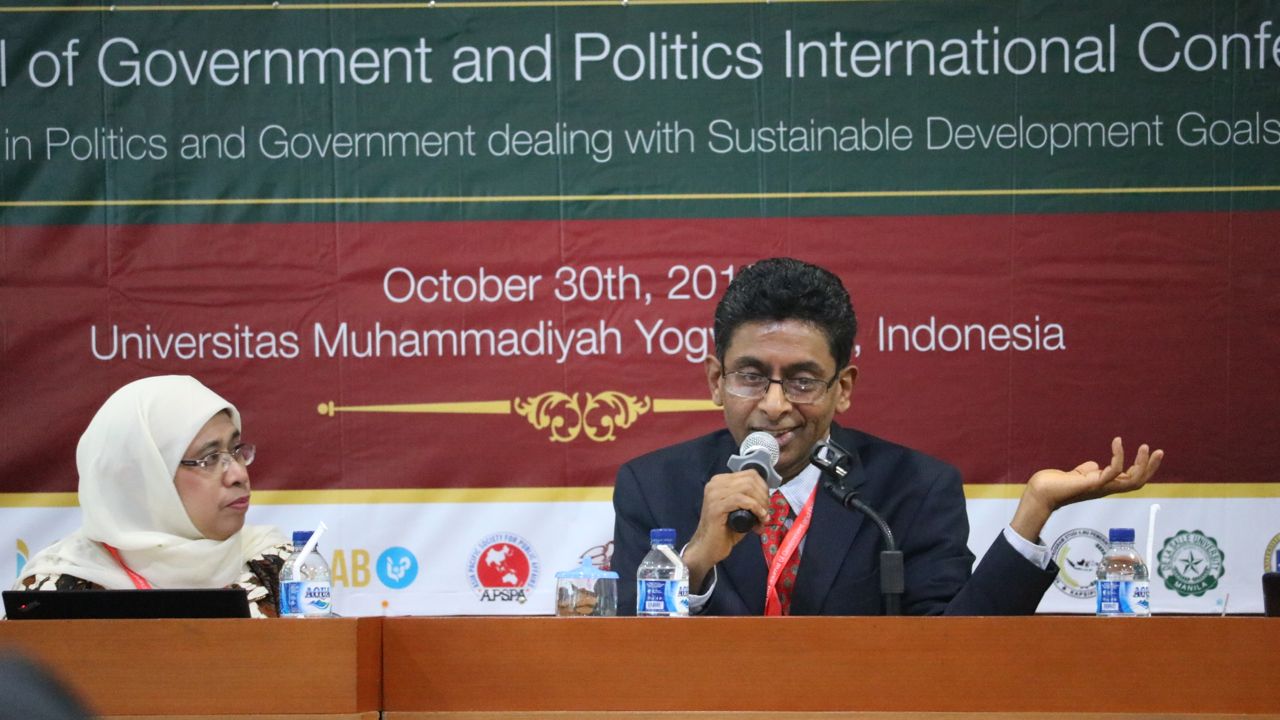 Department of Governmental Studies of Universitas Muhammadiyah Yogyakarta (UMY) conducted the 3rd Journal of Government and Politics – International Conference (JGP-IC) 2018 on Trends in Politics and Government dealing with Sustainable Development Goals. It was organized on Tuesday (30/10) at Amphitheatre of Graduate School of UMY.
Three speakers of the conference were Dr. PB Anand (University of Bradford, UK) discussing Smart Cities, Rachmawati Husein, MCP, Ph.D. (UMY) talking about Local Disaster Risk Reduction for Sustainable Development Goals and Prof. Dr. Pradtana Yossucuk (Maejo University, Thailand) presenting Knowledge, Understanding, and Potentiality in Organic Agriculture Development.
Besides, 46 presenters from a number of countries as Thailand, Malaysia, Japan, Germany, Britain, the Philippines and the United States, and Indonesia presented their paper on Trends in Politics and Government dealing with Sustainable Development Goals.
Chairman of the 3rd JGP-IC Dr. Phil Ridho Al-Hamdi, M.A. stated that the conference was an internationalization program target of the department in 2021. "The JGP-IC is addressed to disseminate research findings and to coin collaboration between UMY and international and national institutions," declared Riho.
The conference also aimed to explore discrepancies of sustainable development programs. "Issues discussed at the conference are dealing with sustainable development goals. We would like to establish government being able to eradicate poverty and alleviate social gaps. For instance, government is able to construct smart cities beatifying the people," contended Ridho.
Meanwhile, Dean of Faculty of Political and Social Science of UMY Dr. Titin Purwaningsih, S.IP., M.Sc. added, "This conference is not only to submit papers but also to broaden collaboration with UMY partners as well as to publish research," maintained Titin.