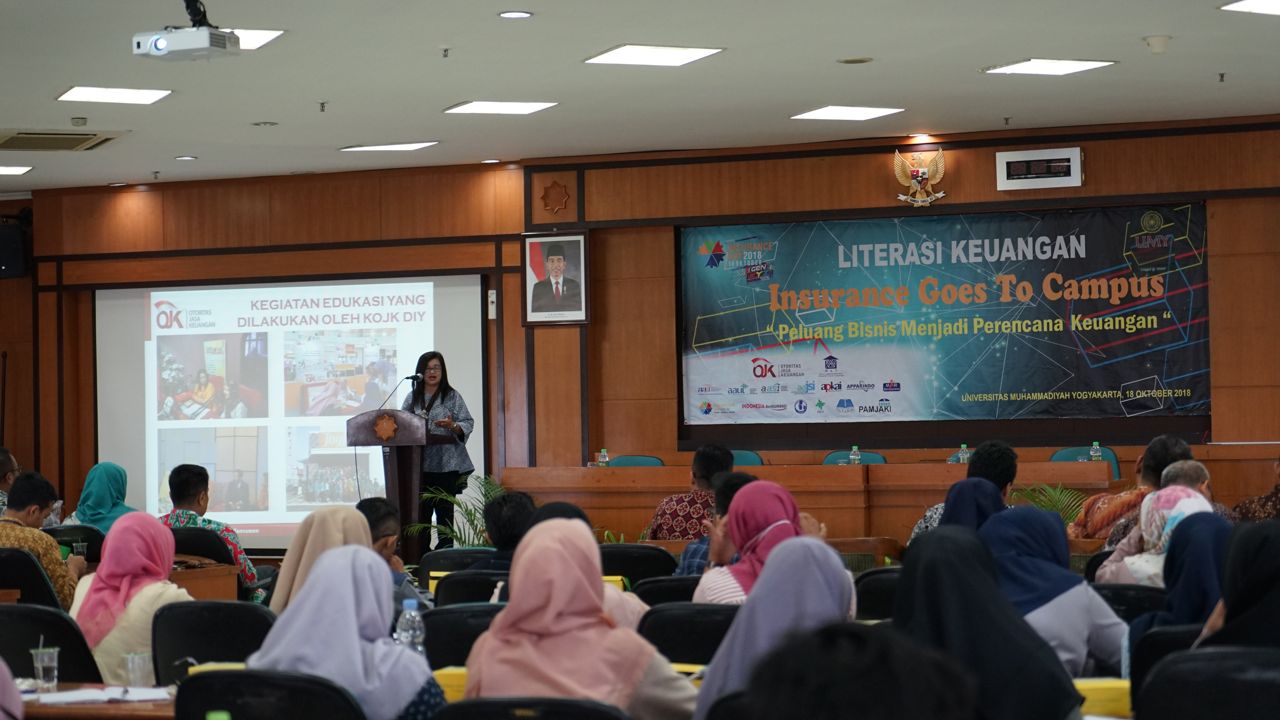 To celebrate Insurance Day, 18 October, the Insurance Council of Indonesia (DAI) collaborating with conducted 'Insurance Goes to Campus', a seminar on financial literacy on Thursday (18/10) at Meeting Hall of A.R. Fachruddin B Builfing of Universitas Muhammadiyah Yogyakarta (UMY). The seminar aimed to encourage millennial generations to have financials plans as early as possible and to promote significance of insurance services.
"Life is full of planning. As students, you should commence to think about your future such as planning personal finance since, when you have already had your own family, it is not time to learn how to manage your life needs. Thus, it is essential for young generation to be able to arrange their finance. Utilizing insurance services is also necessary because mishaps can occur out of our plan," declared Rudi Budi Wibowo, Chairperson of the seminar as well as Head of Jiwasraya Yogyakarta.
Rudi also mentioned that the number of insurance service users in Indonesia is only few. Based on data by the OJK (2017), an insurance literacy index of Indonesia was 15.76 percent. It decreased since it showed 17.84 percent in 2013. Meanwhile, a utility level reached 12.08 in 2017 and 11.81 in 2013. The data also revealed that only 15-16 of 100 Indonesian people know insurance service agencies, while 12 people use the service.
Noticing the data, Rudi stated that students and other young generations should promote the importance of insurance services to public. "We organize this seminar in 15 cities. We think that students easily receive materials which we provide so that we expect that they can disseminate the information to other people," he added.
Meanwhile, Subdivision Head of Education and Consumer Protection of the OJK of Daerah Istimewa Yogyakarta advised the students to enhance their understanding of various insurance service. "I wish that millennial generations always foster their literacy. The greater their literacy is, the easier they give community understanding of financial planning and insurance services," maintained Asteria.