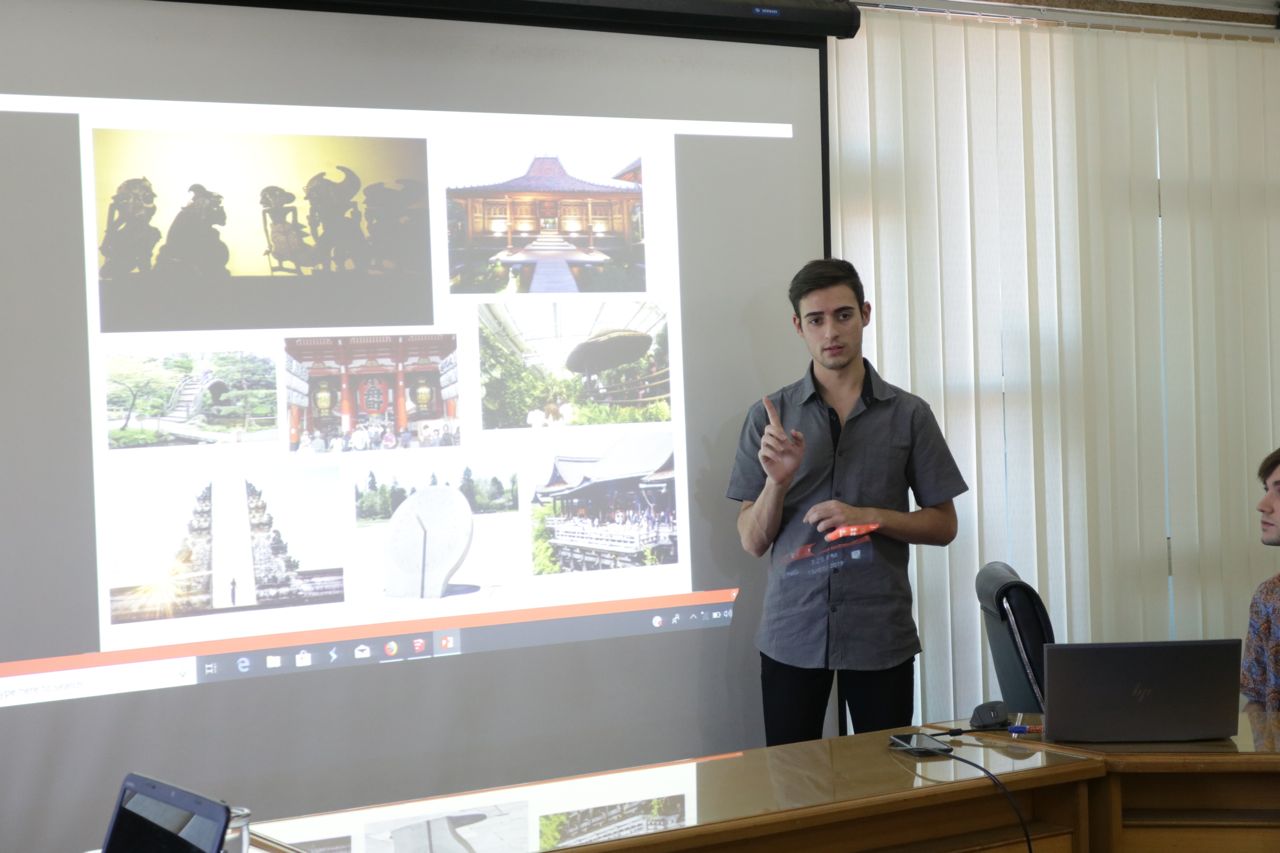 5 students from Curtin University Australia has been involved in an internship program with Universitas Muhammadiyah Yogyakarta since May 2019. The internship program, titled the New Colombo Plan, is aimed to prepare both Universitas Muhammadiyah Yogyakarta and Curtin University to reach International Reputable University status by 2020. Three of the five students presented the results of their work during the internship program, which is an architectural design regarding Tourism Concept located near Yogyakarta International Airport in Nampurejo, Purwodadi, Purworejo, Central Java.
The three students, namely Andrew Raymond Stok, Leslie Katherine Lopez Sagastegui, and Spencer Louis Sturcke presented their progress on the second floor of the Central Board of Muhammadiyah's building. In their presentation, they stated that the project they were working on is a type of modern design. "This architectural design was made to be accessible as a transit location by foreign and local tourists. It includes several facilities, a lush environment, as well as a strong environmental influence," Andrew said.
The Tourism Concept's location will be decorated with large mahogany trees native to the Nampurejo region to enhance the "green" feel of the environment. "Tourism Concept will be surrounded with mahogany trees and include facilities such as prayer room, an open room which can be used as a gathering place, meeting room, or a county fair. The design of the buildings themselves will be based on Yogyakartan and Japanese buildings," Andrew clarified.
During the several weeks of their internship program, it seems that Indonesia left an impression on the students, especially during their stay in Yogyakarta. They were given lodgings in the UMY Residence building during their internship duration, and one of them stated that they felt happy and comfortable in Yogyakarta.
I was delighted to have performed this program in UMY, because personally it is a very different experience for me. At first, I thought this internship consisted of one program or project, but it turns out we had to work on several different ones. However, during that time, I got the chance to see many different things and learn about culture and how diffferent the life here compared to Australia, because in Australia, life is quite linear," Andrew added.
Andrew also pointed out the hospitality of the people, something that is usually attributed to Indonesian people, especially in Yogyakarta. Furthermore, he hopes that this partnership can continue. "People in Indonesia are very friendly, like the people I work with in UMY. I hope that the partnership between the two universities can continue, and improve in the future especially regarding the flexibility of the program's implementation," He added.
The students still have two weeks before they return to Australia on August 2nd. During that time, they still have a task given to them by the Executive Director of Cooperation and International Affairs of UMY, Eko Priyo Purnomo, M.Res., Ph.D. "Thank you for your good work during the internship. After this program, we hope that you can finish your design of the building scheduled for renovation in Universitas Ahmad Dahlan." (Hbb)