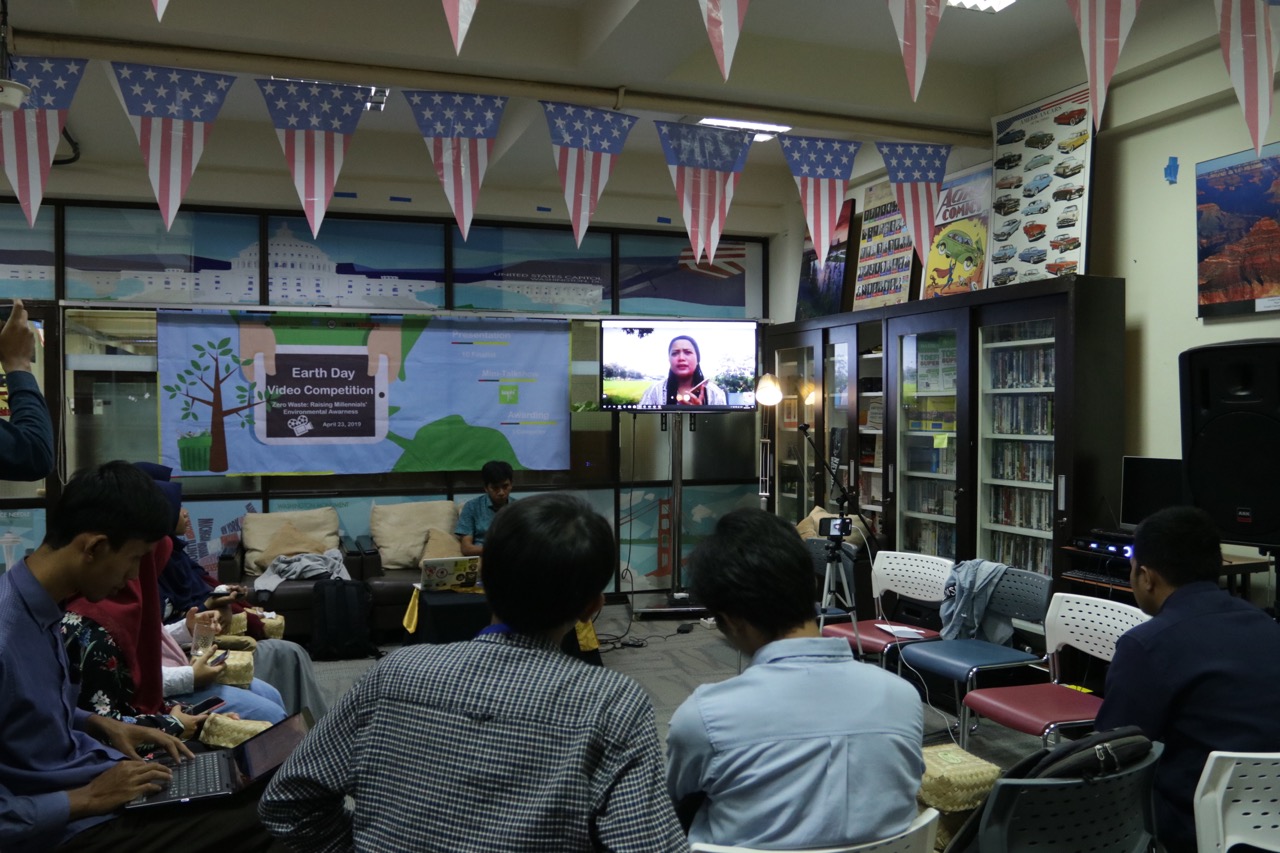 In the 2015, a researcher from Georgia University, Dr. Jenna Jambeck stated that Indonesia was the second highest country in the world contributing to plastic waste. As of 2015, Indonesia has contributed 187.2 million tons of plastic waste to the world. Many people are now starting to conduct campaigns to reduce the use of plastic and other nondecomposable materials. In order to commemorate the International Earth Day, American Corner of Universitas Mmuhammadiyah Yogyakarta (UMY) held a video competition entitled "Zero Waste: Raising Millennials' Environmental Awareness" on Tuesday (23/4) at Mas Mansyur Building of UMY.
Director of American Corner of UMY Puthut Ardianto, S.Pd., M.Pd. explained that it is important to build a conscience on the mind of young generation so that they can engage in the environmental issues, starting from the trivial things in their surroundings. He added that young people possess great fervor to contribute in the environmental problems. "Through a video competition, we urge all the millennials to be conscious to the environmental issues near them."
The video competition was followed by students from various regions of Indonesia. They were shortlisted into ten finalists to present their works in front of juries. The ten finalists were from Universitas Sebelas Maret, Universitas Brawijaya, Institut Agama Islam Negeri (IAIN) Surakarta, Universitas Islam Sumatera Utara, and four participants from Universitas Muhammadiyah Yogyakarta. Unfortunately, three participants from Universitas Brawijaya, IAIN Surakarta, and Universitas  Islam Sumatera Utara conducted online presentations through video calls because they could not present at the event.
Moreover, Puthut added, "We invited ten finalists from various regions of Indonesia and only seven of them who could attend. The three of finalists did an online presentation because they lived in far regions."
After all participants presented their works, the committees announced three winners. The first winner was Farkhana Rizkya from Universitas Brawijaya, Rheza Rahmad Kurnia from Universitas Muhammadiyah Yogyakarta as the second winner, and Fatimah Az-Zahra from Universitas Muhammadiyah Yogyakarta placed the third winner. Meanwhile, a video by Rido Muhammad Affandi from Universitas Sumatera Utara won the most favorite video.
Furthermore, Puthut hoped that all millennials can actively participate as first parties in conducting proper actions to protect and preserve environment.