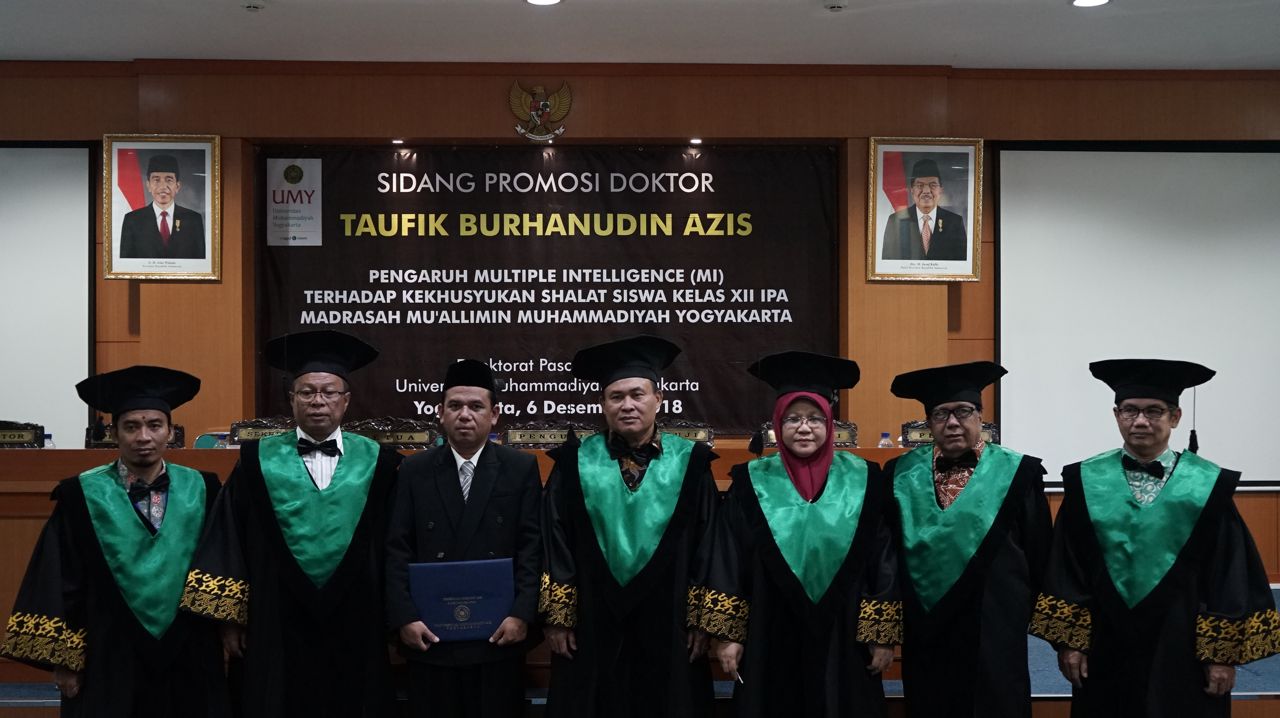 Indonesia with the fourth largest population in the world after China, India, and the United States possesses the greatest number of Muslims, 12.7 percent of Muslims in the world. Indonesian Muslims are 205 million people or 88.1 percent of the total number of Indonesians. The most essential aspect for the Muslims is shalat, a pillar of Islam. Thus, one's intelligence affects solemnity of shalat.
On his dissertation entitled 'The Influence of Multiple Intelligence (MI) on Shalat Solemnity of Students of Grade XII IPA Madrasah Muallimin Muhammadiyah Yogyakarta', Taufik Burhanudin Aziz stated that intelligence influences shalat solemnity. "Performing shalat using intelligence is smart shalat. Shalat prohibits immorality and wrongdoing," he presented at his dissertation defense on Thursday (6/12) at Amphitheater of Graduate School of Universitas Muhammadiyah Yogyakarta (UMY).
Multiple intelligence comprises of linguistic intelligence, mathematical intelligence, musical intelligence, kinesthetic intelligence, spatial intelligence, interpersonal intelligence, intrapersonal intelligence, naturalistic intelligence, and existential intelligence. A curriculum of IPA Madrasah Muallimin Muhammadiyah Yogyakarta successfully created students with various types of intelligence so that they are good at shalat.
Indeed, the school provides subjects as Al-Quran Interpretation, Tahfidz Al-Quran, Hadith, Akidah, and Fiqh. Islamic studies have built existential intelligence, which bring huge impacts on shalat solemnity.
His dissertation findings showed that multiple intelligence influences 95.6 percent. However, if someone does not have existential intelligence, all of the multiple intelligence does not bring any impacts on shalat solemnity at all. "Thus, it illustrates significant influence of the existential intelligence on students' shalat solemnity," emphasized Taufik.
Additionally, Taufik is the 58th graduate at the Doctoral Program of Psychology of Islamic Education and the 77th graduate at Graduate School of UMY.