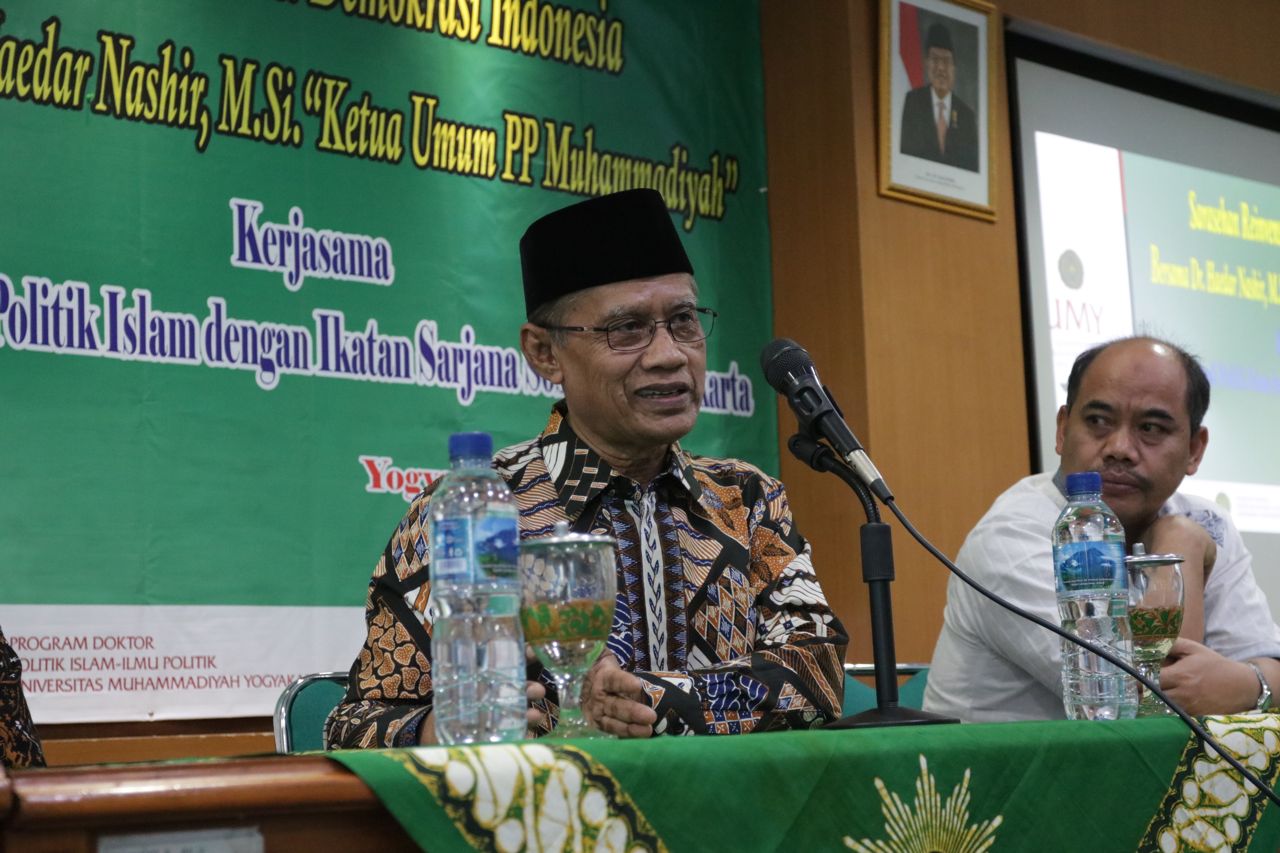 The political climate of Indonesia recently went through serious shakedowns, which in turn caused several conflicts. Because of that, the head of the Central Board of Muhammadiyah, Dr. H. Haedar Nashir, M.Si. implored that experts need to consider the advancement of the nation as a whole. This statement was given during the gathering of Ikatan Sarjana Sosiologi (ISI) Yogyakarta and cooperated with the Islamic Politics Doctorate Program of Universitas Muhammadiyah Yogyakarta (8/7) in the UMY Central Campus.
In his speech, Haedar implored the sociologists to work together and offer something new that can be useful for The nation. "Sociology experts need to stand up and offer change for the nation. Through the study of perspectivism, a sociologist could see through several different perspectives to break down our various national issues, so people do not anger easily when viewing Indonesia. Every approach you can offer will be welcomed," He said.
Haedar stated that there are two events currently happening in Indonesia which makes the condition of this nation somewhat rowdy. The first issue is the growing prominence of identity politics in each group, and the second issue is the recently growing radicalism belief. "Recently, we are facing certain issues that are getting stronger every moment. The first is the growing prominence of identity politics, and the second is the growth of radicalism among the people," he added.
He also added that sociologists need to study the several points of positivism with an interpretative approach. These points can give an understanding of the basics of politics in Indonesia. In addition, a solution for any problems that may occur between the people can be solved peacefully.
"I may not know that in political science, the pragmatism of American politics is more well known over than the philosophy-based continental politics. Because of this, the approach of Indonesian political experts becomes more pragmatical and hard-line. Therefore, it is proven that UUD 45 is a product of a pragmatical yet positive approach, which makes it lose its political philosopy," Haedar added.
At the end of his speech, Haedar hopes that the experts of Sociology can continue to discuss the advancement of the nation, so that the problems and conflicts that happened in the 2019 elections can be avoided in future elections. after the 2019 elections, the public is still stuck in a situation which weakens their critical thinking ability and makes the term "hot-headed" rise to prominence.
"If we continue down this path, Indonesia will lose the opportunity to become a progressive country. Many people will become hot-headed and short-sighted, and we may cease to be in the sociological position to talk about the future of Indonesia," he stated. (ak)