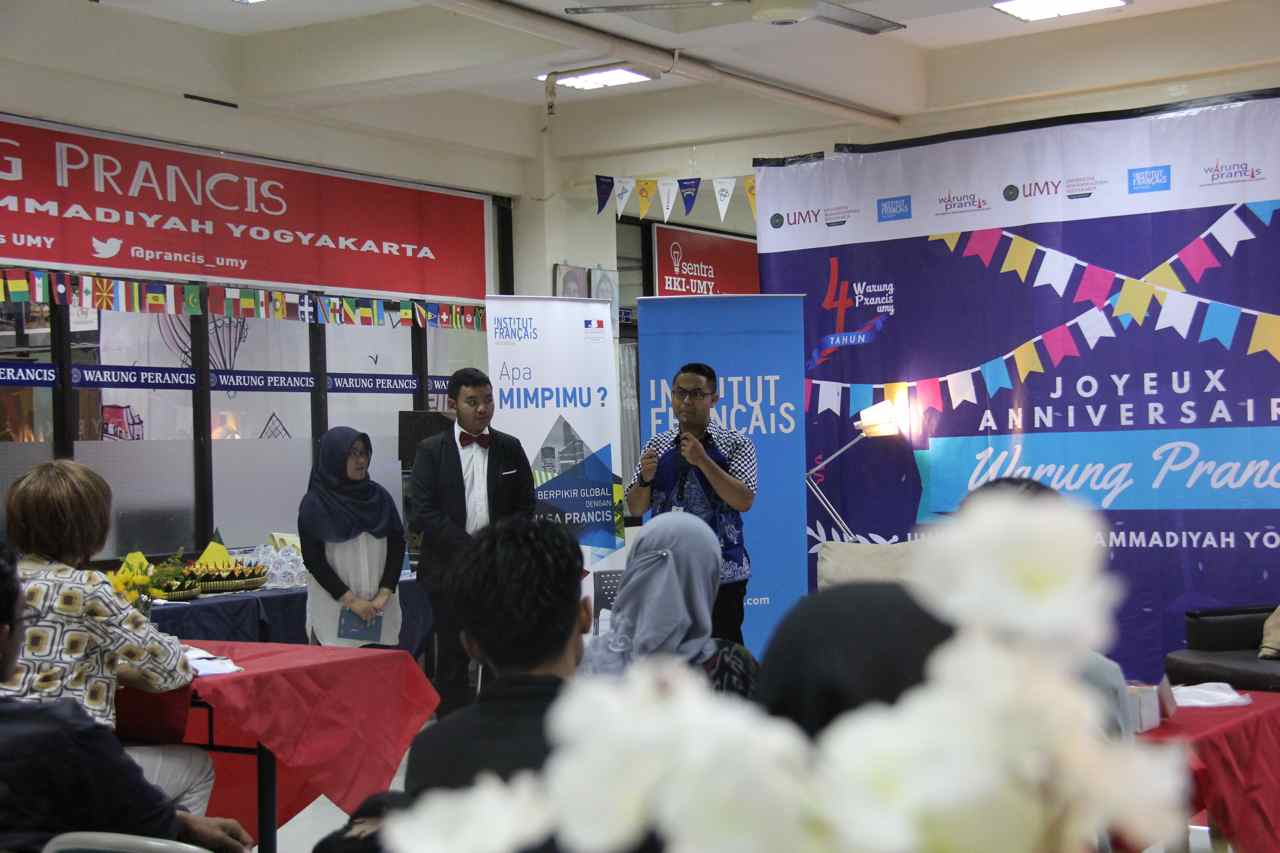 Warung Prancis (WP) of Universitas Muhammadiyah Yogyakarta (UMY) celebrated the 4th anniversary on November 28, 2017. For the four-year establishment, the WP of UMY has been organizing various events such as a French cultural exhibition, French education discussion, French film festival and others.
Director of the WP of UMY Puthut Ardiato, S.Pd., M.Pd. mentioned that the WP of UMY has achieved a lot of achievements as the 1st rank among 36 Warung Prancis in Indonesian universities. "We are grateful that in this 4th anniversary we can conduct any events for students, particularly those who are interested in learning the French language. WP of UMY has been cooperating with Institute Francais Indonesia (IFI). This is a forum for students to learn culture, education, politics, language, film, and all about France. We are proud that university parties entirely support the WP of UMY so that we can accommodate students to be more productive to join student activities," declared Puthut when delivering an opening remark of the 4th anniversary celebration of the WP of UMY on Tuesday (28/11) at hall of WP of UMY.
He also conveyed that whoever wishes to master French should possess high willingness to learn intensively. "Students can begin from listening to French songs or watching French movies. The WP of UMY provides a lot of French literatures, printed media, films, dictionaries, maps, cultural references. Thus, I expect that students leverage these facilities well to enhance their interest and capability," he maintained.
Meanwhile, Director of Institute Francais Indonesia (IFI) of Yogyakarta Sarah Camara asserted that the WP of UMY has to be an information center for students and public to introduce France. "The WP of UMY has given high contribution through holding events dealing with France. I notice that students have great enthusiasm to study in France. Therefore, we have to facilitate them to gain their dream so that they will be able to adapt when they live in France. Besides, the WP of UMY is the most active Warung Prancis since these four recent years I have seen that the WP of UMY possesses good management, collaboration, and loyalty. Hence, I hope that the WP of UMY could always be active to conduct unique activities and be more successful," she said.