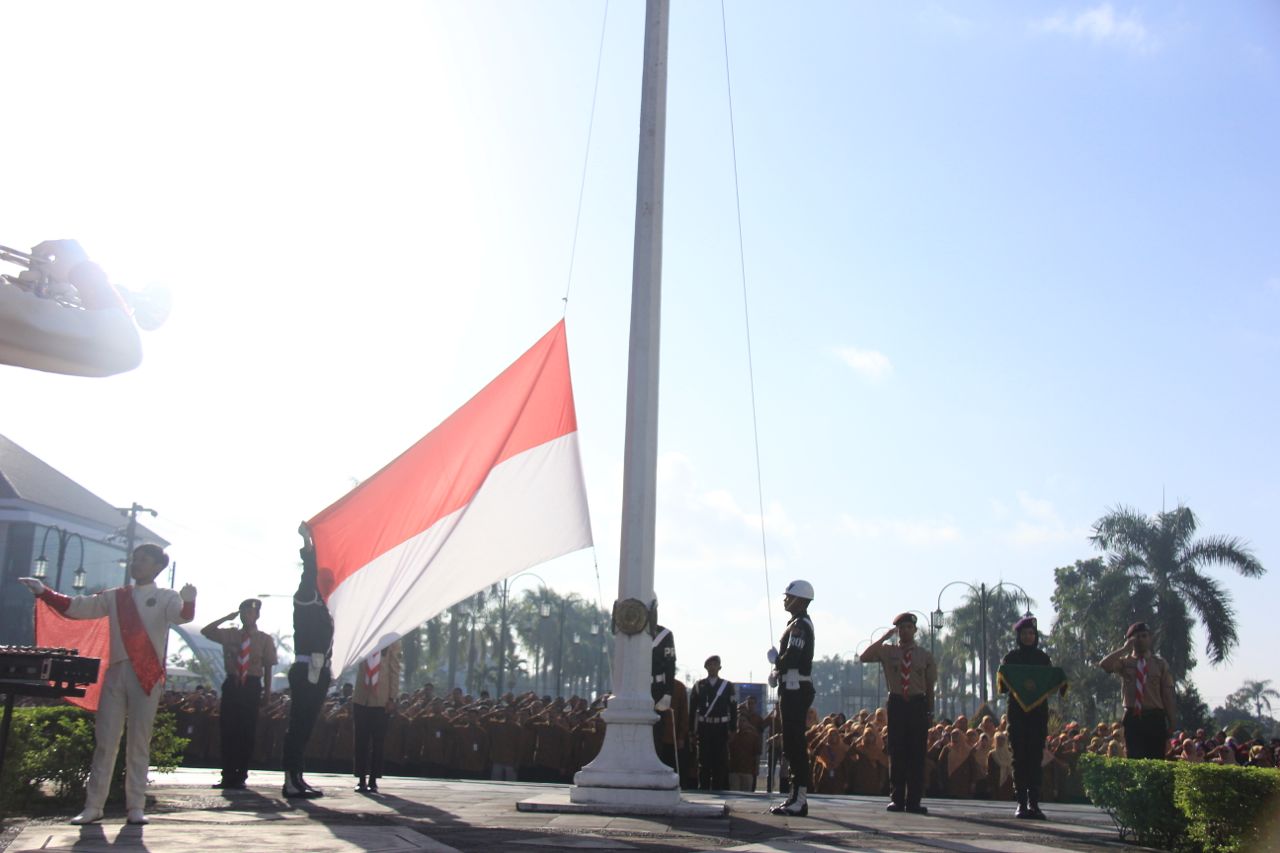 To commemorate Indonesia's 73rd Independence Day, Universitas Muhammadiyah Yogyakarta (UMY) conducted a ceremony on the front yard of A.R. Facruddin Buildings on Friday (17/8) at 7 a.m. The ceremony was attended by teaching staffs and students of UMY.
Vice Rector for Human Resources of UMY Nano Prawoto as a ceremony inspector invited all ceremony participants to understand significance of the Indonesia's 73rd Independence Day. He emphasized that all university members should behave positively and become productive in comprehending the historical day of Indonesia. "Independence refers to being positive and productive. Independence yields something valuable for institutions and community. Independence, for lecturers and students, means gaining academic achievements and for staffs it refers to providing good and professional academic services," he declared.
Nano also encouraged young generation to get engaged to develop this nation. He mentioned several international achievements obtained by youths, particularly UMY students. For instance, Sunshine Voice of UMY achieved a gold and silver medal at the Grand Prix Pattaya in Thailand and a gold and silver medal at the Taipei International Choral Competition (TICC).
Indeed, students should take roles in social areas as giving aids to victims of Lombok earthquake. "We have to provide our brothers and sisters in Lombok, Nusa Tenggara Barat helps such as financial aids or professional man powers as sending an assessment team," asserted Nano.
There are a lot concerns to internalize the meaning of Indonesia's 73rd Independence Day. At the closing of his remark, Nano advised, "Let's work to evolve Indonesia through research, technology development, and higher education. Let's make Indonesia proud of and believe in our achievements. Keep working, innovating, and gaining achievements," emphasized Nano.