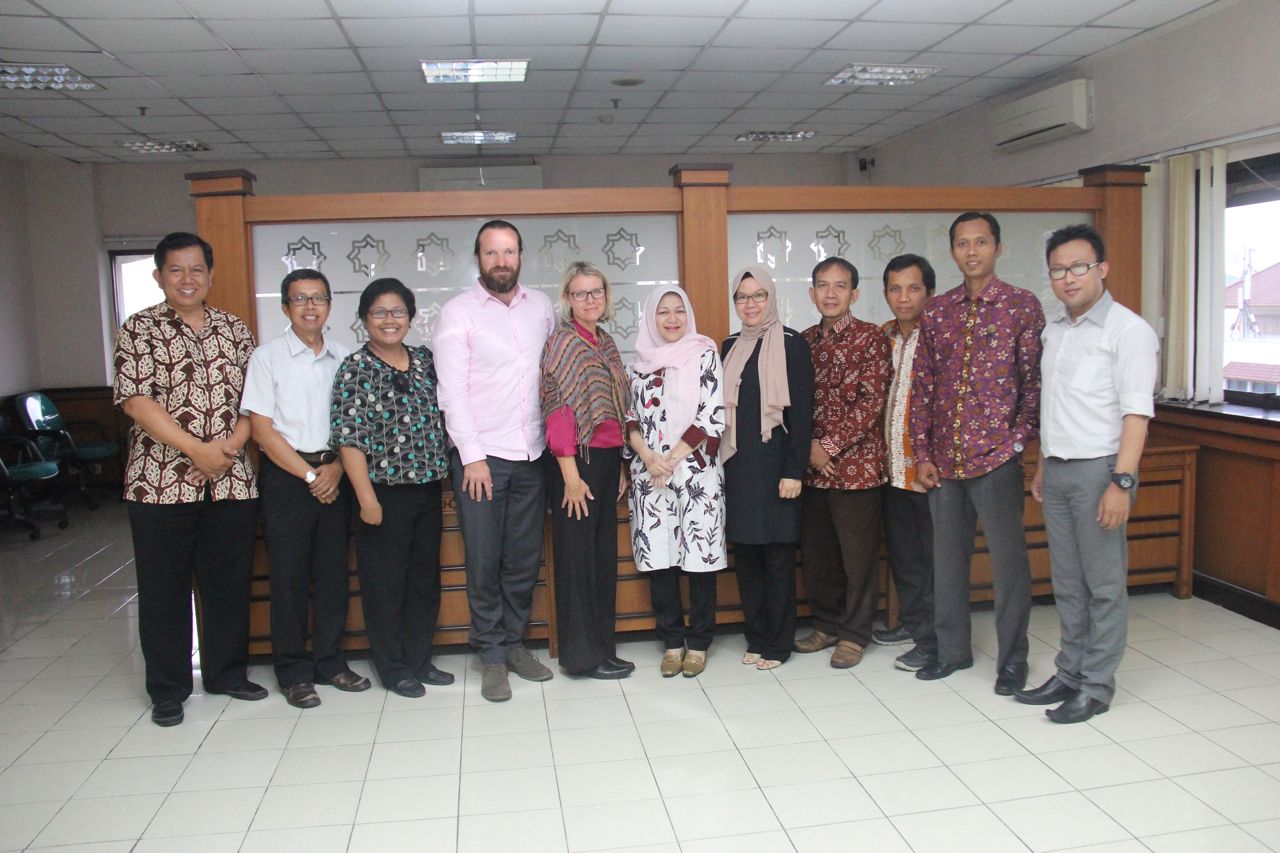 Universitas Muhammadiyah Yogyakarta (UMY) and seven other higher education institutions will cooperate with University of Auckland, New Zealand. The institutions are UIN Sunan Kalijaga, Universitas Atmajaya, AMIKOM, ISI Yogyakarta, UNY and Universitas Aisyiyah. Representing UMY, Head of Cooperation Office of UMY Indira Prabasari, M.P., Ph.D. welcomed the representatives of University of Auckland Dr. Chris Wilson, Ph.D. and Dr. Jennifer Curtin Ph.D. on Friday (27/4) at meeting hall of A.R. Fachruddin A.
Indira informed that the meeting was initiated by Cooperation and Capital Investment Office (BKPM) of Yogyakarta Local Government that assigned UMY to be the meeting host. "The delegates of University of Auckland would like to cooperate with a number of Indonesian universities, particularly universities in Yogyakarta so that they contacted the BKPM. The BKPM expected that University of Auckland could meet the universities in order that they can discuss the cooperation which may occur," she explained.
Indira also uttered that UMY will possibly collaborate with University of Auckland in conducting several programs. "For instance, UMY and University of Auckland can cooperate to undertake students exchange, staff exchange, joint research, and visiting professor. University of Auckland also offers two master programs, namely Master of Public Policy and Master of Conflict and Terrorism," she mentioned.
UMY, attempting to actualize internationalization and to become a world-class university, warmly welcomed the cooperation and will follow-up the meeting results. "The idea is in line with UMY's vision so that we will discuss it further," Indira asserted.
Indeed, Indira said several program plans with University of Auckland. "One of them is that UMY will invite Dr. Chris Wilson for visiting program next year, and we will conduct a two-week student exchange. The student exchange program is reciprocal that UMY invites students of University of Auckland to come to UMY and vice versa," she ended.