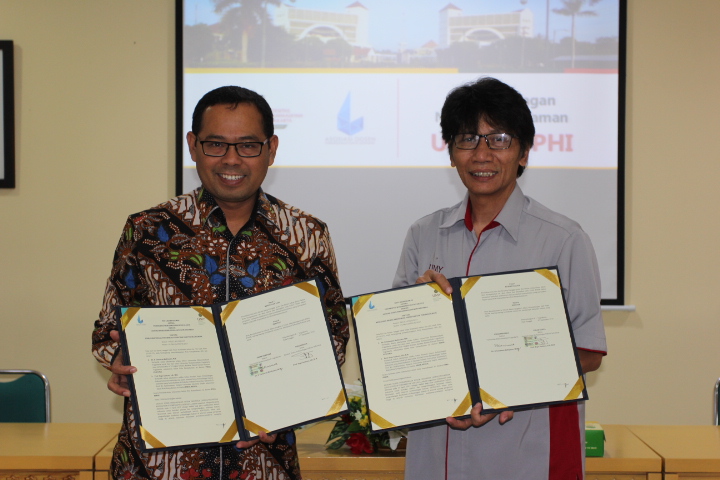 Universitas Muhammadiyah Yogyakarta (UMY) always attempts to enhance its educational quality by expanding cooperation with various Indonesian and foreign institutions. On Thursday (7/9) at director meeting room of Graduate School of UMY, Rector of UMY Dr. Ir. Gunawan Budiyanto, M.P. and chairperson of Indonesian Comparative Law Lecturer Association (ADPHI) Prof. Dr. Topo Santoso, S.H., M.H. signed Memorandum of Understanding (MoU). The MoU covers efforts of both parties to develop curriculum of comparative law, journal publication, and paper writing.
In his remark, Gunawan stated that the cooperation will benefit both parties to foster journal publication and quality of law lecturers of UMY. "May this collaboration enable lecturers of Faculty of Law to discuss and shares experiences in education, research, and publication," expected Gunawan.
Meanwhile, Prof. Topo informed that the MoU signing was a follow-up of ADPHI conference in April in University of Airlangga. "I am grateful to be able to cooperate with UMY since contribution of this university will be valuable for the development of ADPHI. This association can become a place for law lecturers in Indonesia to exchange thoughts and develop study of law. Indeed, in ADPHI dissemination of comparative law, the lecturers can focus on curriculum development of the comparative law in Indonesian higher education institutions," he conveyed.
In addition, both parties agreed to conduct the next ADPHI conference at UMY in April 2018.