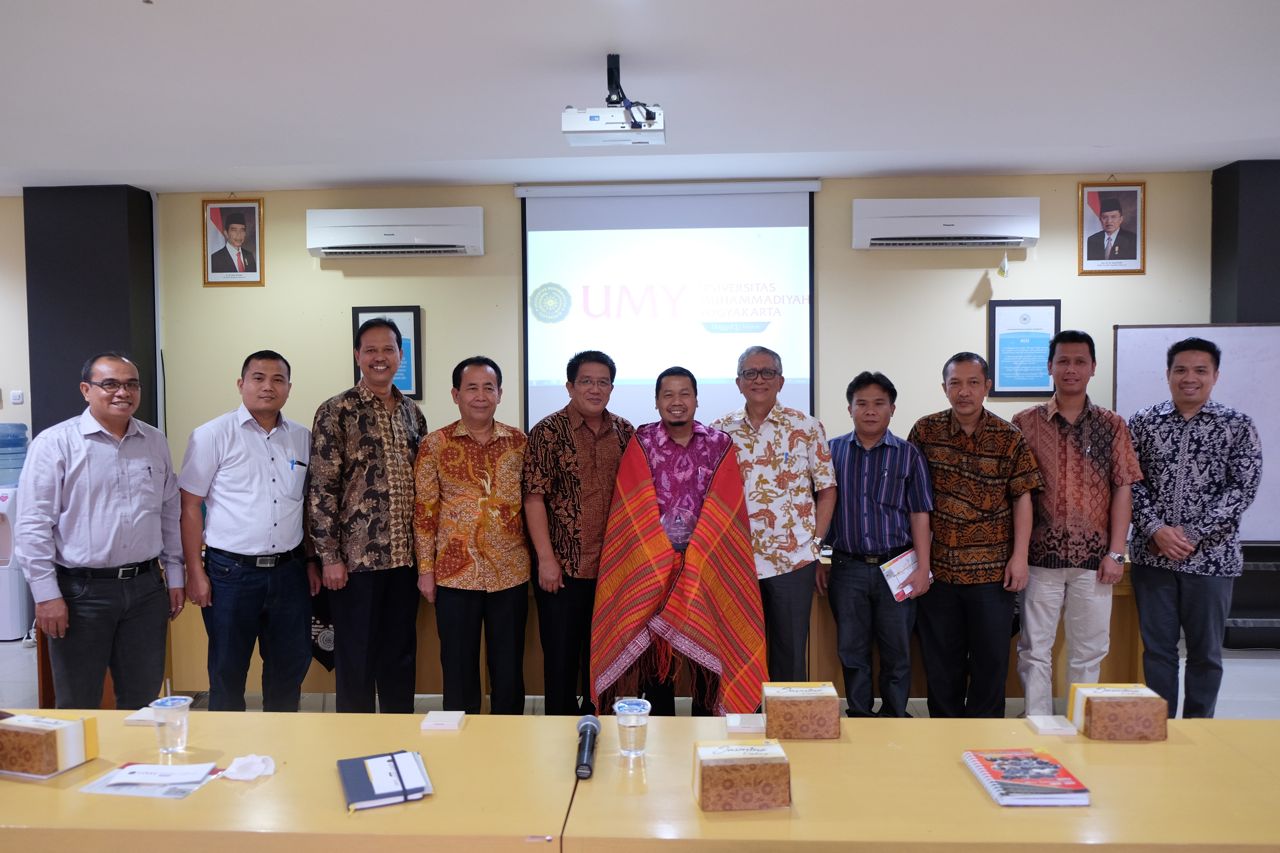 Universitas Muhammadiyah Yogyakarta (UMY) welcomed a visit by University of HKBP Nommensen (UHN) Medan at Director Meeting Hall of Graduate School, Building of Kasman Singodimedjo on Tuesday (9/8). The visit aimed at discussing management and activities of international programs at UMY.
In the visit, UNH was represented by Dr. Haposan Siallagan, SH., M.H. (Vice Rector I), Drs. Charles M. Sianturi, MSBA. (Vice Rector II), Dr. Hilman Pardede, M.Hum. (Vice Rector IV), Dr. Marlan Hutahaean, MSi. (Head of LPM), Dr. Mula Sigiro, MSi,.PhD. (Director of International Affairs), Drs. Juara Simanjuntak, M.Si. (Head of Academic Development and Accreditation Office), Jinner Sidauruk, S.H.,.M.H. (Head of Academic Office), Ardin Dolok SarBapak, S.E., M.Si. (Head of Financial Office), and Sabar M. Tampubolon, S.E.,.M.M. (Head of Accreditation Division), while the UMY party welcoming them were Dr. Ir. Sukamta, M.T.,.IPM. (Vice Rector for Academic Affairs) and Yordan Gunawan, S.H. Int. MBA. (Director of International Relations Office/IRO).
The UHN parties talked about various issues of managing international relations office of UHN, particularly in financial management of internationalization programs. "To maintain the fund, UMY possesses a number of business units such as P.T. Mentari Prima Niaga focusing on construction areas, UMY Boga, UMY Tirta, and Sportorium. The business units are very beneficial to support UMY in both academic and non-academic fields. The establishment of the units were encouraged by Muhammadiyah so that UMY does not rely on students' tuition fee, can provide self-funding for the international programs, and can reduce the amount of students' expenses to participate in the international programs," explained Sukamta.
UMY offers international programs such as student exchange, staff exchange, joint research, an international community service, and summer schools. "The expenses to join the international programs seem expensive, and UMY provides the fund for the programs. Nevertheless, the IRO is always trying to diminish the expenses spent by this university through negotiating with our partners. For instance, when cooperating with Singapore Polytechnic, we agreed to fund Singapore Polytechnic students who perform a student exchange at UMY, and vice versa. The fund was in terms of living allowance and a residence which may be cheaper than giving fund to our own students," told Yordan.
From the two-hour visit, Vice Rector I of UHN Dr. Haposan Siallagan, S.H., M.H. expected that the discussion will be valuable for UHN. "We thank UMY for providing UHN an occasion to have this visit. The discussion is truly inspiring us to develop UHN," he expressed.